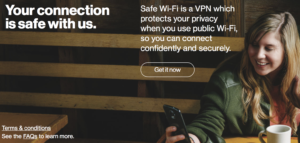 On Friday Verizon rolled out a new optional service called "Safe Wi-Fi" that it describes this way:
"Safe Wi-Fi is a VPN which protects your privacy when you use public Wi-Fi, so you can connect confidently and securely."
Verizon hopes that customers will choose to connect via the Safe Wi-Fi app whenever they are on public networks - saving cellular data, but without giving up the security of a cellular connection.
And Safe Wi-Fi even includes an optional feature to "prevent advertisers from tracking your online activity" too.
But just what is "Safe Wi-Fi", and is it actually worth the $3.99/mo that Verizon is asking?
Safe Wi-Fi VPN Details
If you think of the internet as a public highway system, a VPN (Virtual Private Network) like Safe Wi-Fi creates a special "tunnel" from your device directly to an end point at the VPN service provider, hiding everything you are doing online from everyone between you and tunnel exit.
This is great if you are connected to the internet via an internet service provide you do not trust, or if you are on a public network where you suspect other devices sharing the connection might be snooping.
The classic examples of dangerous networks (as featured in Verizon's marketing video) are coffees shops, airports, and hotels.
But with Safe Wi-Fi, you just download Verizon's Safe Wi-Fi app, subscribe for $3.99/mo (the first month is free), and with just a click you can protect up to ten iOS or Android devices on your account while they are using any suspicious Wi-Fi networks.
But...
Since all of your internet traffic is coming out of the tunnel at the VPN service's servers, the VPN service itself is perfectly positioned to be able to track you.
Verizon has been clear that it hopes to become an online advertising powerhouse to rival Google and Facebook, better able to offer targeted advertising because it knows who you are, where you are, and what you are doing online anytime you are connected via cellular.
With Safe Wi-Fi, you are potentially giving Verizon even more data about what you are doing online even when you are not on cellular - and you are paying them for the privilege.
As with any VPN provider - you have to ask yourself if you trust the VPN service more than the threats it is supposed to be protecting you from?
Behind the scenes Verizon has partnered with internet security company McAfee to run the Safe Wi-Fi service - you can read the terms and conditions and the privacy policies here to decide for yourself who Verizon is actually looking out for.
Here is just some of what McAfee says they might monitor:
"Details about your computers, devices, applications, and networks, including internet protocol (IP) address, cookie identifiers, mobile carrier, Bluetooth device IDs, mobile device ID, mobile advertising identifiers, MAC address, IMEI, Advertiser IDs, and other device identifiers that are automatically assigned to your computer or device when you access the Internet, browser type and language, language preferences, battery level, on/off status, geo-location information, hardware type, operating system, Internet service provider, pages that you visit before and after using the Services, the date and time of your visit, the amount of time you spend on each page, information about the links you click and pages you view within the Services, and other actions taken through use of the Services such as preferences."
Enabling the Safe Wi-Fi ad tracking blocking feature will prevent some advertisers online from being able to track you, but Verizon and McAfee are still there - always watching.
Safe Wi-Fi Limitations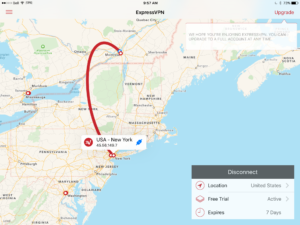 The Safe Wi-Fi service is ONLY available for iOS and Android devices, and only for devices that have cellular service with Verizon.
This means that you can not use Safe Wi-Fi to protect your laptops, desktops, any Wi-FI tablets without cellular plans, or any devices that you use with other cellular service providers.
This is a pretty serious limitation - particularly since laptops are the most juicy target for any sort of coffee shop malware or snooping.
Most apps on Android and iOS devices on the other hand already use the core web standard HTTPS to create an encrypted tunnel per-application, and almost all websites that ask for personal information offer HTTPS automatically now too.
In other words - all a VPN is primarily protecting you from is the snoopers knowing that you are connected to your bank, or to Facebook, or to Google - they already can't actually tell any details about what you are doing there.
Safe Wi-Fi: Worth It?
The one advantage Safe Wi-Fi offers is that it is relatively cheap for a VPN service, at just $3.99/mo with no annual commitment.
But for anyone who really needs a VPN service, almost any other VPN provider will offer both more features and privacy, and all of them will protect your laptops as well as your phones.
The trick is finding a VPN service that has the features you need and that you trust - there are a LOT of shady VPN companies out there!
We've personally used ExpressVPN and Speedify in the past, as well as the free "Safe Surf" VPN built into WiFiRanger routers. But there are a lot of other options available - so do your homework, and avoid the cheap deals that seem too good to be true.
And make sure that you really need a VPN. If you are otherwise careful online, for a lot of people a paid VPN is actually overkill.
If you are actually interested in signing up for Safe Wi-Fi, it costs $3.99/mo and is available immediately for most Verizon postpaid plan. You can read Verizon's page on it here, and be sure to study the FAQ too.
TIP: Ironically - VPN services focused too heavily on anonymity and privacy can actually hurt your ability to connect. For example, we've recently discovered that Dreamhost (where we host this website) has blacklisted connections from some servers run by popular VPN Private Internet Access because it is a preferred service used by Russian hackers and spammers to hide their activities. Members who have had trouble logging in have told us they have had to disable PIA to do so, or have needed to switch to a different VPN service!