Earlier this month AT&T announced it is bringing back unlimited smartphone data plans as an option for DirecTV subscribers.
AT&T joins T-Mobile and Sprint in now officially offering an unlimited data plan option obtainable by new customers.
Ever since, we've heard from several RVers hoping that Verizon would react by following suit and joining its competitors.
After Verizon's 4th Quarter earnings call last week, Verizon told CNET that it is "shutting the door on reviving Unlimited Data Plans".
"At this point, we are not going to entertain unlimited" - Verizon Chief Financial Officer Fran Shammo
This really comes as no surprise to us.
Verizon built the foundation of its LTE network off of a 2008 auction win of spectrum that came with strings attached - in particular requiring Verizon to adhere to stricter open access rules that none of the other carriers need to abide by.
This means that Verizon has less ability to implement throttling, or restrictions against tethering & hotspot usage, than the other carriers.
Verizon quit selling new unlimited plans back in 2011, but has continued to service those with grandfathered in plans. And Verizon now knows all too well just how data hungry today's mobile internet consumers can be without restrictions in place implemented by their competitors.
As a quick re-cap, here's the details on the unlimited data plans offered on each of the carriers:
For more information on these plans and how to obtain them, view our free article on Unlimited Data Options & Network Management (aka 'Throttling') Practices for Cellular Data Carriers.
Verizon Unlimited - Still Sort-Of Available
While Verizon won't be bringing back unlimited data plans for new consumers, it continues to send clear signals that it intends to keep grandfathered plans around. In October 2015, Verizon announced a $20/month price increase on its grandfathered unlimited data plans, and soon after confirmed that the plans will remain completely unthrottled.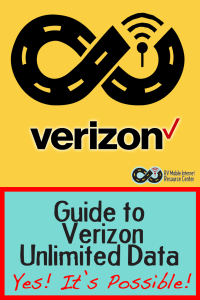 Though Verizon will not sell them directly - obtaining access to grandfathered unlimited data plan remains a viable option for data-hungry RVers.
There are two ways to get them:
Using the Assumption of Liability (AOL) process to purchase a plan from someone willing to get rid of it, and taking over ownership. While the procedure is still against Verizon policy, many of our members have successfully navigated it in the past couple of months using our extensive member only guide to Navigating Verizon Grandfathered Unlimited Data Plans – Assumption of Liability, Buying & Renting. Expect to spend $400-$1000 upfront to obtain a line this way, and then paying $45-$95/month for the service - depending on how the account is configured.
Renting/Leasing an Unlimited Data line from someone. While technically a violation of terms of service with Verizon, the risk is on the owner of the line, not the renter. Going rates seem to be $120-$200/month, based on supply & demand. Our guide also covers this option.
With the widest nationwide network, a truly unlimited Verizon plan is currently the best option for many folks seeking connectivity while being mobile.
More Information:
The Four Major US Carriers – Which is Best for RVers?
Comparison: Cellular Carrier Data Pricing & Plan Guide (member only)
Guide to Unlimited Mobile Internet Data Options for RVers (member only)