Earlier this week Verizon published an editorial on its official corporate blog, warning against the dangerous lure of unlimited data plans.
Written by industry analyst Jack Gold, he makes the point that if customers had access to and actually used more data, Verizon would be forced to upgrade its network to handle the demand - raising costs.
He goes on:
With the increased use of their devices at home and work, there is a greater likelihood that consumers will access and use WiFi to offload their high-bandwidth and data hungry apps, such as video streaming. Seated on your couch, you may well consume a 30-60 minute video, which you are less likely to do while on the road or moving about. ... In most cases, users are very well served by current wireless data plans, and really don't require more.

So, while unlimited data may sound attractive, there is no practical effect of data limits on the majority of users.
Clearly he has never met an RVer.
"Sitting on a couch" and "on the road" are not at all mutually exclusive, as we are all well aware.
And sometimes, just a single accidental click can trigger gigabytes of data usage - which on a metered network could lead to potentially huge overage charges.
Meanwhile, Over At T-Mobile...
In response to the Verizon editorial, T-Mobile CEO John Legere tweeted:
If you don't want #unlimited data, go to @VerizonWireless. If you DO want unlimited (or any) #data – we've got you.


And today, he ratcheted up the heat even further with a video blog post re-launching his Change.org petition urging AT&T, Verizon, and Sprint to join T-Mobile in abolishing overage charges - noting that consumers are being stuck with over a billion dollars a year in these surprise fees:
He promises that if the petition gets to 250,000 signatures - T-Mobile will do some sort of publicity stunt (sky writing?) to "send a message they won't be able to ignore".
Tips For Avoiding Overages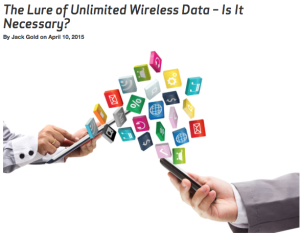 The reality for now though is that overage charges are hard for RVers to avoid.
T-Mobile's raw nationwide coverage doesn't (yet!) begin to match AT&T or Verizon, so for many RVers switching primary carrier isn't yet a viable alternative to sticking with one of the big two.
And of course, T-Mobile's unlimited data offerings are on-device only - not able to be tethered/hotspotted with laptops, tables and other devices you may have onboard.
But overage charges can be avoided with any carrier - if you carefully manage your usage. As long as you are not locked into a promotional data plan (like the "double data deals" from last year) that can't be changed without losing it, you can change your data plan as often as needed. This way you can dial your plan up and down each month to avoid going over, or paying for too much data that you then lose at the end of the month.
Pro Tip: Even if you do go over your monthly data limit, if you call in BEFORE the end of your billing period and ask explicitly - customer service can back-date your plan change to before the overage occurred, avoiding the overage charges on your bill.
It is annoying to have to pay so much attention to monitoring usage, but at least it helps to keep costs under control.