In April, Verizon started sending out "A new device was detected" notices via text message or e-mail when its customers swapped a SIM card to a different device.
While these messages may seem alarming, Verizon customers can ignore them.
MIRC has no reports of anything happening if you do nothing with the e-mail/text - your plan continues to work as before.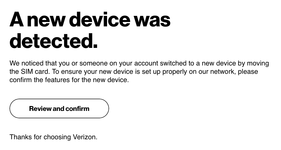 The message details ask you to confirm your Verizon device and plan features. If you follow the link, Verizon may eventually ask you to potentially change your plan.
Key Mobile Internet Related Considerations:
Verizon is now sending emails or text messages after detecting SIM swaps
The message has links that might lead you to consider new plans
You can ignore the messages.
Members: Login for some exclusive additional mobile internet considerations.
Related Content at the Mobile Internet Resource Center:
Related Updates: