The new season of HBO's mega-hit Game of Thrones premiers tonight.
And for the first time, RVers wanting to watch along with the rest of the nation have options thanks to HBO Now, and services like Sling TV.
In the past - the only (legal) way to get HBO shows on the road was to go satellite, or to wait nearly a year for the full season DVD releases to become available.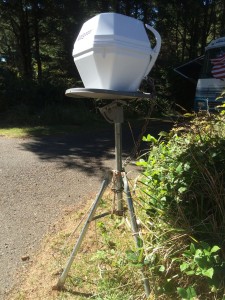 But going satellite via a subscription to DirectTV or Dish Network for many of us is an exercise in frustration. Even if all you want is access to a single show - you are forced to deal with multi-year contracts, confusing promotional pricing, clunky hardware, finicky DVRs (if you actually dare to want to watch things on your own schedule), and required "packages" of countless channels that you can't opt out of.
And with satellite TV in an RV - you are forever forced to deal with hunting for campsites lacking in shade, always seeking out a clear view of the southern sky to make sure you are getting reception.
Watching a favorite show shouldn't be that hard.
We want to watch the shows that we care about. When we want them - on demand, on our schedule. Without feeling like we have to wade through endless crap to get at what we want.
With mobile internet and streaming video - this dream is increasingly becoming a reality.
The key is having a access to unlimited cellular data, and knowing how to use it.
While the options are not as easy as we wish, here's some ideas on how to get your fix...
Unlimited Entertainment = Unlimited Data
Streaming video is the ultimate data hog.
Especially with HD video - usage tends to be measured in gigabytes per hour, quickly devouring even the largest monthly shared data buckets.
Because of the high data demands, streaming over most public WiFi hotspots is generally not reliably feasible except perhaps in the wee hours of the morning. And even if the signal & backhaul is strong enough, just a handful of RVs streaming video can often bring the network down for an entire RV Park. Many RV parks providing WiFi are putting data caps on usage, and forbidding video streaming as a result.
If you want to affordably watch substantial amounts of video over cellular - it is essential to track down an unlimited data plan.
We've just updated our Guide to Unlimited Mobile Internet Data Options for RVers with all the latest information about how to go about getting an unlimited data plan on all the carriers - including "renting" and "buying" grandfathered plans on Verizon in a post-AOL UPD world (yes, it can still be done), or investing in an unlimited iPad plan on AT&T.
Sprint and T-Mobile still offer un-throttled and unlimited plans to new customers without needing to jump through hoops. But these plans do come with two big limitations: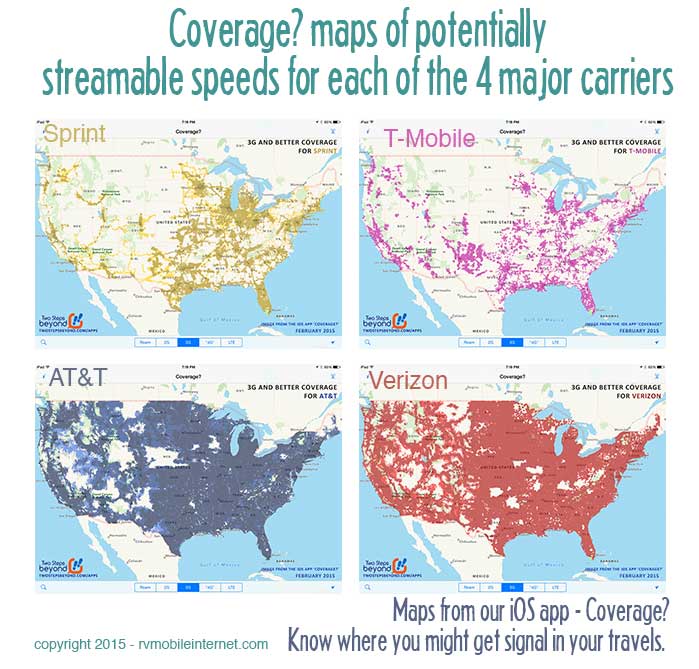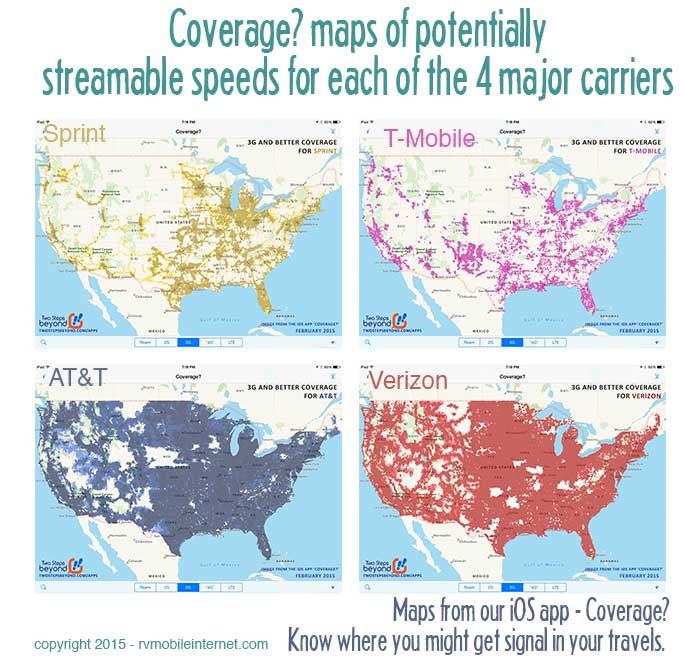 Coverage: T-Mobile and Sprint have coverage maps that are often limited for RVers who rely on connectivity and travel outside of urban areas.
On-Device Only: These "unlimited" plans only allow for unlimited data on the subscribed smartphone on the plan. Watching TV on a 4" screen is possible of course, but not nearly as much fun as a big screen.
Both of those limitations can be worked around - if you are willing to get a little creative.
Dedicate a Line to Streaming
A lot of RVers are reluctant to move their primary cellular service over to Sprint or T-Mobile because of the coverage limitations, no matter how tempting the promise of unlimited data.
Indeed - this is NOT a good idea. For most travelers needing reliable connectivity, it remains smart to keep your primary connection on either AT&T or Verizon (or both).
But nothing is stopping you from having a secondary connection on one of the other carriers - and this is the perfect place for a dedicated streaming unlimited line.
Yes - I am indeed suggesting that you buy your TV a smartphone.
It seems odd - but it is no different than investing in a satellite receiver or a DVR, and potentially not any more expensive.
An unlimited smartphone line on T-Mobile costs $80/mo, and includes 5GB of shareable data and unlimited 2G international data too. With T-Mobile's great support for WiFi calling, you will be able to make and receive calls even when outside T-Mobile coverage if you also want to use this line for voice.
If you are looking to dedicate a device to your TV, things are even cheaper on Sprint - with current promotions you can get an unlimited iPhone 6/6+ line (now also with WiFi calling) for $50/mo, and you can lease a new iPhone 6 for just $20/mo more!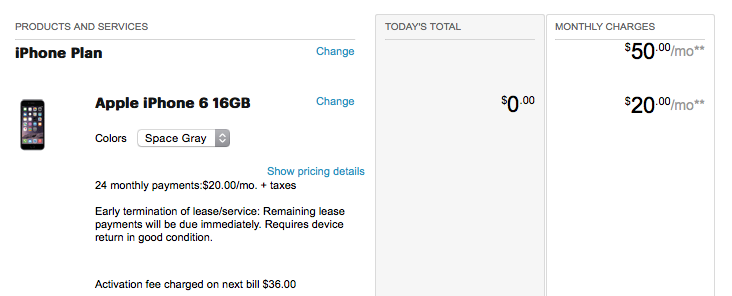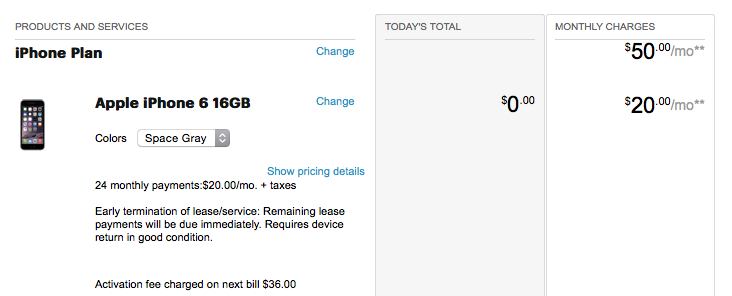 A dedicated streaming line makes a lot of sense when you have coverage, and you can even suspend service to it when you are in places lacking enough coverage to stream satisfactory. You are in control.
You can always use your primary AT&T or Verizon line for limited bouts of streaming (so that you don't miss a major event) - and then save your binge watching for when you are in an area with ample fast enough coverage to make it worthwhile.
It may not work everywhere with a view of the southern sky like a dish, but for many RVers this has the potential to scratch their TV itch - without pursuing traditional satellite TV.
From The Small to The Big Screen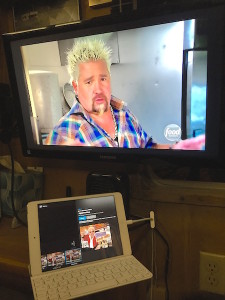 Most of the unlimited data options that can be had today are only unlimited for data used "on device" only - meaning that you can not share the connection with other devices.
This means that the tech you might already have connected to your big screen TV (Roku, Xbox, Apple TV, etc) is not going to be of much use unless you have a way to share an unlimited data connection.
This leaves watching hours of video on a tiny smartphone screen - no fun at all.
Fortunately, most smartphones support HDMI output, allowing the phone to directly drive a big screen in full 1080p resolution.
With Apple iOS devices it is easy - Apple's Lightning Digital AV Adapter works with all current iPhones and iPads and is directly supported by many apps to give you a dedicated HD video output over HDMI, while enabling a separate view of the control panel on your phone or tablet.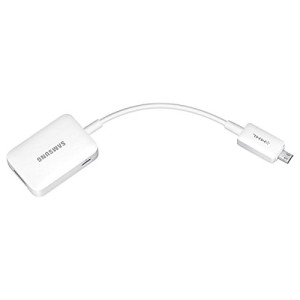 In the Android world - HDMI compatibility is a bit more hit or miss. Look for MHL (Mobile High-Definition Link) support, which allows for MicroUSB to HDMI interfaces to be constructed, and check for compatibility issues with your particular smartphone.
For most Samsung phones - the official Samsung HDMI adapter is a solid way to go. There are also very highly rated options that integrate the MHL adapter into a long HDMI cable, perfect for leaving your phone accessible while plugged into the TV.
You can even take these adapters outside and use them with an HDMI video projector - making it easy to share video from the small screen with even the largest crowd.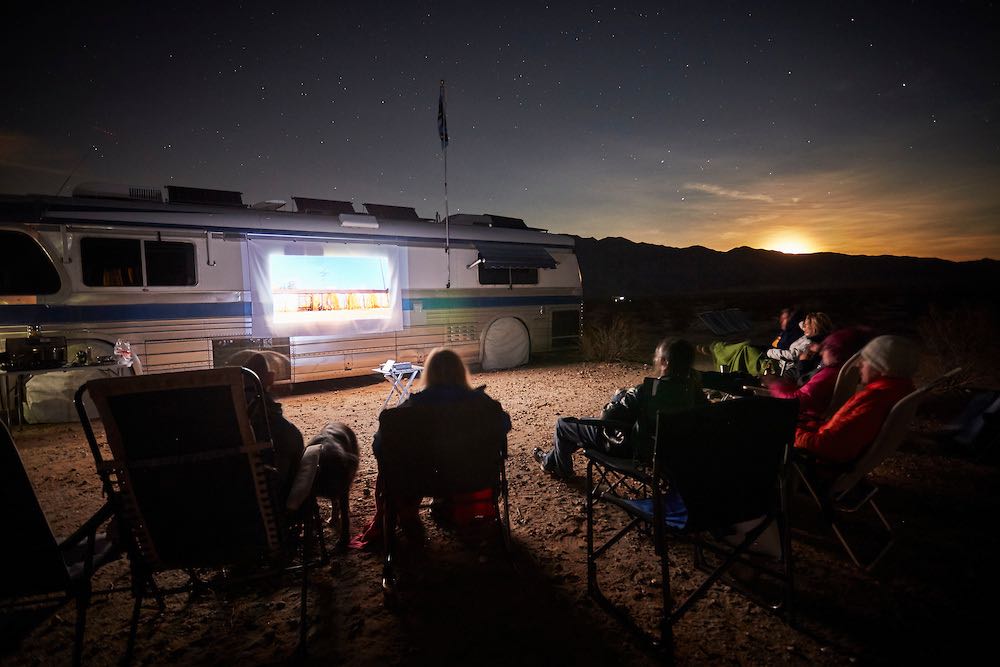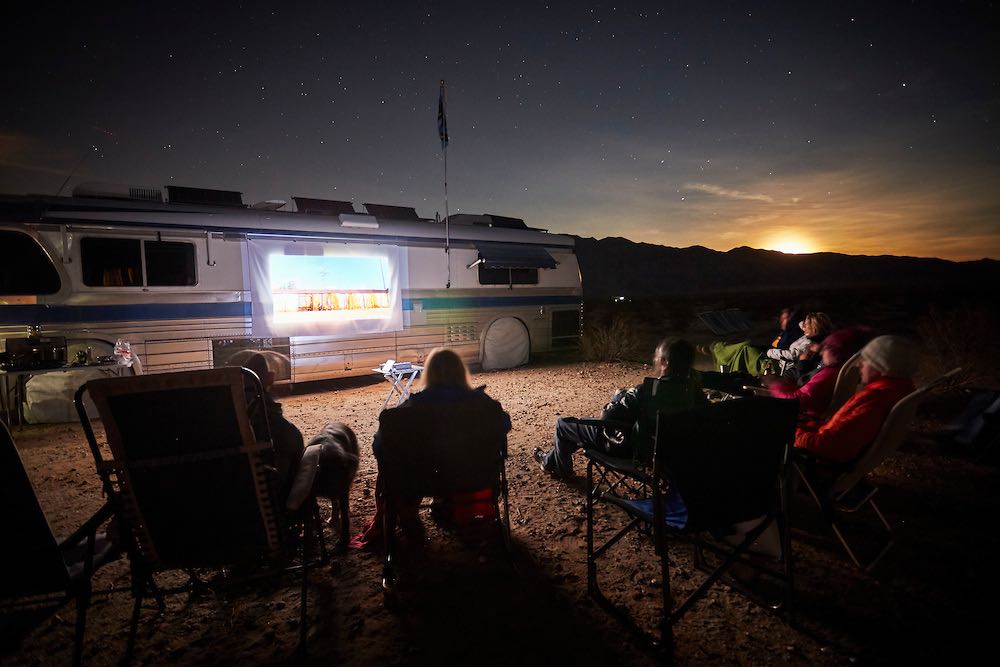 WARNING: Watch Out For AirPlay Handoff!
It may seem tempting to use Apple's wireless AirPlay technology to avoid the need for an HDMI cable, streaming video wirelessly from your smartphone straight to an Apple TV driving a big screen. But there is a big gotcha here - for your smartphone to talk wirelessly to an Apple TV, it needs to be on the same WiFi network. And if it is on a WiFi network, it will be taking advantage of streaming over WiFi, not over your unlimited on device cellular plan. Google's Chromecast suffers to same issue.
Doh!
With a third generation "Rev A" Apple TV manufactured after January 28, 2013 - it is actually possible for a smartphone using cellular data to stream to an Apple TV that is nearby over Airplay without joining the same WiFi network - using cellular data instead of the WiFi data for the stream download. We have tested this, and it works.
But... if the Apple TV has a built in native app that supports what you are trying to stream, this will not work. The iPhone hands off the connection request and the Apple TV handles the streaming directly, without using the smartphone as the intermediary. Netflix, HBO, YouTube, and more all end up using the Apple TV's data - bypassing your phone's unlimited data plan. There is no way to disable this handoff feature.
Be careful not to accidentally blow through your data bucket by mistake trying this! Unless you are watching the data usage counters, you will have no obvious way of knowing that the handoff occurred.
Now that you have unlimited data and are all set to stream to a big screen, what are you going watch...
HBO Now - Finally!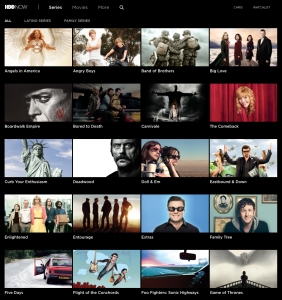 The HBO Go app and website have long offered streaming access to the entire HBO library - including all episodes of all the great HBO series ranging from The Sopranos to True Blood, as well as on-demand access to all the movies currently in circulation on the various HBO channels.
It is a huge library of generally awesome content.
But until this month - HBO Go was only available if you had an existing subscription to HBO via a cable TV or satellite provider. If you were a cord cutter, you were out of luck.
For mobile travelers, there was no way to just get HBO without subscribing to a satellite package, getting cable at a RV Park that offers it, or 'borrowing' a login from a family member who subscribes.
But that all changed this week with the launch of the new standalone HBO Now service, giving full on-demand access to all HBO content for just $15/mo.
Initially HBO Now is exclusive to Apple devices (though you can also stream to computer web browsers once you have signed up), but it will eventually be offered on a wide range of other devices as well.
Best of all - there is a 30 day free trial - just enough time to get people completely hooked on the new season of Game of Thrones, presumably.
HBO Now's streaming quality has been excellent in our testing - though it is a bandwidth hog. It automatically optimizes the picture quality for the speed of connection you have, and there are no manual ways to limit bandwidth used. In our testing this week - we saw rates ranging from 500MB/hr to 1.7GB/hr over cellular.
Overall - HBO Now is a bargain, and we are very excited to at last have this option.
Though I am worried about some of the casting changes made in the new season of Game of Thrones:
Beyond HBO: Slinging ESPN, AMC, CNN, Disney, and More...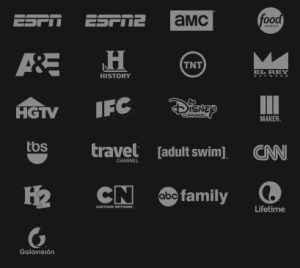 Another new cord-cutter focused option that first went live in January is Dish Network's new standalone Sling TV package.
Sling TV is an internet-driven service that offers 20+ channels of live TV for $20/mo (with a 7-day free trial available) - viewable on iOS and Android devices, as well as on Windows and Mac computers, and even Xbox and Roku are supported.
The channels are some of the basic cable standbys - ESPN, AMC, Food Network, TNT, Disney, HGTV, CNN, Cartoon Network, and the like.
You can add on extra bundles of additional channels (Sports, Kids, Hollywood, News, and Lifestyle) for $5/mo per bundle, and you can even add on HBO (including on-demand content, but not the full HBO Now library) for $15/mo.
The thing to keep in mind with Sling TV is that this is LIVE TV, with all the positives and negatives that go along with that.
Yes - live is great for sports, and for breaking news.
But it also means that you are watching TV on a schedule that you do not control, and you can not pause, fast-forward, or rewind most shows - and you absolutely can not avoid the seemingly endless commercials that some channels are encrusted with.
After having gotten used to the true on-demand commercial free experience of HBO Now and Netflix, Sling TV feels like stepping into a time warp to the past.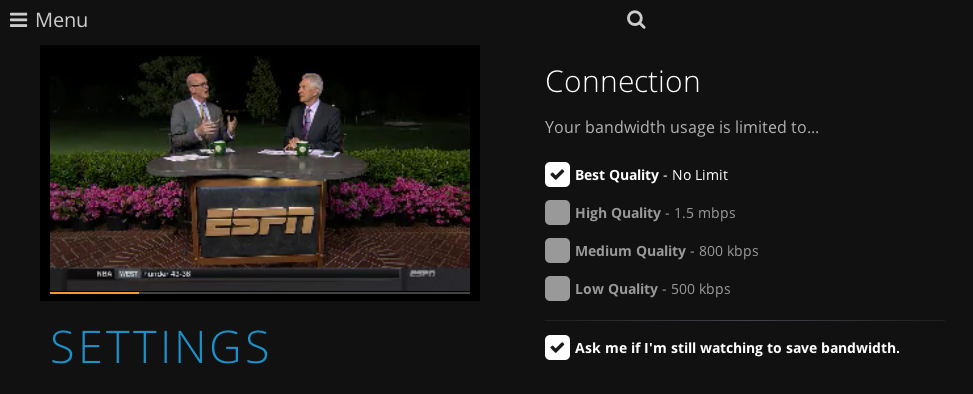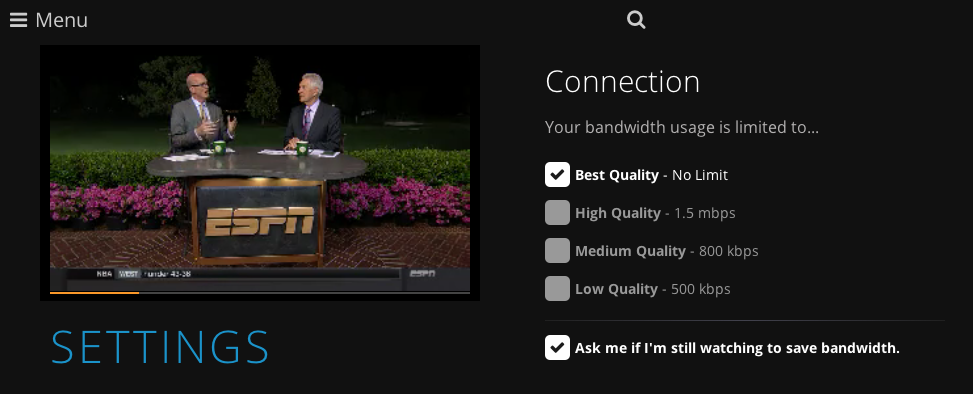 But for TV addicts, $20/mo with no contracts is not a bad deal at all. Especially for sports fans.
We do like the picture quality we have gotten out of Sling TV so far in our testing, and we love that you can set limits on how much bandwidth the app will consume.
For reference - "Low Quality" works out to 225MB/hr, "High Quality" is 675MB/hr, and when we enabled "No Limit" mode we were streaming over 1.6GB/hr on our unlimited AT&T connection - enjoying a beautiful near HD-quality picture.
The Indispensable Netflix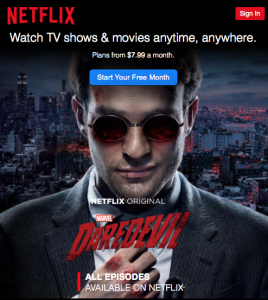 And of course, who can forget Netflix - the reigning king of streaming.
Though the movie selection has dwindled in number and quality over the years, Netflix has an incredibly vast library of older TV series and movies to binge watch. We love picking a great series with a deep library of 5+ seasons, and then getting engrossed in an alternative world for weeks on end, providing our usual end-of-day entertainment.
Netflix has now begun to produce its own exclusive TV series - and they are quickly approaching HBO quality. Debuting in June is a new exclusive series Sense8 created by Babylon 5 creator J. Michael Straczynski, along with the Wachowskis who created The Matrix. Yeah - I am excited.
And - it is all 100% commercial free. And completely on demand.
For $7.99/mo - a Netflix streaming plan is an absolute must to go along with any unlimited cellular data plan.
For those not opting for a cellular data plan that can support a streaming habit, or when parked in areas without great internet, Netflix's add-on disc by mail service is a very usable option for on the road entertainment if you'll have a shippable direct address for a few days at a time. We often activate this whenever we are spending a month or two in an area with weaker signal.
We love that you can turn on/off each these options as needed on a monthly basis... very RVer friendly.
Netflix also gives you control over your streaming data usage - ranging from "Low Quality" at 300MB/hr to "Standard" at 700MB/hr to "High/HD Quality" at up to 3GB/hr. Some Netflix content is now even available in Ultra HD quality - using a staggering 7GB/hr, if you have the bandwidth available!
Cord-Cutting On The Road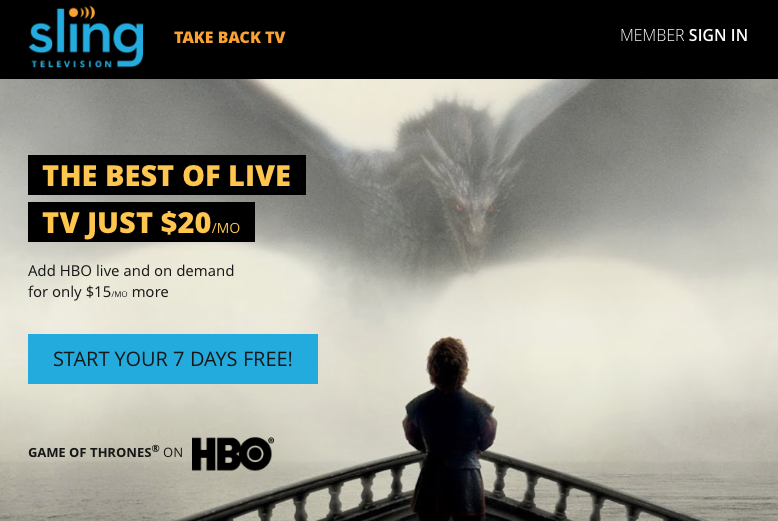 Us RVers are the ultimate 'cord cutters' - but that doesn't mean we don't appreciate great television.
There is so much great stuff out there to watch.
If you are willing to invest in an unlimited data plan (or carefully ration a large shared data plan) you can hit the road and still keep on top of the best entertainment that is out there.
HBO Now and Netflix for us are absolutely worth the combined $23/mo that these services cost.
Sling TV on the other hand we'll probably cancel - the whole idea of "live" TV with commercials and no ability to pause and rewind feels too much like a step backwards for us.
But for others it may be exactly right. Try it out.
And then of course there are the great apps from all the old school networks. In case you are someplace you can't get the signal for free over the air - ABC, NBC, PBS and CBS all provide free streaming access via apps to most of their shows the day after they air live.
If you don't have a grandfathered in unlimited plan from Verizon or AT&T or access to awesome WiFi - all it takes is an HDMI cable, an unlimited plan, and a smartphone tethered to your TV - and you you too can enjoy great entertainment.
At least as long as you are able to get a strong enough and fast enough cellular signal, that is...
*grin*
Additional Resources: