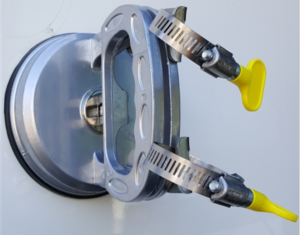 One issue that many RVers stress over is how to attach external Wi-Fi and cellular antennas to their RVs.
This is understandable - it is inevitably stressful to contemplate drilling a hole in a roof or wall for an antenna cable to enter, or a permanent mount to attach.
RV focused online retailer TechnoRV has recently developed an interesting new product designed to make things easier - especially if you are only looking for a temporary antenna mounting solution that can be quickly deployed only when you need it.
Check out the new GoStik Antenna Suction Cup Mount, now available for $34.99 (2018 update: price is now $44.95).
Clamp On, Onto Any Smooth Surface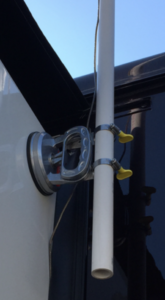 TechnoRV describes the mount like this:
"This suction cup mount will mount to any smooth, non-porous surface, so naturally your RV sides will work perfectly. Just attach the suction cup mount on your RV near the entry point of where the cable will come into your RV. That is all there is to it! This makes for a very easy and clean install. Before you leave for your next destination, just take it down."
The clamps on the Suction Cup Mount can securely hold most any outdoor-rated Wi-Fi antenna, or even some cellular antennas that do not require attaching to a metal ground plane.
A WiFiRanger Elite or TechnoRV's own External WiFi Booster Tube are perfect companions for this mount.
For extra height to get up over the walls of your RV, a simple piece of PVC from a hardware store will work nicely.
The big downside of this mount of course is that it is NOT intended for permanent installation. You need to set this up and take this down in every location where you need it.
TechnoRV has published a great video showing how this antenna mount works in a range of situations.
We will be getting one of these nifty mounts in soon to test, and we look forward to adding this to our connectivity toolbox for when we need to temporarily supplant one of our more permanently roof-mounted antennas.
If you are looking for an easy way to temporarily attach antennas to your RV, perhaps before committing to a more permanent solution, this is definitely worth a closer look.
---
TIP: TechnoRV is now also offering a version of their Camp Pro Wi-Fi Range Extending Kit that includes the GoStik Suction Cup Mount. MIA members - your exclusive discount code is applicable towards this and all other Wi-Fi and cellular boosting kits that TechnoRV sells.