Cellular, Wi-Fi & Satellite For a Fixed Location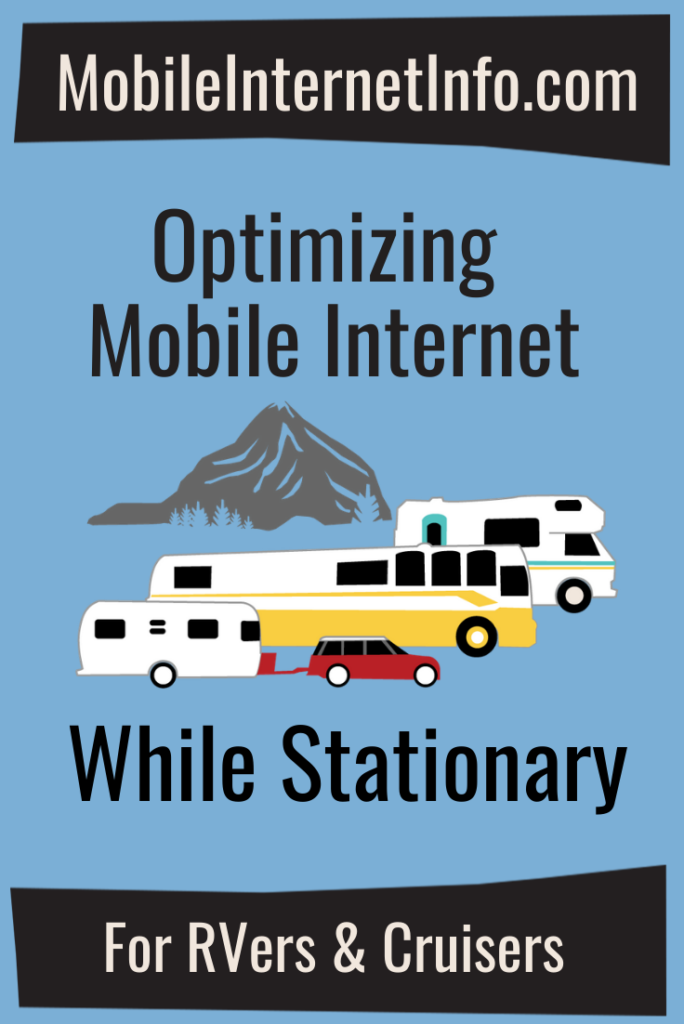 Here at the Mobile Internet Resource Center, our focus is on mobile internet in the United States - meaning internet sources that can travel with you as you in a nomadic lifestyle like RVing or cruising.
However, there are times when you may park your wheels or dock your dinghy for an extended period of time.
Or you have a fixed residential home base from which you travel.
Or perhaps you live in a rural area where traditional home internet solutions aren't viable.
Or you're a cord-cutter also relying on similar solutions to RVers and boaters.
This guide is meant to help you utilize mobile internet options like cellular and Wi-Fi sources when you aren't so mobile.
During the Spring 2020 COVID-19 Pandemic - RVers and cruisers who are normally mobile are finding themselves sheltering in place longer-term. We've released this formerly member-exclusive guide to be FREE to public to help assist those seeking their ideal internet solution during this time.
This Guide Brought to You by Our Members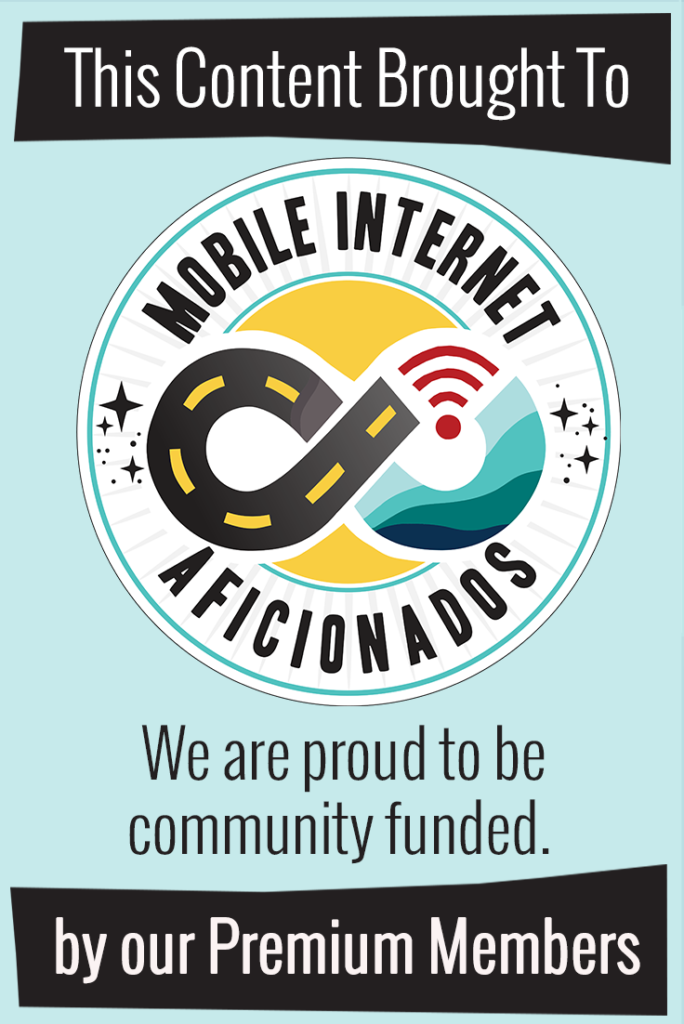 We are honored to be able to provide this guide for free - without 3rd party advertising, sponsorships or trying to sell you stuff.
In thanks for funding this resource center, our premium members also get access to all of our in-depth guides, classrooms, reviews, Q&A forums, discounts and more. But we understand, membership isn't for everyone - there are lots of ways to support our content.
If mobile internet is an important part of your lifestyle, here are ways you can help:
Video Overview
Here's a quick video overview of this topic:
---
Considerations for Stationary Setups
The challenges of a stationary internet set-up and a mobile internet set-up are different.
One of our catchphrases here is:
The best internet solution is the one that works best at your current location.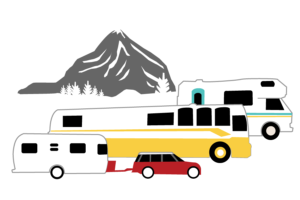 For those who are mobile, location is a variable. The goal of a mobile internet setup is having a variety of options ready to be deployed as you move from location to location.
A stationary setup on the other hand can be optimized for what works best at a particular location.
If you're staying in one place for a long period of time, you'll (hopefully) only need to figure out what works best in your given location once.
Even if you're staying in an RV or boat, it's not much different than moving into an apartment or house in a new neighborhood.
While the upside of being stationary is that you can optimize for the best solution, the downside can be that finding that best solution may take a lot of trial and error.
For more information on mobile internet options for active nomads:
---
How to Find What Works Best in a Single Location
Our number one tip for figuring out what works best in a specific location?
Ask your neighbors.
Find out what those around you are already utilizing for internet access, you can learn a lot this way.
If you're at a campground, RV park, marina or another housing situation, ask the owners or management what they suggest.
Check campground or marina reviews for mentions of internet access.
If you're willing to spend some cash without a promise of an answer - but with the promise of more information to help solidify your answer - companies like LTE Fix sell Cellular Tower Survey Reports to help you better identify which towers are in your area.
If you're hitting brick walls, then you're going to have to simply try different solutions - which can be time consuming and costly. But once you have it all tuned in, the investment should hopefully pay off for a long time to come.
---
Stationary Possibilities
The possibilities may not be endless, but they are typically more abundant than options for a nomadic lifestyle. In addition to cellular and Wi-Fi options, those who plant their stakes for longer periods may have better access to hard-wired options and have more success with satellite.
Hard-Wired Cable/DSL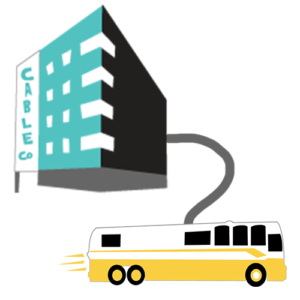 If you're planning to be in one spot for a while, sometimes hooking directly up to fixed, wired cable or DSL is a possibility.
RV parks and marinas that cater to long-term residents sometimes already have cable pulled to each site, and all it takes is contacting the local cable or DSL provider to get service switched on and have them bring you the necessary modem.
The park may not advertise this as an amenity, so you probably need to ask - or look around your facility to see who is plugged in.
Depending on the provider, the costs to get started can be very reasonable. There may not even be any contracts or penalties for canceling after a short period of time.
And you can usually rent the equipment for a few dollars a month, instead of buying it. But if you find yourself signing up for cable internet often, many providers utilize the same modem standard – so it may be worthwhile to buy a cable modem.
Perks
Access to fast and essentially unlimited internet. No competing with neighbors for bandwidth or worrying about hitting caps or limits.
In general, reasonably priced.
Typically there are not long term contracts.
Drawbacks
If it's not available, it's not available.
Will need cable company's equipment - although many providers do use the same modem standard.
Wi-Fi
Many campgrounds and marinas offer free and/or paid Wi-Fi for use by their patrons.
To deliver a great Wi-Fi experience, an RV park, marina or other public facility needs to have invested in doing it right.
A public Wi-Fi hotspot is highly dependent upon its upstream source of internet (whether it is cable, DSL, satellite, etc.) and on how many other people are sharing that connection. If the upstream source is not copious enough to support the needs of the entire facility, you are likely to be subjected to a frustratingly slow, or utterly useless experience.
If you're staying on the property of a friend or relative, you may also be able to tap into their home network.
For more, in depth information on exactly what Wi-Fi is, see our guide:
What is Wi-Fi?
Staying in a single place has its perks and its drawbacks when it comes to Wi-Fi.
Perks
If the Wi-Fi experience is solid, you have an easy solution. You may not even need to buy additional gear, like range extenders or a router.
If the Wi-Fi at the source is good enough to support your needs, but you find that the signal isn't quite reaching your site or slip, you may be able to set-up a relatively inexpensive solution for extending the signal. We have in-depth info on extending a Wi-Fi signal in our Guide to Getting a Better Wi-Fi Signal for RVs and Boats. Since you're stationary, utilizing higher gain directional antennas become much more viable than in a mobile setup.
If you find the Wi-Fi is decent enough to meet your needs during non-peak hours of the day but bogged down at others, you may need to work your usage around congested hours. It can take some planning, but for those who don't rely on internet, this can be a cost-effective, simple solution.
Drawbacks
If the Wi-Fi stinks at the source, you're pretty much out of luck. A range extender will not increase the underlying bandwidth - it can only extend the range of the Wi-Fi signal.

Tip: Before investing in Wi-Fi extending gear, take your laptop or tablet closer to the access point. Your signal will probably improve (5 bars instead of 1), but do some speed tests and some surfing - does your experience improve? If it does, then an extender might help you bring that performance back to your RV or boat. If it doesn't improve, then the Wi-Fi provided at this location likely isn't suitable to begin with... and no amount of gear you install is going to help.

It is common that parks have not invested in creating a Wi-Fi structure that can support an entire campground or RV park.
Cellular
Cellular data is the most common way those on the move get their internet access. Cellular data can also be used by those who are stationary.
Cellular data allows you access to the internet anywhere your devices can get a cellular signal from your carrier(s).
You'll have to choose which carrier gets the best service at your location and find a suitable plan that can serve as your primary internet solution. And then, of course, select the appropriate equipment to deliver a usable internet experience.
Cellular can provide a more variable experience than hard-wired or satellite options. It can also be difficult to find and procure a cellular plan that supports your needs - especially if those needs expend copious amounts of data.
Some additional guides that can help in this section process include:
Perks
Much of the US is swathed in cellular coverage - and much of that coverage provides decently fast speeds. Fast enough to stream video, video conference, and upload and download files.
Committing to a single location gives you the opportunity to hone in and really enhance your experience to that specific location. This can take some testing time and potential purchases of signal enhancing gear. And you may need to switch cellular carriers to find your optimal setup. But since you're staying a while, working towards an optimal cellular experience is worth the while if you don't have other options.

TIP: Ask your neighbors! What cellular provider is working - or not working - for them? Do they feel slowdowns at certain times of day? Are they using enhancement gear?
Drawbacks
Cellular data performance is variable. You might see blazingly fast speeds when standing outside by your tree, but move 10 feet to the left and the signal slows to a crawl. Sometimes cellular enhancement techniques can aid in your experience, but it's not a guarantee.
Cellular data experience is often dependent on tower load - meaning that your experience may vary depending on the time of day or season of the year in your location.

Sometimes, even those who are stationary find owning plans from more than one cellular provider to be useful. If you hit the bog at around 6 pm when your neighbors are returning from work or adventures, you can switch to a second carrier.

Cellular data is often speedy enough to perform most tasks - but if you are dealing with a high-speed requirement, you might be out of luck.
Satellite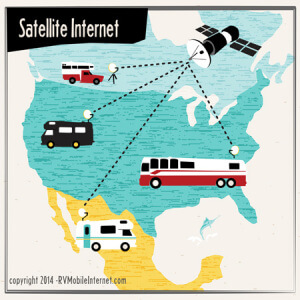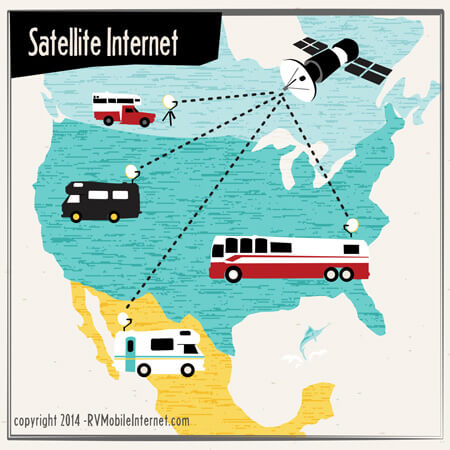 Sometimes, for those who don't plan to move around a lot - or at all, and are deep out in the wilds of the US - satellite internet can be their answer.
There are several geostationary satellite internet options that can work great for stationary homes -- Exede, WildBlue, HughesNet. You will need to contact a local dealer and have them set up a dish and provision it for service.
Satellite comes with some substantial considerations, but can be the right choice when there are no other choices.
Just keep in mind, residential satellite service isn't mobile. Most fixed satellite internet services require a provider to re-install & re-program equipment for each move. So if you will be moving locations, you may want to consider mobile satellite options instead.
And of course, low earth orbit satellite options such as Starlink are on the horizon. Promising to deliver high speeds and lower costs, this option could completely change the landscape of connectivity. While it's not a full-fledge mobile solution yet, they are moving in that direction, and are beginning to take orders for beta customers.
So avoiding locking in long-term contracts on old-school geostationary satellite options for now might be prudent.
More information on mobile satellite solutions can be found here:
Overview of Mobile Satellite Internet

Mobile Satellite Internet Resource Collection
Perks
If you are willing to work around the ever-present latency of satellite - there is something magical about being online far away from even a remote hint of cellular.
Satellite truly can be the "only" option if you're located in an area without coverage from other sources.
Drawbacks
Compared to cellular or hard-wired service, current satellite internet is often slower, higher latency, and more expensive.
There are actually still coverage map issues when it comes to satellite- not every satellite actually serves every corner of the country.
Due to latency issues, some applications that rely on lots of back-and-forth interaction between a client and server can be nearly unusable over satellite. Secure VPN sessions and interactive remote desktop or terminal sessions will often prove to be an exercise in frustration.
Most satellite services require long term contracts.
Low earth orbit satellite options (like Starlink) could be launching in the foreseeable future.
WISP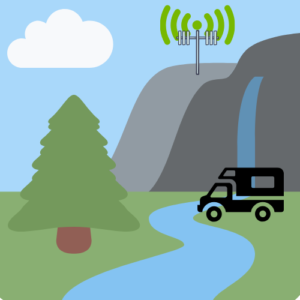 Wireless Internet Service Providers (WISPs) can be an option for temporary or fixed-location service, even in places beyond where cable and DSL providers reach.
WISP providers set up transmitters on local high points and then install compatible broadband receivers on the roofs of local customers.
Since the WISP doesn't need to run new wires, if you have a view to the right mountain or hillside, you might be able to get a local WISP to offer you fast unlimited service. It all depends on line of sight.
To find out if WISP might be an option in your area, check local advertising periodicals, signs in grocery stores or laundromats, the Yellow Pages, Google, or talk to local computer repair professionals for leads. You can also scour the internet - or use a WISPA.org to search for options.
Because a professional installation is usually required, WISP service is not usually appropriate for short-term stays.
Perks
Can provide internet access in places beyond where cable or DSL providers reach.
Drawbacks
Professional installation required.
Not typically re-usable if you do move locations out of a close proximity.
---
Stationary Enhancements
You've arrived. You've assessed your internet options. You've realized that maybe what your 'best' option needs is a little 'kick in the pants'.
Can your internet source be enhanced?
Maybe.
Wi-Fi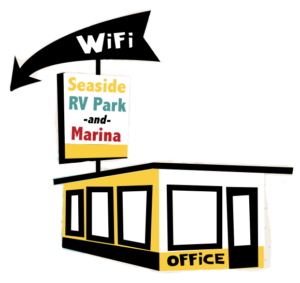 If the campground, marina, or driveway you're stationed at has slow and unreliable Wi-Fi near the hotspot, no amount of technology will be able to make things any better further away.
Before you invest time and money in installing extra gear, find out if the hotspot you're trying to connect to is actually worth the effort.
If you do have a solid surfing experience closer to the access point, installing Wi-Fi extending gear could bring that experience back to your home. Since you'll be settling in for a while, utilizing higher gain directional equipment that you have to aim (but only once) could be very worthwhile to get the best possible experience.
For in-depth information on Extending a Wi-Fi signal:
Cellular
I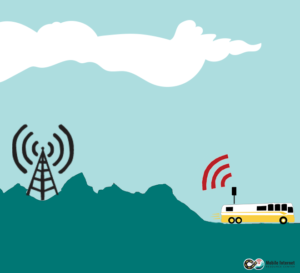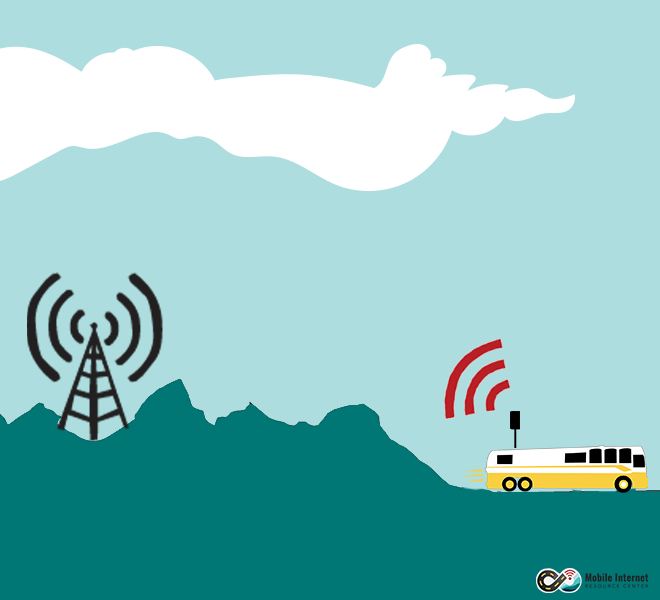 f you've settled on cellular being your best option, but you have noticed that your performance could be better - there are a lot of things you can do,
Getting the best cellular data performance is a tricky endeavor, however. There are so many factors, including how modern your cellular modem is and the signal enhancing gear you have.
Each location could require trial and error between locking onto specific frequency bands, aiming antennas or using cellular boosters.
It's nearly impossible to predict what will work best without bringing out all of the gear and testing onsite. Which unfortunately means you may have to plan to purchase some gear and give it a shot. Just make sure you purchase from vendors that make returns easy if it doesn't work out.
For in-depth information on Cellular Data Performance Enhancement:
Directional Antennas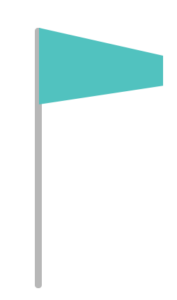 For many nomads, the hassle of setting up a directional antenna outweighs its benefits.
BUT, if your home doesn't move often - or ever - directional antennas become much more viable.
Directional antennas can focus their gain - and thus can do a much better job at bringing in a stronger signal. The stronger the signal, sometimes the faster the data speeds.
A directional antenna may require substantial time and effort to optimize at set-up, but if you are not going to be moving, the initial investment in time and energy may be worth the pay off of a well-enhanced signal.
But, do know that while a directional antenna in a weak signal area can perform awesome stuff, in moderate signal areas they can sometimes be too powerful.
For an depth look at directional antennas, and how to aim them, see our Guide to Selecting a Cellular Antenna:
Residential Powered Cellular Boosters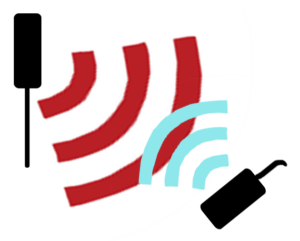 There are many boosters on the market that are built for non-mobile living situations. In fact, most boosters are built in this manner.
A household powered booster can work in an RV or boat too, but legally can only be used while parked or docked.
In addition, home powered boosters tend to be too powerful for smaller spaces - great care needs to be taken for antenna separation to avoid oscillation.
The maximum legal gain for a home stationary booster is 70dB, while a mobile cellular booster is limited to 50dB.
The increased gain is mostly evident in the re-transmitted signal, creating a larger boosted area. With this increased gain comes a need for increased interior and exterior antenna separation.
There needs to be at least 30 feet or more of separation between antennas to operate properly - something that even folks with the largest of mobile rigs can have a hard time achieving. Boosters made for stationary situations often come with directional antennas that you have to aim, which helps reduce oscillation.
When an RV or boat is stationary, however, you may have more mounting options to play around with to get the optimal antenna separation to make a residential booster work - thus giving you more interior boosted areas.
---
Residential Home Considerations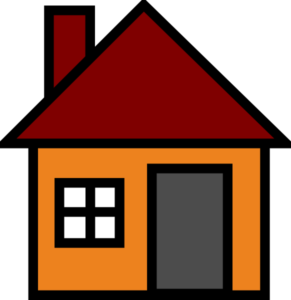 There are some special considerations for residential-sized homes when using mobile internet solutions.
Wi-Fi Broadcast Range
You'll need to consider the expanse of area you've got to fill with connectivity.
The range of a Local Area Wi-Fi Network (LAN) on some mobile gear may not be suitable for a larger home, meaning you will need to seek out home-based networking solutions or expand on what is offered with a mobile solution. This is particularly true of mobile hotspots and smartphones that are only designed to create a Wi-Fi network to fill perhaps the size of a room.
You may also want a router that supports an ethernet hard-wired local area network.
Solutions could include utilizing pro-level cellular embedded modems meant for more industrial applications, utilizing stronger routers, or bridging your mobile solutions to residential routers.
For more on these options:
Sharing a Cellular Booster Between House & RV/Boat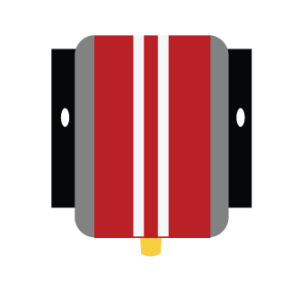 Cellular boosters are a pricey investment, so for those who split their time between a mobile substrate and a fixed residential home - they may want to utilize just one cellular booster in both applications.
The question becomes, do you go with a residential or mobile booster?
While a mobile booster can work in a house, a mobile booster is limited to 50 dB of gain. This translates to a very small boosted area. Residential boosters are stronger and can create larger areas of boosted signal.
So there will be trade-offs to consider, do you want to have less power in your house or more considerations for antenna separation on your smaller mobile setup?
If you choose to share a booster, you may consider outfitting each home with different, appropriate antennas. Higher gain antennas, such as directional antennas are more appropriate for use in a sticks and bricks home. You can then pair the booster with more mobile omnidirectional antennas on your RV or boat. Then, you can move the interior booster unit between the two settings - using different antennas.
---
Summary: Optimize for your Location
Mobile internet solutions can apply to stationary settings, although mobile solutions are not usually optimized for stationary settings.
For those who are simply 'too far off the grid' to access typical stationary household options, investigating what those who are mobile use can be a good 'jump off' point to find an internet solution.
For those who are mobile sometimes, but stationary others, creating a 'mixed internet arsenal' - utilizing stationary options when those are available and best, and mobile solutions at other times, is often the solution.
Explore the Resource Center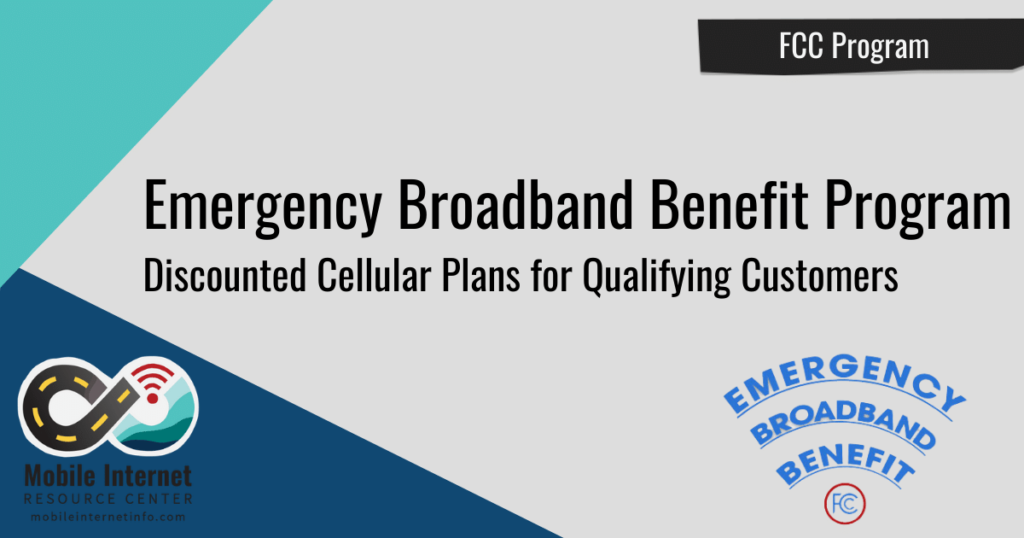 FCC's Emergency Broadband Benefit Program – Saving Qualified Households on their Wireless Data Plans
The MIA is our premium membership - designed for those who consider mobile internet an important part of their lifestyle.
In thanks for making content like this possible, we offer a bunch of additional perks. From interactive guidance, in-depth member exclusive content, discounts, alerts, classroom and more.
We totally understand that a membership isn't right for everyone.
However you can still support this content with our supporter level for just $25/year.
With our gratitude, you'll get access to all our free content without the 'nags'.

Have Questions? Stay In the Know
Join our 'Library Desk':
Internet for RVers & Cruisers Facebook Group
We cross post news articles and guides, and can help point you in the right direction to our content here on the resource center.
It is with gratitude to our premium members that we're able to offer our free content - and for that, they also have access our private Q&A areas for more in-depth guidance.
Stay in the Know
We're constantly tracking the industry and analyzing new developments for mobile travelers. If you'd like to receive updates, we offer several ways: