Today T-Mobile's latest "#uncarrier Amped" announcement is a new family plan (available starting July 15th) that offers 10GB or 20GB of high speed data per line, with support for tethering using all of that data, as well as the awesome new "Mobile Without Borders" feature that extends service into Canada and Mexico.
The new Simple Choice Family Plan costs $100/mo for two lines, each with an independent 10GB data bucket.
Each additional 10GB line costs an additional $20/mo, and any line on the plan can have its data bucket doubled to 20GB for an additional $10/mo.
As a limited time promotion - if you activate three lines a fourth line is free if you sign up before Labor Day.
As is usual with T-Mobile, all the lines support the "Data Stash" rollover feature that carries forward unused data for up to a year, as well as unlimited music streaming that does not count against your data usage.
There are also no overage charges if you go over the data limit for the month - speeds just drop back to a 2G crawl until the next month rolls around.
Frustrating At Home / Perfect For Travel Abroad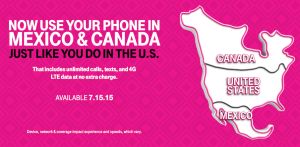 As appealing as these plans and prices are - for RV travelers in the US you will inevitably find T-Mobile's coverage extremely lacking, especially in rural areas. It is getting better - but T-Mobile still has a long way to go to rival Verizon and AT&T.
The rollover Data Stash however makes it less painful to have a T-Mobile plan in the US when you are staying an extended time in an area without coverage - at least your data will not go to waste and will be usable when you next find coverage.
And T-Mobile's WiFi Calling features will let you still make and receive phone calls and text messages when out of coverage, as long as a WiFi hotspot is around - including hotspots powered by AT&T or Verizon devices.
But for RVers who travel across borders - "Mobile Without Borders" is the killer feature.
It now makes perfect sense to sign up for a T-Mobile family plan before heading off for a summer in Canada or a winter in Mexico - getting two phones online with potentially as much as 40GB of data to share for just $120/mo.
There is no better way to get this much bulk data, seamlessly, while traveling across borders.
Further Info: