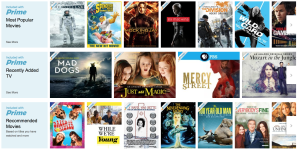 T-Mobile today announced four new additions to the list of Binge On free streaming services - including a big one, Amazon Video - which offers a ton of free movies and TV shows to Amazon Prime subscribers, and rental content to anyone with an Amazon account.
The other new additions included Fox News, Univision, and for fans of big sweaty men in tights - WWE Network.
Online video giant YouTube however remains notably absent, and with Google's unhappiness with Binge On, it is sadly likely to remain AWOL.
T-Mobile shared some statistics showing just how much video has been watched via Binge On since the service launched in November - showing that customers are now watching twice as much video per day, and:
"Since launching Binge On, T-Mobile customers have streamed 34 petabytes for free. That's 34 million gigabytes – the equivalent of more than 109 million episodes of Game of Thrones at DVD quality (480p)!"
Binge On - Getting Easer To Control


One of the chief complaints about Binge On was that all customers were opted in to the feature automatically, and some people objected to how hard it was to toggle the service off, and to the lower resolution 480p "DVD Quality" video.
T-Mobile is keeping Binge On turned on by default, but they are making it easier to turn it ON or OFF as desired.
Starting today - for those with smartphone plans:
New short codes let you instantly check or change your personal settings right from your smartphone's dialer. Just dial #BNG# (#264#) and hit send to check your settings, #BOF# (#263#) to turn it off and #BON# (#266#) to turn on Binge On. So, when you're ready to cast a movie to your TV, you can choose to quickly toggle Binge On off for big-screen resolution – and then flip it back on when you're ready to stretch your LTE data farther.
T-Mobile has also simplified the Binge On toggle on MyT-Mobile.com so that the setting is visible right on the front page, and over the next month T-Mobile is rolling out a new iOS and Android app that will also enable simple Binge On toggling.
This is a huge improvement - you can now easily turn off Binge On for special shows that you don't want to miss in HD (like Game of Thrones), but can leave it on otherwise to avoid using up your high-speed data.
For RVers - Binge On has proven to be a great thing.
T-Mobile Unlimited Throttling Limit Increased
Speaking of high-speed data...
T-Mobile "Unlimited Data" phone plans have always been subject to "usage de-prioritization" after a certain amount of data had been used up in a month - slowing unlimited users down on congested towers relative to other T-Mobile customers.
T-Mobile has increased this threshold recently - from 23GB to 25GB:



T-Mobile sets the limit based upon the usage of "customers who use more data than what is used by 97% of what all customers use in a given month".
In June 2014 when this policy was implemented, the limit was 21GB. Then 23GB. And now 25GB.
It is nice to see the amount of data that unlimited users can freely take advantage of steadily increasing.
Further Reading: