Starlink has added a useful new feature to their app called "Sleep Schedule".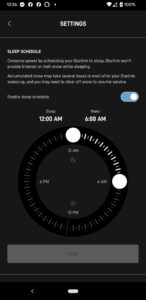 The main purpose of this new feature is to be able to put Starlink to sleep on a set schedule each day to save power when you are not actively using your Starlink. Such as while you sleep.
By having this feature in the app, it makes it pretty simple to have Starlink shut down and startup again at predetermined times.
Starlink can use quite a bit of power. This feature is a welcomed relief by those living off-grid so they can better manage their power usage. Especially overnight when leaving a Dishy running can easily drain a battery bank.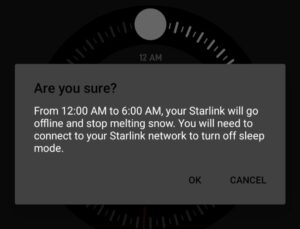 The functionality of this feature appears to be pretty basic with only a single toggle to turn it on and off and then a picture of a clock with a sleep and wake time you can set.
At present time, you can only set one sleep schedule and it will be used every day it's toggled on.
Since there is no internet connectivity while the Starlink is in sleep mode, the only option to wake it up early is to be locally connected to the Starlink Wi-Fi and to turn off the toggle in the app.
Key Mobile Internet Related Considerations:
There is no internet service while in sleep mode
Snow melt is temporarily disabled while in sleep mode
The app warns that it could take several hours to melt snow after it's turned back on, but for most nomads they could manually clear the dish if that was an issue.
While the Starlink is in sleep mode, the only way to disable it is to be locally connected to the actual Starlink Wi-Fi to disable the feature.
This feature is currently not available via a webpage at dishy.starlink.com so you must use the app to access it.
Video Story:
For more information:
Related Content at the Mobile Internet Resource Center:
Related News Stories