While researching the newest satellite internet option for RVers this week - the RV DataSAT 840 and the accompanying Insta-Sat service, I surfed around to check on the latest updates on the older options.
When I checked in on StarBand, I was dismayed to see this notice posted on the website:
We regret to inform you that due to steadily increasing operating costs, bandwidth demand and competing consumer broadband alternatives, we will be discontinuing StarBand services effective September 30th, 2015.
The FAQ goes on to explain that there is no future at all for StarBand service after September 30th, and the equipment is essentially junk:
The equipment is proprietary to StarBand and will not work with other Internet services. StarBand will not be repossessing the equipment. You can dispose of the equipment as you see fit.
StarBand customers wishing to continue on with satellite internet service are directed towards setting up new service with Exede or HughesNet, neither of which can be used in a mobile installation.
The End of the Mobile / Tripod Era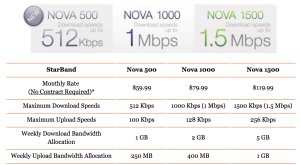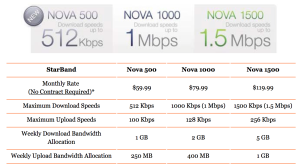 StarBand was the only satellite internet service that officially supported customer-aimed mobile tripod installations, and thus was formerly a popular choice for some RVers.
Popular RVing blog Roadtreking.com actually just blogged about how much they love their Starband setup just two weeks ago.
Reseller MobileInternetSatellite.com provided the training and equipment to assemble a portable tripod system, and monthly service plans from StarBand started at just $60 a month for 512Kbps down / 128Kbps up, up through $120/mo for 1.5Mbps down, 256Kbps up.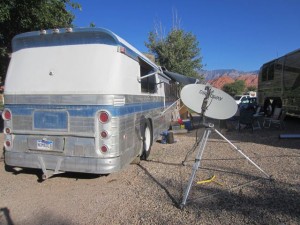 Though StarBand competitor HughesNet never officially supported mobile tripod installations, many RVers (including us) used to have similarly configured tripod-based HughesNet satellite internet systems.
But HughesNet has long ago moved on to "Gen4" satellite technology that uses "spot beams" that do not support roaming more than a hundred miles or so from your home address, and which requires precise professional aiming to initially configure.
In other words - not at all mobile friendly.
HughesNet has been aggressively migrating customers off of the old nationwide satellite service, and over the past year it has become essentially impossible for customers anywhere in the lower 48 to get HughesNet to activate new service with these older systems.
The only vendor who still seems to be able to get old HughesNet equipment activated is Montana Satellite Supply, but only by activating a higher-priced commercial grade service plan.
In other words - the age of affordable tripod-based mobile internet systems is now essentially over.
If you want satellite internet in an RV - the best (and nearly only) option remaining is the new RV DataSAT 840 robotic roof mounted system.
Or you can wait three to five years for next generation technology to (hopefully) get off the ground.