It is no secret that Sprint has been struggling.
The company has been operating at a loss for six straight years, and last year fell behind the rapidly rising T-Mobile to become the fourth largest cellular carrier in the country.
To stop the bleeding - in November Sprint announced plans to slash $2.5 billion in expenses in fiscal 2016, with CFO Tarek Robbiati saying Sprint would "go after everything including snacks and yogurt cups (for employees)" to reduce costs.
Well - it seems like the yogurt cutbacks and mass layoffs were not enough, because now word has leaked that Sprint is planning to save $1 billion this year by cutting back on critical cellular tower leasing and fiber backhaul expenses.
According to the article on Re/code, which broke the story:
One person familiar with the initiative, dubbed the Next Generation Network, predicted it would result in another wave of network hiccups. Sprint's plan also could result in less coverage in regions of the country where Sprint has few subscribers and sees little financial benefit.

"Getting there is going to be a nightmare" said the source, who requested anonymity because he is not authorized to speak about the matter. "It's going to be very, very disruptive."
Ouch!
From Luxury High-Rise to Government Housing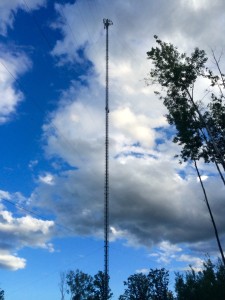 Though cellular carriers own their own radio equipment - they all often lease space to install this equipment on radio towers owned by commercial tower companies such as American Tower and Crown Castle, particularly in less populated areas where it makes little sense for every cellular carrier to invest in building a tower of its own.
The leases for prime tower space can be very expensive - so to cut costs Sprint is planning this summer to begin relocating radio equipment from these prime locations to more affordable homes - primarily building on government-owned properties where the rent is a lot cheaper.
The downside of this relocation is that Sprint will be dismantling and rebuilding major chunks of its network - with service interruptions likely, and areas where there used to be solid coverage perhaps ending up with none.
Over time Sprint may be able to fill the network holes left by moving off of the largest towers - but in an era where T-Mobile has been rapidly improving cellular range and rural service to catch up with AT&T and Verizon, it is disappointing to see Sprint headed in the opposite direction.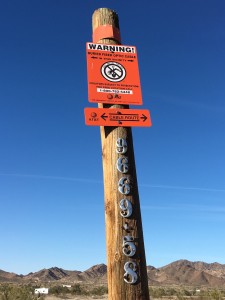 Sprint is also hoping to save money by reducing backhaul expenses.
The "backhaul" is the connection from the cell tower back to the carrier's main office, and for many commercial towers the backhaul is provided by fiber optic cables owned by Verizon or AT&T.
Sprint has been forced to pay its competitors a fortune to move data over backhaul it does not control - so in the future as Sprint relocates its radios it is aiming to replace fiber connections with point-to-point wireless microwave transmissions.
These are all potentially reasonable plans for Spring going forward - but all signs point to a difficult transition as these changes are rolled out over the next few years.
A Rocky Future Ahead?
Sprint controls more raw cellular spectrum than even Verizon, but it has not been able to capitalize on this undeveloped wealth.
As we wrote about in our article on Sprint's "LTE Plus" network announcement:
Sprint has always been a carrier with immense raw potential - but for the past few years Sprint has been the network of disappointments.
It seems that going forward - Sprint will be aiming to focus more effort on delivering speed and reliability in core LTE Plus areas with the most customers to target. And in these areas where Sprint has been able to fully build out its tri-band network, some customers have reported some absolutely phenomenal speeds.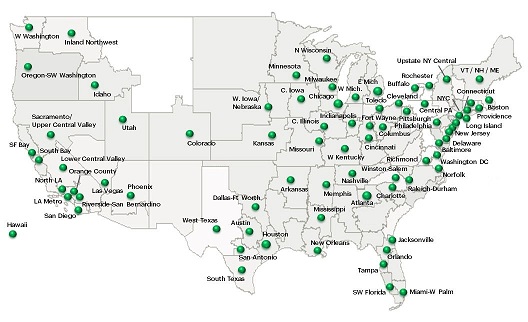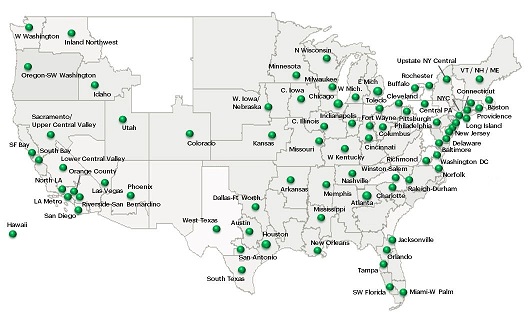 But as Sprint focuses on returning to profitability, expanding service out into rural areas and the fringes of towns where RVers tend to frequent will likely become even less of a priority then it has been in the past.
MVNO's & Resellers Will Suffer Too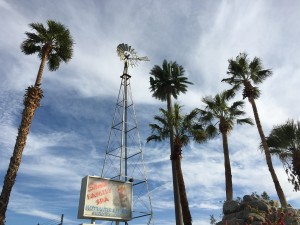 Sprint's wholesale data business will allow just about anyone to open up a virtual network using Sprint as the backend, and Sprint has been providing the underlying network for more MVNOs (Mobile Virtual Network Operators) and resellers than any other carrier.
Sprint-powered MVNO's & resellers include Karma, Unlimitedville, NetZero, FreedomPop, Ting, Virgin Mobile, and many others - even one-half of Google's Project Fi.
All of these MVNO's are dependent on Sprint's network - and decreases in reliability and coverage will impact all of them.
Time to Run Away from Sprint?
Many RVers spend a lot of time in the exact places that Sprint seems to be backing away from.
Because of this, unless you know that you are going to be spending ample time in a core Sprint area, Sprint is becoming harder and harder to recommend for RVers - even as a secondary network where there are some very affordable options through various resellers.
The one thing that Sprint did have going for it was relatively affordable unlimited plans, but even those are becoming harder to recommend with very limited shareable hotspot data provided from Sprint, and "unlimited"MVNO plans like Karma's Neverstop has now shifted to being a LOT more limited than initially advertised.
Unless Sprint comes up with an exciting way to lure RVers - we recommend not investing too much into Sprint options unless you know for sure you're sticking to solid Sprint areas. But be prepared for some potentially rocky connectivity in the future as they transition to more affordable tower leases.