UPDATE: Sprint has extended this offer multiple times, and as of May 2018 it is being re-promoted as a "Limited Time Offer."
We tested the process out, and were able to switch an old rarely used AT&T line over - though it did take way too much time on the phone to make it happen.
Still - over the course of a year, this is a great way to save some money on a secondary line.
Early in July 2018, we noted that Sprint quietly changed this plan to not including
hotspot
ability. That's right - hotspot is no longer included in this plan and video is reduced to 480p.
We have shared some MIA member-exclusive tips on how to take advantage of this plan below.
---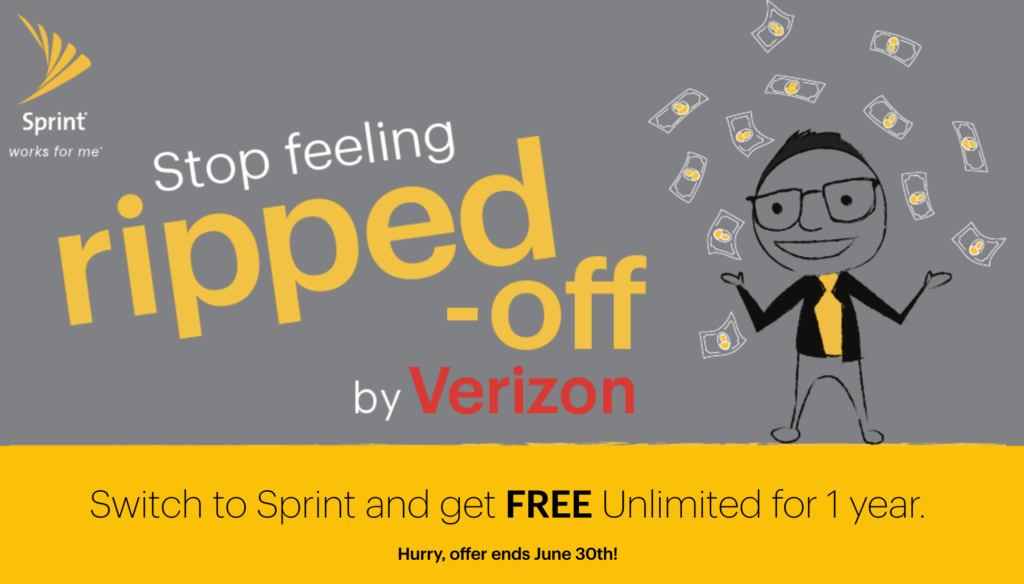 Sprint has a reputation for being the "low price" carrier - but a new promotion is taking this to an extreme by offering a full year of service for FREE to customers who switch a smartphone line to Sprint.
"Bring your eligible phone to Sprint and get FREE Unlimited data, talk and text for one year. There's no annual contract and you can keep your phone, number, accessories, photos, apps and music. It's really that simple."
All you pay each month are the taxes and fees, the overall plan itself is free.
Sprint is optimistically hoping to lure in customers with a year of free service, hoping some will get hooked on their network and never switch back.
And while we would never recommend mobile users rely only on Sprint's fourth-place coverage map to stay connected, for those who want to save a lot of money on a secondary voice line this is actually a really sweet deal.
The catch - you need to sign up by June 30th July 31st, and only certain phone models are supported.
Plan Details & Limitations
Sprint's Free Unlimited Plan is actually very full-featured.
You get unlimited voice calling, text messages, and on-device data usage.
Video streaming is throttled to 1080P resolution, music streams are capped at 1.5Mbps, and online gaming streams max out at 8Mbps - speeds plenty fast enough for almost all users.
Mobile hotspot, peer-2-peer file transfers (Torrents, etc), and VPN usage is capped at 10GB/mo - after which those services will be throttled to an unusably slow 32kbps. Additional mobile hotspot data can be purchased for $15/GB, if needed.
And like all other Sprint plans - network management is in force:
"Customers who use more than 23GB of data during a billing cycle will be deprioritized during times & places where the Sprint network is constrained."
But overall there are surprisingly few limitations on the free plan. It even includes Sprint Global Roaming, which includes 2G-speed data and unlimited text messaging in 165+ Global Roaming countries at no charge, plus international voice calling for $0.20 a minute.
Compatible Phone Needed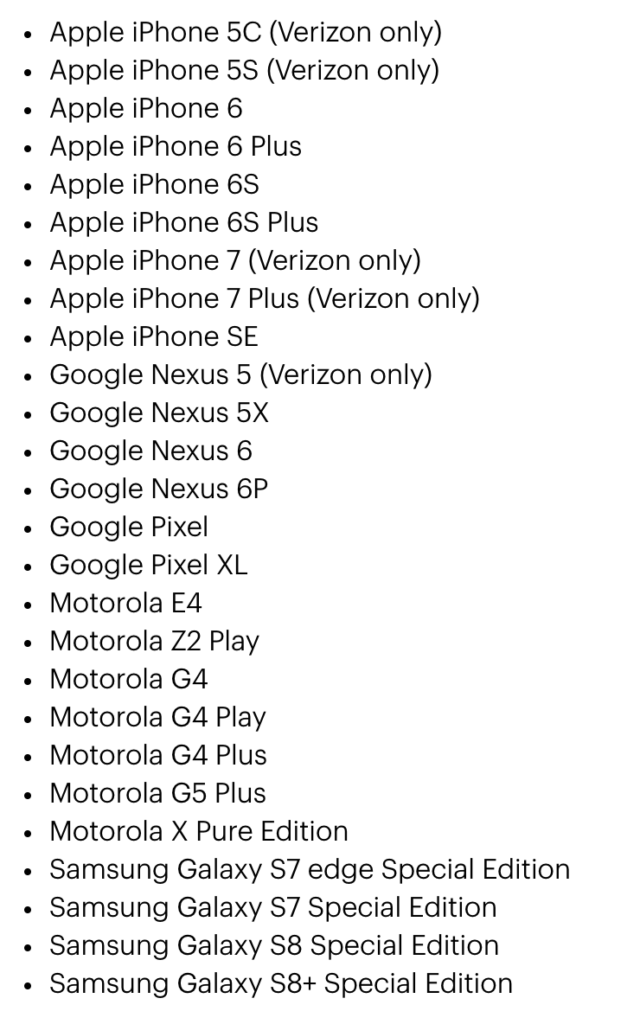 Only certain phones are compatible with Sprint's network - and you need to be sure that the phone has been unlocked by your former carrier to take advantage of this promotion.
Fortunately - all Verizon LTE phones are sold unlocked, and many popular models are Sprint compatible.
If you have an AT&T or T-Mobile phone, you may need to jump through a few hoops to get it unlocked first. If the phone is fully paid off and out of contract, this is usually not hard to do. But many AT&T and T-Mobile phones lack Sprint-compatible radios.
All iPhone 6 and 6S models support Sprint, no matter what carrier they were on originally. As do Google Nexus 5X, 6, 6P, and Pixel models. A lot of Motorola models are also supported too.
But be sure to check Sprint's compatibility list to be sure your particular phone model will work.
This plan is NOT compatible with tablets or other mobile data devices - this is a smartphone plan only.
An Ideal Second Line?
The major downside of Sprint is its coverage map - Sprint is solidly in fourth place.
For this reason we rarely recommend Sprint as a primary data connection for anyone who relies on mobile data on the road.
But if you already have a mobile internet setup using Verizon, AT&T, and/or T-Mobile - most of the phones that are supported by this Sprint plan support Wi-Fi calling, which will actually let them make and receive calls via your mobile Wi-Fi hotspot, no matter what carrier is powering it.
This means that you can switch your voice lines (particularly your secondary lines) to this plan for a year, saving a small fortune in the process.
When you are comparing "free" to the other carrier's monthly pricing, it adds up quick:

But since this offer is for switchers only, you need to have a suitable line available to transfer into Sprint.
Getting Sprint for Free
This is a limited time offer - you need to sign up by June 30th, 2017, though Sprint has said that they may extend this offer.
UPDATE: Sprint has extended this offer so that it now expires on July 31st.
You need to sign up at this special Sprint web page - this plan is NOT available in Sprint stores, though you CAN sign up via Sprint telesales.
You do have to buy the initial Sprint SIM card for $2.99 (plus $10 for overnight shipping), and there is a $30 activation fee that will be refunded after two months.

You are also required to sign up for autopay, and electronic billing.
But once you are signed up - there is no contract or commitment, and you can cancel at any time. And all you will be billed for is the taxes and fees on the line, which vary based upon your billing address but shouldn't amount to more than $10/mo.
You can even add on additional lines of "free" service, up to a maximum of five smartphones (not tablets or hotspots) on the plan.
After the year of free service is up, on 7/31/2018 7/31/19 the plan will automatically convert to a traditional Sprint Unlimited Freedom plan at $60/mo.
Video Recap
Member Exclusive Info
---
We switched one of our lines over to this free plan, and we share some member-exclusive insight and tips into the process below.
If you're one of our premium members, please log in to access this special content.
Not a member? Come join us - and support what we do here.
We would not be able to run this resource center and dedicate so much time to covering stories like this without our members supporting us!
---