Sprint this week announced its quarterly earnings results - revealing subscriber numbers that show it just barely clinging on to third place in the cellular market ahead of rapidly advancing T-Mobile.
Much more interesting to those of us keen on mobile data - Sprint gave some guidance on the upcoming improvements coming to the Sprint LTE network.
It is all about densification, and the "Sprint Next Generation Network".
Sprint Spark Gets Dense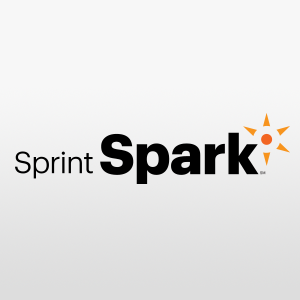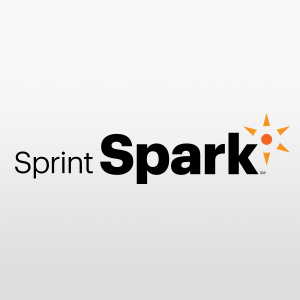 Sprint's tri-band "Spark" LTE network is built upon three cellular bands:
800MHz Cellular (LTE Band 26)
1900MHz PCS (LTE Band 25)
2.5GHz BRS (LTE Band 41)
As I wrote about recently - lower frequencies are better suited for longer range coverage, and higher frequencies are better suited to providing speed and capacity.
The bulk of Sprint's LTE coverage is currently provided by 1900MHz PCS spectrum - but as the Spark network is further built out Sprint will be providing enhanced coverage with large 800MHz macrocells covering more territory, and small 2.5GHz cells (taking advantage of spectrum freed up by shutting down WiMAX) providing enhanced speed in core areas.
During Sprint's earnings call - CEO Marcelo Claure announced that Sprint is "finalizing plans for a massive densification" of its network - investing $5 billion this year into building out the "Sprint Next Generation Network" using 2.5 GHz spectrum to provide greater speeds and capacity.
He continued on to say that Sprint aims to have completed deploying its 800MHz LTE network by the end of 2015, and that currently Sprint's combined network reaches a potential 280 million people.
"Densification" must have been Marcelo's word of the day:
"We do know is there's going to be a massive densification of our network and when you massively densify any network the results that you get when you have so much spectrum are spectacular and you can see it already in places where we've done some of that, where our network is better than AT&T in many different places. Where we are right now is in the absolute final stage, and if we're going to select who the vendor partners are going to be and what is going to be the combination between macro cells and small cells, and where we're going to start first the densification of our network. So we feel very good about the future of our network. Masa and SoftBank are 100% behind the concept of densifying the network and as you've seen from our results, our network just keeps on getting better every day."
Later in the call, he also revealed that Sprint is beginning to work on rolling out Voice over LTE (VoLTE) infrastructure as well - at last joining T-Mobile, Verizon, and AT&T in rolling out this technology, though no target release date was announced.
Though a $5 billion investment seems like a huge sum, many cellular industry analysts were disappointed - saying that this level of investment will not help Sprint narrow the gap with AT&T and Verizon.
Sprint's WiFi "Fourth Layer"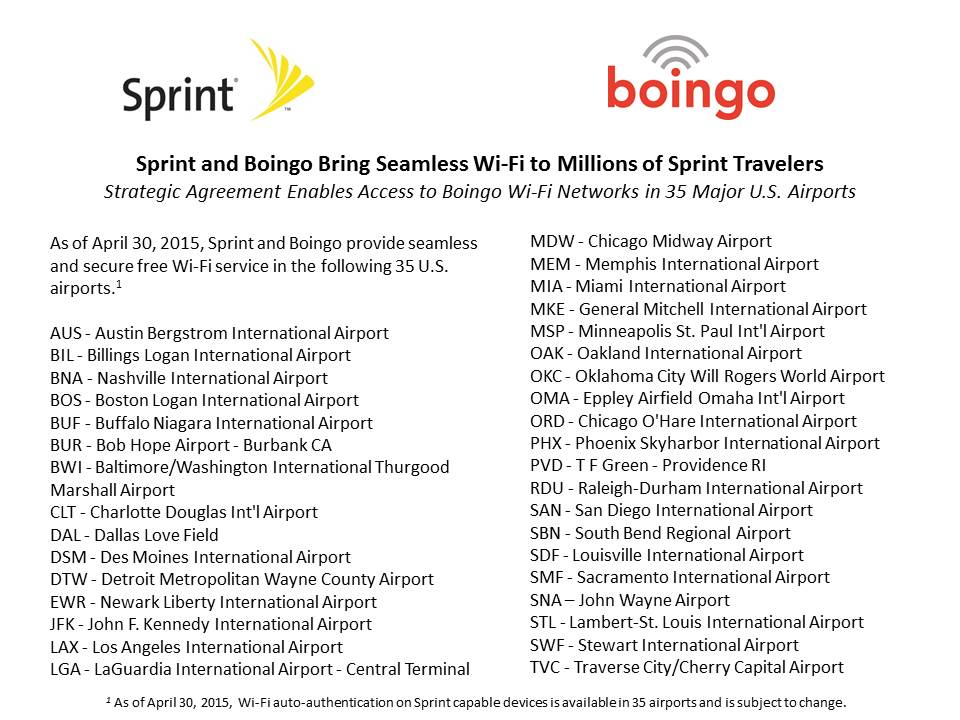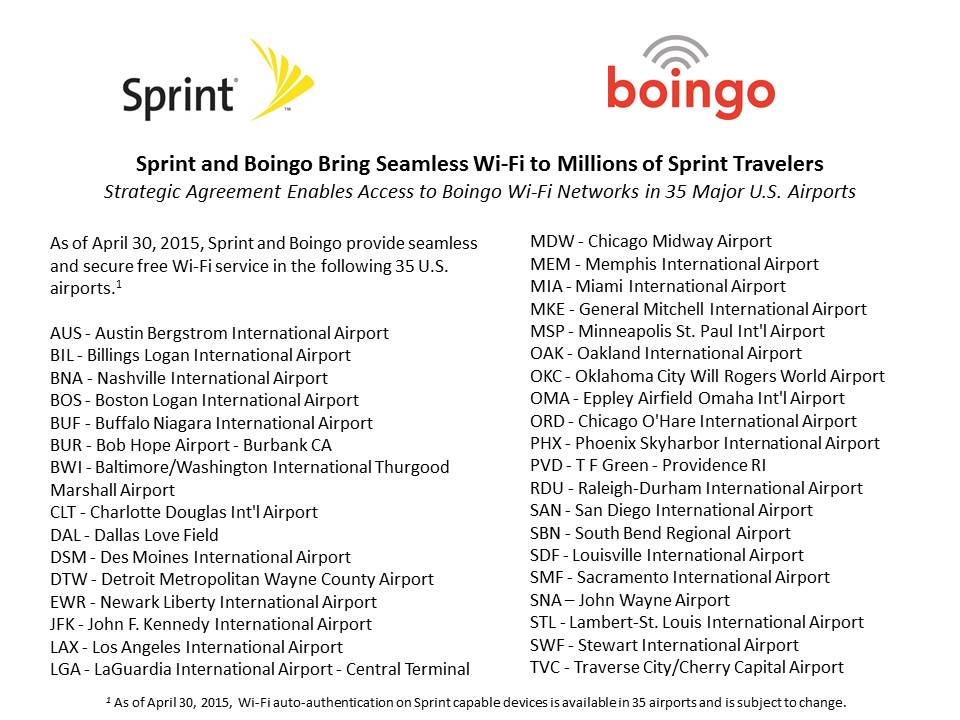 Sprint has also announced recently that it is moving to make WiFi the "fourth layer" of the three-band Sprint Spark network - using free WiFi hotspots to compliment coverage provided by Sprint's three cellular bands.
To this end - Sprint has begun to support WiFi Calling (aka VoWiFi) to enable voice calls to supported phones to be routed over WiFi.
Qualified customers can also now get a "WiFi Connect" WiFi router for free from Sprint, to help make up for weak Sprint cellular signal in their home - assuming they have fast wired Internet from another source.
To further expand its reach via WiFi - Sprint has now partnered with paid WiFi provider Boingo to provide seamless and free access to Boingo's WiFi network in 35 airports nationwide.
Unfortunately - Sprint is not providing a free hookup to any of the other one million Boingo WiFi hotspots, but it is a start.
LTE-Advancing... on Chicago
The final improvement coming to Sprint's network this year is the rollout of "LTE Advanced" carrier aggregation technologies.
Normally a cellular device picks a single frequency band to communicate on, and if there are multiple signals in the area it can only take advantage of one signal.
The next evolution of LTE technology includes a feature called "Carrier Aggregation" that allows multiple smaller channels to be virtually combined into a single larger, faster, higher bandwidth channel.
In Sprint's case - this will allow for multiple 2.5GHz LTE Band 41 channels to be bonded together for download speeds pushing 100Mbps. Or for two 2.5GHz Band 41 downlinks to be combined with a 1900MHz Band 25 uplink channel - allowing the speeds of 2.5GHz to combine with the range advantage of 1900MHz.
Sprint has announced that it intends to use Chicago as a testbed for these new technologies this year - with the intention of achieving three-channel carrier aggregation deployments in the city by the end of 2015, with further deployments next year.
If you want to be able to take advantage of LTE Advance when you pass through the Windy City - you will need to make sure you have a compatible device. On Sprint's network, only the latest Galaxy S6 and HTC One M9 models are known to be currently supported.
Sprint - Still Playing Catchup
It is great to see Sprint evolving its network - but it remains clear that Sprint is more a follower than a leader.
T-Mobile has lead the way with WiFi Calling, and AT&T has already begun deployment of LTE Advanced technologies and carrier aggregation. And of course - Verizon was the pioneer with LTE overall.
Sprint has a long way to go before it can claim to be a leader in pushing the cutting edge of LTE technology.
But once built out - Sprint's Spark network does have a lot of raw potential to deliver both speed and coverage worthy of any nomad's consideration - especially for those seeking a source for unlimited data for streaming.