Key Points:
The new Peplink HD1 Dome Pro is an outdoor 5G cellular router with Wi-Fi 6 and Wi-Fi-as-WAN support.
The HD1 Dome Pro is primarily designed for commercial vehicles like buses and is also popular with marine users.
The HD1 Dome Pro is ideally paired with a remote SIM injector and an interior Pepwave router.
Today Peplink released a major update to its HD Dome product line - the HD1 Dome Pro.
The new HD1 Dome Pro has the same form factor as other models in the Dome series, but comes with upgraded internals, a 5G cellular modem, and Wi-Fi 6, including support for Wi-Fi-as-WAN - a major advancement over previous models, which did not include any Wi-Fi
It provides a lot of capability for a roof-mounted cellular option but does come with a hefty price tag of $2799.
HD Dome Pro Features
The HD1 Dome Pro is designed for outdoor deployment and comes with multiple installation options. The design puts a 5G cellular modem, a Wi-Fi 6 router, and antennas in a weatherproof case that can be mounted directly on an RV or vehicle roof, on a boat mast or radar arch, or even on a pole or the side of a building. In terms of mounting flexibility, the HD1 Dome Pro is hard to beat.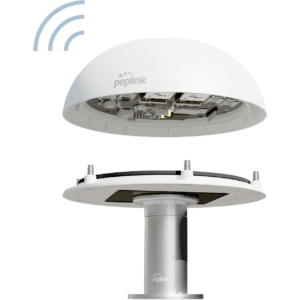 It comes with the following features:
Single 5G Modem - The single 5G modem also supports LTE at Cat-20 performance and covers all major cellular bands. The dome has two SIM cards, but many users will prefer to use Pepwave's optional SIM injector ($999) to locate SIM cards in a more accessible location as well as provide additional Ethernet ports.
Integrated Antennas - The HD1 Dome pro has integrated antennas - 4x cellular for 4X4 MIMO, 2x Wi-Fi for 2X2 MIMO, and a GPS antenna. The close integration of antennas with the cellular and Wi-Fi radios eliminates the cable-related performance loss from a more traditional indoor cellular router and separate outdoor antennas.
Wi-Fi 6 - The HD1 Dome Pro comes with fast Wi-Fi 6 (802.11ax) that operates as a standard Wi-Fi access point to connect Wi-Fi LAN users to the HD1 Dome Pro's cellular connection. The HD1 Dome Pro also supports Wi-Fi-as-WAN to connect to other Wi-Fi internet sources, a first for the Dome series.
Single Ethernet WAN Port with PoE - The HD1 Dome Pro comes with a single Gigabit Ethernet port that provides a wired data connection as well as power via PoE (using the 802.3at standard). Therefore a PoE injector or a router that supports PoE is required. The HD1 Dome Pro also comes with an optional Ethernet splitter which provides additional mounting options and a PoE out port to power another PoE device.
Faster Internals - The internals for the HD1 Dome Pro share many components with the new Pepwave MAX BR1 & BR2 Pro. This results in blazing fast throughput for 5G connections, 400 Mbps throughput for Speedfusion VPN connections, and 200 Mbps for encrypted Speedfusion VPN connections.
IP67 Rated and Multiple Mounting Options - The housing is IP67 rated, making it suitable for continuous use outdoors and in marine environments. And Pepwave offers a large array of mounting options for roof, wall, pole, deck, and mast mounting.
HD1 Dome Pro Downsides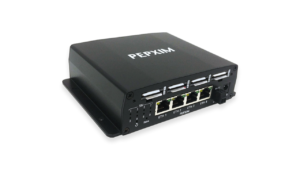 Like other all-in-one rooftop & outdoor designs, the HD1 Dome Pro does come with some disadvantages.
Sim Slots - The SIM slots in the Dome are not easy to access to change-out SIMs. However, the HD1 Dome Pro can use Pepwave's SIM injector, which is mounted indoors to make SIM swapping easy - but this is an added cost of $999.
Single Ethernet Connection - The HD1 Dome Pro just has a single Ethernet connection for power and data. This means that most users will want to pair the Dome to an interior router, an additional expense.
Outdoor Wi-Fi - Putting Wi-Fi radios and antennas outdoors can be problematic if you need to connect devices while inside your boat or RV, particularly if the shell is made of metal. This is another reason that pairing an HD1 Dome Pro with an indoor router is an ideal option - the Dome radios can focus on Wi-Fi-as-WAN while the indoor router or AP provides Wi-Fi LAN coverage.
5G Modem Capabilities
The HD1 Dome Pro comes equipped with the same high-performance 5G / Cat-20 LTE cellular modem found in recent 5G Pepwave indoor routers, and it should perform very well.
When on 5G, the modem has a peak performance of 4 Gbps down, 700 Mbps up, and for LTE at CAT20, peak performance is 2 Gbps down and 150 Mbps up.
The North American model supports the following bands:
5G Sub-6 Bands: n1, n2, n3, n5, n28, n41, n66, n71, n77, n78, n79
LTE Bands: 1, 2, 3, 4, 5, 7, 8, 12, 13, 14, 17, 18, 19, 20, 25, 26, 28, 29, 30, 32, 34, 38, 39, 40, 41, 42, 46, 48, 66, 71
This covers pretty much all the bands currently in use in the United States.
Future-Proofing Concerns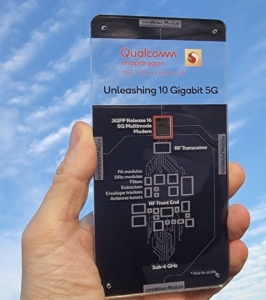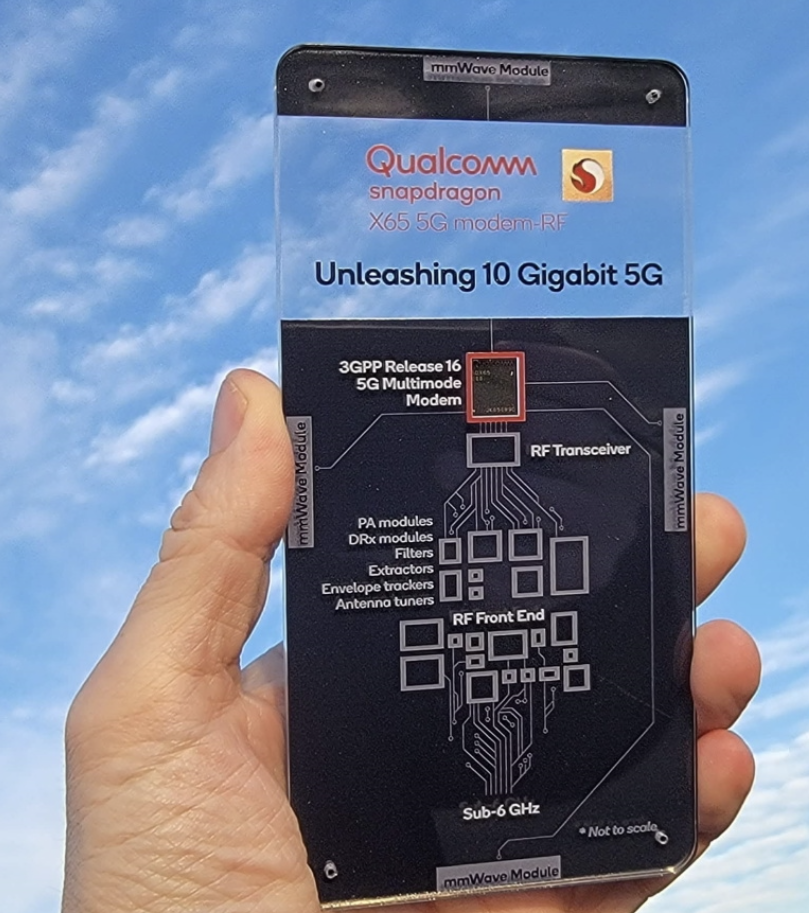 Like pretty much all cellular-integrated routers currently on the market, the modem in the HD1 Dome Pro uses the Qualcomm X55 modem chipset.
While this is an extremely capable 5G modem, it does lack some advanced capabilities that will be important in the future for 5G - such as combining low and mid-band 5G bands for faster speeds and longer range.
The X55 also is not compatible with the upcoming "Andromeda" mid-band spectrum, which will become part of AT&T's core 5G network. Andromeda should begin deployment starting in late 2022.
No support for Andromeda means the HD1 Dome Pro will not be compatible with a major part of AT&T's future 5G network.
Newer modem designs, based on the X65 chipset, will support Andromeda and be future-proof, but we do not expect to see them available in routers and products like the HD1 Dome Pro until sometime in 2023.
For more on the state of 5G modems and networks, see our most recent industry update:
5G Industry Update: Is 2022 The Year 5G Gets Interesting?
Concluding Thoughts
The HD1 Dome Pro combines a lot of amazing features into an integrated, weatherproof design that should perform very well. But that design does come with downsides, and offsetting them with additional gear significantly increases the total costs.
For most RVers and land-based nomads, a more traditional system utilizing an indoor cellular router with an external antenna probably makes more sense from a value perspective. The HD1 Dome Pro is better suited for marine installations, particularly when mounted higher up on a mast or arch.
For an example of how the HD1 Dome Pro design can fit into an extremely robust marine internet connectivity system, see this setup from our friends at Seabits.
But even marine users will want to consider the downsides of the X55 modem and consider whether it might be worth waiting until 2023 to see if more future-proof models become available.
Related MIRC Content
For more information:
Related News Stories