Back in September, OmniLynx started actively promoting their unlimited Verizon based plan to the public. Many in the RVing community jumped on the opportunity. Originally a deal that Verizon claims was only intended for students, faculty and employees of the Huntsville City School system in Alabama - the offering got pulled effective November 30.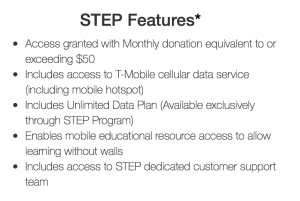 OmniLynx appears to have struck a deal now with T-Mobile, offering a similar unlimited plan - their website just went live today.
But before you get excited - the terms are very different this time around.
They've setup OmniFund to take donations, and a minimum donation of $50/month grants access to an unlimited T-Mobile based mobile hotspot. They're calling the program STEP.
However, going through the setup process does require signing up with a student or faculty name and ID, and designating a Huntsville area school.
We just confirmed with Jacob Boyett, administer of the program, that this new offering is indeed NOT available to the public.
So sorry to say RVers, unless you're associated with the Huntsville City School system, this deal is not available to us.
More Info:
Tech Alabama Article on the OmniLynx