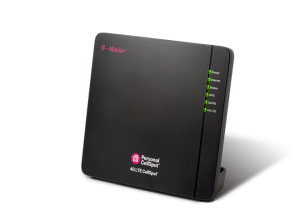 T-Mobile this morning announced another #uncarrier move - expanding upon the Uncarrier 7 "Personal Wi-Fi CellSpot" they began offering last year with a new next generation 4G LTE CellSpot - available for FREE starting later this week to any T-Mobile postpaid customers willing to pay a $25 deposit.
We've already heard some people getting excited about T-Mobile giving away free LTE boosters, hoping that by requesting a CellSpot they can improve upon weak T-Mobile signals in their RV.
Don't get too excited just yet - this CellSpot is NOT a booster!
And for most RVers a CellSpot like this is not a worthwhile addition to your arsenal.
What a LTE CellSpot Is, And Is Not
The original T-Mobile W-Fi CellSpot was just a specialized 802.11ac Wi-Fi router with programming to prioritize voice calls made on the Wi-Fi network using the Voice-Over-WiFi (VoWiFi) feature supported by most T-Mobile phones. This CellSpot let you turn your home WiFi network into a virtual T-Mobile cell tower. But you needed to already have fast internet at your home first.
The new 4G LTE CellSpot takes this concept to the next level - and instead of a virtual tower, the CellSpot actually IS a real T-Mobile LTE cell tower. Only instead of towering in your backyard, it sits on a shelf and stands just 8.5" high.
T-Mobile describes it as "the first-ever 4G LTE mini-tower available from a U.S. wireless provider" - creating a T-Mobile LTE signal even in places where there is none at all:
"Think of it as your own 4G LTE mini-tower – with low power settings for indoor use – providing an average 3,000 sq. feet of glorious full-bar T-Mobile LTE coverage throughout your home, small business or virtually anywhere you need it."
It sure sounds great. But...
Just like the Wi-Fi CellSpot, you need to have a fast WIRED internet connection to plug the LTE CellSpot into. In other words, unless you have your RV online via some other fast (and unlimited) data source, this CellSpot does not make a lot of sense.
WARNING: The original Wi-Fi CellSpot prioritized Wi-Fi voice calls, but only gave coverage to people you had authorized to connect to your Wi-Fi network by sharing your password. The LTE CellSpot on the other hand creates a public T-Mobile LTE signal that ALL T-Mobile customers (up to 16 at a time) can connect to. This is great if you have a business and you want to keep your customers better connected, but for home users and especially RVers on metered data connections - a CellSpot like this is opening the door to letting nearby strangers burn through all your data!
The other catch with the LTE CellSpot - since it can legally function only in places where T-Mobile owns the appropriate LTE spectrum rights, and it also needs to be able to route 911 calls, T-Mobile makes it clear that a wired internet connection is required, and "current location address required for device use."
In other words - mobile RV customers - this is NOT for you.
Stay Tuned for Uncarrier X - November 10th
Today's CellSpot announcement wasn't particularly big news - but T-Mobile is turning up the hype around its next major Uncarrier event - scheduled for November 10th. Some people are speculating (based upon the LA location at the Shrine Auditorium, home of the Oscars) that T-Mobile may be gearing up to allow for streaming Netflix or HBO without it counting against monthly data limits.
T-Mobile CEO John Legere had this to say about the upcoming event:
"I even said this thing gigantic, can we really do that? And I can't wait to announce. So it's not only one of those ones that I think our competitors are absolutely going to piss their pants on. I mean it's really going to -- if they're not worried, they should really worry, because they've got till November 10th to really be in trouble."
Tough talk.
We'll be covering the news on the 10th, and any implications for RVers.