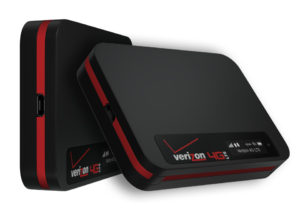 Today Verizon announced the arrival of the new Verizon Ellipsis Jetpack (MHS800L), which is their latest Jetpack to be XLTE compatible.
The new device can connect up to 8 devices, and has a non-removable 10-hour battery. It's available for 99 cents with a 2-year contract or $149.99 if purchased at full price with no contract.
Interestingly, it's the first Verizon device to only support LTE - signifying Verizon's pursuit of shutting down their 3G network. For RVers who still encounter 3G signals in the remote locations they roam, or depend on scaling back to 3G for bandwidth management - this may not be an ideal option to retain maximum coverage and flexibility.
There are now 4 XLTE compatible mobile hotspot devices for the Verizon network including the Pantech MHS291 (also known as the 'old Millenicom hotspot'), and Novatel 5510 and 6620. We've gotten some extensive hands-on time with a Novatel 6620, and will have our full review out shortly.
Verizon XLTE expansion is continuing at a rapid pace, now available in just over 400 markets.
Related Articles:
MiFi/Jetpack, USB Modem or Smartphone Hotspotting?
The Pantech MHS291L – MiFi / Jetpack Review
From the Verizon News Center: Verizon Ellipsis Jetpack Keeps Your Wi-Fi Devices Connected