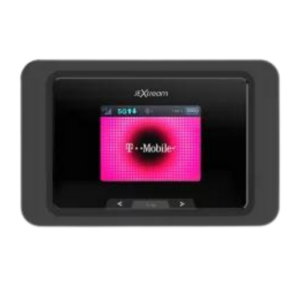 Metro by T-Mobile is now offering a new 5G hotspot - the JEXtream RG2100 from Franklin Wireless
The JEXtream RG2100 is 5G ready, and uses the Qualcomm X62 modem chipset, making it more future proof than older hotspots.
The JEXtream RG2100 supports 5G bands n25, n41, n66, n71, and n77, and 4G bands 2, 5, 12, 25, 26, 41, 48, 66, and 71.
The hotspot supports up to 30 devices via Wi-Fi 6, and can also be tethered via the USB-C port.
On the downside, it does not have antenna ports, nor an Ethernet port.
The retail price for the JEXtream RG2100 is $199.99, but it is currently offered at a promotional price of $99.99 through Metro by T-Mobile.
Key Mobile Internet Related Considerations:
The JEXtream RG2100 is a 5G mobile hotspot using a Qualcomm X62 modem chipset.
The hotspot is Wi-Fi 6 enabled and can support up to 30 users.
The hotspot is lacking antenna ports and an ethernet port.
For more information:
Related Content at the Mobile Internet Resource Center:
Related Updates: