UPDATE (December 11th, 2018): Carriers Are Finally Offering eSIMs
AT&T and Verizon have finally managed to enable eSIM support (and T-Mobile has given a sneak preview) - but things are still a little rough around the edges.
Read our new story here for all the details:
Two Networks, One Pocket – Carriers Are Finally Starting to Provision Smartphone eSIMs
Our original story continues below...
---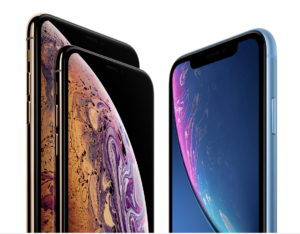 Yesterday (October 30th), Apple released iOS 12.1.
In addition to enabling group FaceTime calls and providing over 70 new emoji (wow!), the most anticipated new feature was Apple officially enabling dual SIM support to allow recent iPhone models to support multiple cellular plans - simultaneously!
Apple is enabling this feature by pioneering eSIM (embedded SIM) technology that allows you to use one traditional physical SIM card, and one virtual SIM installed by means of scanning a QR code.
This could be a second line on your primary carrier, or it could let you have service from two different carriers active simultaneously in one phone.
This was one of the headline features of the new iPhone XS, XS Max, and XR models - and AT&T, Verizon, and T-Mobile all promised to be ready on day one.
But day one is here - and embarrassingly Apple is ready, but every one of the big four US carriers has fumbled on the eSIM launch.
So just when is eSIM support coming?
Busy?
Just want a quick wrap-up?
What is Dual SIM / eSIM?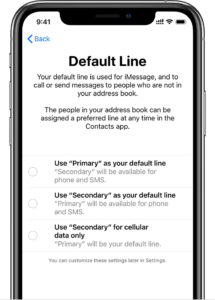 "Dual SIM, Dual Standby" or DSDS is a new feature rolling out with the latest iPhones - allowing you to have two active plans (and numbers) on one phone.
You can even have plans on two different carriers!
You can easily switch which line is active for your data plan, or for outgoing calls and text messages. And because both lines are able to be kept in active standby at once, you can receive calls and text messages on both numbers.
This is a handy way to tap into local service plans while traveling, carry two carriers of your choice for redunancy, have both a business and a personal line, or to keep a separate voice plan and a data plan.
You can find out all the details of the XS, XS Max, and XR's dual-SIM capabilities by reading through our recent news story on Apple's latest iPhone release:
Apple's New Flagship iPhone XS Brings Gigabit LTE & Dual-SIM Support
Other phone manufacturers have built phones with dual physical SIM cards slots to support this same basic functionality, but these models are popular overseas and are rarely seen in the US.
Rather than go with dual SIM slots, Apple is pioneering eSIM technology, and is the first manufacturer pushing to make dual SIM support a mainstream feature in the USA.
TIP: If you are an Android fan looking for dual SIM support and you don't want to use an oddball imported phone, the new well reviewed OnePlus 6T is has dual physical SIM slots - but only if you buy it from OnePlus directly. The OnePlus 6T model sold by T-Mobile reportedly does NOT include a second SIM slot. The Pixel 3 line from Google has an eSIM and physical SIM slot, but does NOT support dual standby.
Carrier Support of eSIMs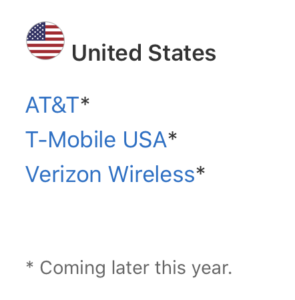 As of yesterday morning Verizon, AT&T, and T-Mobile were labeled on Apple's eSIM page as officially supported partners.
Then, 'supported' quickly changed to "coming later this year" as the day rolled on.
As of mid-day on October 30th people reported having luck getting eSIM's from AT&T - but AT&T put a stop to it by the end of the day.
Verizon and T-Mobile never started provisioning eSIMs at all.
All are now promising to have eSIM issues worked out by the end of the year.
So why the delays?
In short, "technical issues" - and an embarrassing lack of beta testing.
Here is a rundown of what the carriers have had to say about why they are holding back...
Verizon
PC Magazine reports that Verizon is having issues related to falling back to 2G:
"The problem comes when a physical Verizon SIM is pushed into the "secondary" position while the phone is in the US. Under the current software build, that kicks the Verizon connection down to 2G CDMA, an old network with significantly less coverage than the current LTE network. The old network also has no MMS support, and certainly wouldn't work for FaceTime. So Verizon customers may find they have perfectly good coverage with their SIM in "primary" position, but no signal and fewer features with the SIM in "secondary."
In the last few years, Verizon has significantly reduced the size of its CDMA network - 30 percent of Verizon cell sites are now LTE-only with no CDMA at all, meaning that if your Verizon plan is made secondary on an iPhone you might lose your Verizon connection entirely.
Verizon's take on the issue, in a statement by Verizon's Communication Director via email to CNET:
"If you are a Verizon customer and you activate another carrier's service on your iPhone's eSIM, your Verizon service will be degraded due to the current software configuration... Based on our discussions with Apple, we believe these concerns will be resolved quickly and you should be able to add our great Verizon service on your secondary line before the end of the year."
Other than a few beta testers, Verizon has not publicly begun to provision eSIM yet at all until these issues are resolved.
AT&T
AT&T started off yesterday happily activating eSIM lines, but by mid-day they had put out a memo to stores telling them to hold off - and by the end of the day AT&T's systems were actively blocking new eSIM activation entirely.
According to MacRumors' report, AT&T eSIM activations are being delayed due to technical issues related to Visual Voicemail not working correctly with eSIM.
AT&T is promising a fix soon - and will hopefully quickly resume offering eSIM support.
T-Mobile
T-Mobile said that eSIM support is in the works and will be available "when its software is ready" with no timeline provided.
Specifically, when we reached out to T-Mobile for comment, we got a friendly, yet blanket response, void of detail:
"Hey there, Chris. At this time we are working on creating the best experience possible. We will have a solution available before the end of the year, stay tuned!"
Sprint
Sprint wasn't included in Apple's original list of eSIM partners. But in September, Sprint's CEO affirmed that Sprint would eventually be rolling out eSIM support as well.
Summary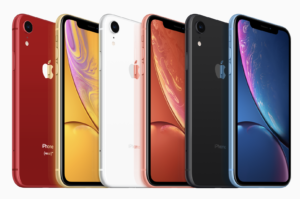 Dual SIM support is an exciting feature, and eSIM adds unprecedented convenience.
But all the carriers are treading nervously into officially offering support for a technology that will make it easy for customer to try (and potentially switch entirely to) their competitors.
Apple however is forcing the issue - and customers are demanding eSIM support.
Hopefully by the end of the year we'll have all these initial launch kinks worked out, and cellular service will be more flexible than ever.
We're particularly interested to see if there are any special secondary plans that the carriers offer to entice customers to trying service via an eSIM since all it takes is a QR code or an app to activate a phone - no more physical SIM cards required.