There's a couple data deals going on that we wanted to bring you up to date on in case they make sense for your needs.
T-Mobile for Data Hungry Families

Yesterday, OpenSignal released a reporting naming T-Mobile the Fastest Network (in the markets they test). To celebrate, this morning T-Mobile released a limited time data deal for their family plans.
For $150/month - you can get 3 or 4 unlimited smartphone lines, each with unlimited ondevice data and 14GB of tetherable data to share with other devices. After 25GB of usage however, the lines are subject to network management (meaning speeds may be reduced on congested towers). This brings the normally $95/line price down to as little as $37.50/line.
For $100/month - you can get 2 phone lines with 10GB of high speed data, all of which is tetherable. Or for $120/month, you can get 4 lines.
Technically, the sale is for 3 lines, with the 4th line free. Meaning you can get the unlimited deal with a 3 line minimum at the same overall price - which may not be ideal for most RVing households.
But if you have other friends & family you're comfortable sharing an account with, this might be a great way to get an affordable T-Mobile line added to your setup. One cool feature of T-Mobile is unlike the other carriers, their plans are not a shared data bucket. Each line keeps its own data usage accounting - meaning if you use up your data allotment this month, it doesn't impact any of the other lines on the family account.

Both plans include all of the T-Mobile perks, in particular RVer coveted features like Mobile without Borders (free roaming in Mexico & Canada) and Binge On (unlimited video streaming on partnered providers).
While T-Mobile tested as the highest speeds and they are rapidly expanding their network, it's important to note that they are still primarily in major metro areas. The newest coverage also requires having a device that can access Band 12. Their overall coverage map still pales in comparison to Verizon & AT&T.
But, we consider them a solid 3rd choice for most RVers, and worthy of consideration as a secondary carrier for those who are mobile and rely on mobile internet. If you stick to metro areas, then they might be a contender as a primary carrier.
In many markets T-Mobile voice roams onto AT&T networks. So if you don't need the data redundancy of two networks with nationwide data, T-Mobile might make a great choice to put your phones on and gain access to unlimited video streaming. We still recommend that a mobile RVer's primary data source be on Verizon, or perhaps AT&T.
Boost Mobile Adds Mobile Hotspot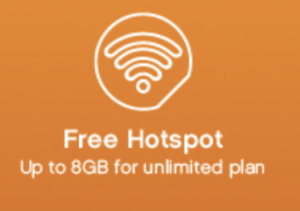 In the past couple of days, Sprint based Boost Mobile quietly added mobile hotspot usage to their smartphone plans. Previously, they offered a dedicated 10GB data only MiFi plan for $50/month, and smartphone plans that did not include the tethering feature.
Their $60/month unlimited smartphone plan tends to get the attention of many. However, it's important to note that Boost Mobile restricts mobile hotspot usage to 8GB of data on that plan (which is still better than a native Sprint plan that only allows 3GB). The unlimited plans are also subject to network management, and could be slowed down when on congested towers after 23GB of usage a month.
Other perks of Boost Mobile is that they give you a $5/month discount if you setup autopay, they include free roaming in Mexico, unlimited music streaming and on their capped smartphone plans they give you a data boost after 3 months of on-time payments.
However, with any Sprint news, we always like to remind our readers that they are not a recommended carrier for most RVers needs. Between their more limited coverage map, and predicted disruptions in the year ahead - they will likely only be a solid choice for RVers who stick to major metro areas.
For more information on the carriers:
The Four Major US Carriers – Which is Best for RVers?
Unlimited Data Options & Network Management (aka 'Throttling') Practices for Cellular Data Carriers
Comparison: Cellular Carrier Data Pricing & Plan Guide (member only guide)