It has been over a week now since Verizon began contacting Millenicom customers via a text message sent to their mobile hotspots - urging them to call a special phone number before November 8th to avoid having service cut-off.
Today, customers who haven't responded started receiving e-mails from Verizon:
Action Required To Avoid Service Disruption

Wireless Service For Your MiFi device ends soon

A review of your account indicates that you have a MiFi mobile internet device and a wireless service plan with Millenicom. Verizon Wireless will no longer be providing wireless service to your MiFi device under your current plan. Due to overwhelming response into our call center, for a limited time we are extending the deadline to replace your current Millenicom plan with one from Verizon Wireless.

In order to avoid a disruption of service, please contact us at 800-233-8974, Monday through Friday between the hours of 8:00 AM to 8:00 PM Eastern time to replace your current plan with a Verizon Wireless plan. We will explain available price plan options that best fit your needs and help ensure a seamless transition.

We value your business and look forward to hearing from you.
People have had a wide range of experiences calling in on this transition hotline, some reporting ending up hanging up in frustration after being on hold up to an hour or more, or getting disconnected. And even when they get through, some people have ended up talking to someone who has no idea about the Millenicom refugee special deals.
Tip: We've received many reports that calling just as the lines are opening in the morning yields the shortest wait times.
After the first day the hotline was open, we started getting sporadic reports of the initial special offer of $89.99/mo for 20GB data with a one year contract no longer being offered. As the days have gone on, we've heard hardly any reports of anyone being offered the $89.99/month with contract option. Verizon reps have even told callers that such a deal never even existed.
We spent 57 minutes on hold last week the morning the first TXT message came through - and can confirm that we were indeed offered a special 20GB plan for $89.99/mo if we were to sign a one-year contract, or $99.99/mo without a contract. And we were told that overages over the 20GB included would be charged at $15/GB, the same as Verizon's More Everything plans.
We declined to act, having already made alternate data arrangements. But we've continued to use our Millenicom hotspot, milking as much of the data as we could before November 8 - when unconverted accounts are set to be shut off.
But in the name of science, this afternoon we decided to once again brave Verizon's mind-numbing hold-muzak to check in on the latest offers being made to Millenicom customers.
This is what we learned, after only 40 minutes on hold this time....
The Current Best Offer
Indeed - we can confirm that the $89.99/mo 20GB plan was not offered to us this time around, and when asked the representative we talked to said they could no longer offer it to anyone. We don't know what happened to the plan - either Verizon decided to not offer it after all, or maybe it was offered on the first day by mistake.
Considering it came with a contract attached, it is not too much of a loss.
The special deal being offered to Millenicom customers is now a simple $99.99/mo (plus taxes and fees), with no contract required, for 20GB of data. Data overages however are just $8/GB, making overages on this special plan actually cheaper than on other Verizon plans. A similar data-only 20GB plan with Verizon would normally be $130/month with $15/GB overages.
So this is still a very good deal.
We have learned that the pricing plan code that Verizon uses for the $99.99/20GB plan is "90241" - you may be able to assist a confused Verizon rep by offering up that information if you end up transferred to someone who has no idea what 'a Millenicom' is. Theoretically however this plan should only be available by calling the special number, and not available at Verizon stores or via other regular channels.
Like many other Technomads, we often used way more than 20GB a month on Millenicom, so I asked if there were any options for more data beyond just 20GB. Millenicom allowed their customers to purchase another 20GB at $89.99 when needed to finish out the month.
The Verizon rep offered us a 30GB data-only plan for $205/mo, or 40GB for $280/mo. At those prices, it is actually cheaper to take the 20GB plan and pay the $8/GB overages as needed.
On the other hand - with Verizon's double data deals offered last month, many folks combined their former Millenicom hotspot with a voice line to snag a shared cheaper bucket of data on a More Everything Plan. This actually brought the cost down similarly to what Millenicom customers used to pay for 40GB of data. However, those double data deals have now disappeared from Verizon's website.
If you need more than 20GB/mo, at present time we'd recommend keeping the Millenicom plan and paying overages at $8/GB - or jump through the hoops and uncertainties of getting an unlimited plan. You could also try talking a Verizon representative into honoring the double data deals of last month, as their competition AT&T has extended those offering until November 15.
Credit Check Required
If you do accept the offer with Verizon, you will need to go through a credit check or place a $450 deposit on the line. For those with bad credit, this could prove to be a very uncomfortable hoop.
You also need to be prepared for a large initial bill, as you will be charged for an entire month's service in advance as well as a pro-rated portion of the current month.
These are no different policies than any other Verizon postpaid account, but for Millenicom customers this might come as a surprise.
Time Is Ticking...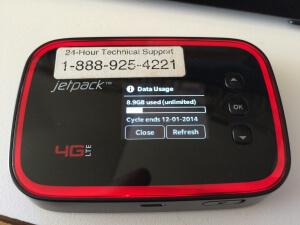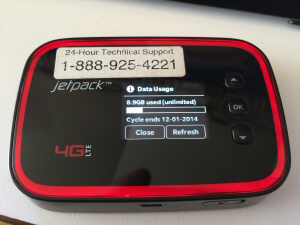 The Verizon rep I reached confirmed that all the Millenicom lines were slated to be cut-off on November 8th, though interestingly the Pantech Hotspot's on-device usage meter shows the current cycle ending December 1st. I am curious to see if the cutoff actually happens as planned on the 8th, or if the current unlimited service continues to linger on for even longer.
There was mention in the e-mails that went out this morning of the deadline being extended - but we have no idea if that will extend beyond November 8.
In the meantime - Verizon's October 'double data deals' were initially extended for a few days into this month. However checking Verizon's website today confirms they are no longer advertising the double data rates on the larger plans. Instead Verizon is offering a $150 credit for new customers who port a number to Verizon using their Edge financing program.
But with the new deals for lower data usage customers, this leaves Verizon's pricing looking completely whacky - with a 15GB bucket of data now costing $100 (with $15/GB overages), and 16GB of data costing $130!
We suspect that there must be more new plans, promos, or pricing offers in the works - because that just makes no sense at all.
AT&T incidentally has officially extended their double data deals until November 15 - so there may be wiggle room for Verizon customers to push Verizon into matching those deals. If you're able to secure a double data deal with Verizon after today, let us know.
Are Millenicom Users Being Throttled?
We have heard sporadic reports of users over the years suspecting that their Millenicom service speeds were being throttled to be slower than the speeds of a native Verizon plan, but have never been able to actually observe substantial differences ourselves.
During this transition period - we have seen some people once again posting online that Verizon has cut them off and their Millenicom speeds are being throttled.
This morning, our Millenicom data speeds plummeted, and we began to think that maybe we were indeed getting throttled at last. But... a quick head-to-head swapping of our Verizon Unlimited SIM with the Millenicom SIM revealed that it was Verizon's network as a whole performing sluggishly at just 5 Mbps.
An hour later - I measured 25 Mbps down and 9 Mbps up on Verizon native, and 23 Mbps down and 10 Mbps up with the Millenicom SIM, essentially equivalent and both very fast speeds.
So no.... we still have seen no observable evidence of Verizon intentionally throttling Millenicom account speeds. If anyone does have some head-to-head test showing the contrary, we'd love to hear about the details.
So... Should You Take The Offer?
Millenicom customers have until November 8th to decide whether they want to take advantage of the special $99.99/mo offer.
Other than navigating acquiring a grandfathered unlimited data plan or holding out for another 'double data' deal to be offered - this is not that bad of a deal overall for those who need around 20GB a month of data. The $8/GB overage charges also gives a lot of flexibility to affordably adjust the plan when you need more data.
For customers who only occasionally need Verizon data, some people have discovered that Verizon lets plans, including the Millenicom special offer plans, be "suspended without billing" for up to six months per calendar year (up to 90 days per individual suspension), making this a great deal for sporadic travelers who only occasionally need large buckets of data.
Verizon prepaid plans may also be an option for those who just need a little bit of data, either directly with Verizon or through an MVNO like StraightTalk who just started offering a LTE option. These may be viable a option for those who are unable to establish a postpaid account direct with Verizon due to residency, billing, or credit issues.
Everyone will have to weigh the options on their own to decide what is best for them.
---
We've been helping our Mobile Internet Aficionado members and Advising Clients review their options and pick their best path forward. Some have decided to stick with the Millenicom plan... but most moved to shared data plans with Verizon and/or AT&T - securing double data deals. Some others have pursued acquiring an unlimited plan utilizing our detailed guide for help in the process.
For those still considering the options, do you think you'll take Millenicom's offer by the 8th? Please do share your decision and reasoning in the comments or member forums.
Related Articles: