A post on RV.net went up today from a customer of OmniLynx Wireless saying they had found a Millenicom replacement, which up until about this time last year was a top choice for RVers who needed a lot of data.
Millenicom used to offer a 20GB Verizon plan for $89.99/month. That option abruptly went away last year.

OmniLynx is being very upfront that they are a service of Huntsville City Schools (confirmed in their press release earlier this year) who's original purpose was to provide low cost internet to employees, students and their families. According to their Twitter feed, they just opened up their discounted rate plan 'to the public' in July.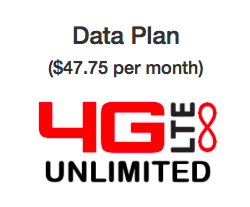 For $47.75/month, they offer an unlimited data plan, including free use of a 6620 MiFi hotspot (which is our top pick - read our member review) that is yours to keep after you have kept the service for 13 months. There is no contract however, it is a month-to-month service - you'd just return the device if you don't keep the service for 13 months.
This plan is very similar to what we know was the behind the scenes at Millenicom. Just like them, they are not allowed to publicly push that the service is Verizon. But it's pretty obvious as they are selling the 6620 MiFi hotspot device that only works on Verizon, and is confirmed in the Huntsville City Schools press release.
However unlike Millenicom, they do not seem to be a separate company from the school system, and are actually operating as part of the district.
We called OmniLynx to confirm the offering, and it's sounding pretty legit so far, at least for as long as Verizon allows them to sell service at a discounted price to the public that is intended for students.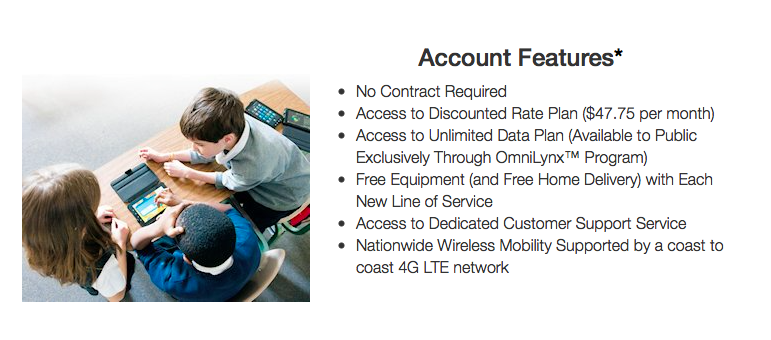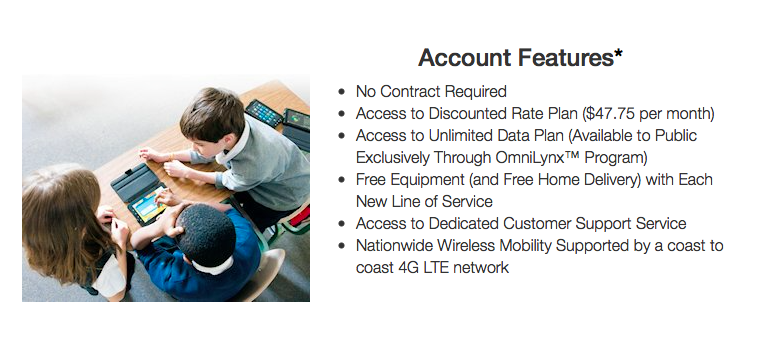 Upfront, they do state that these plans are subject to throttled speeds. And it's important to also note that they reserve the right to terminate service if it interferes with the original intent of their offering to the Huntsville City Schools.
The OmniLynx™ Program offers access to an unlimited data plan that is not otherwise accessible by non-government users. Due to the potential for increased burden on network infrastructure during peak hours of utilization, the service provider reserves the full right to reduce data transfer speeds (commonly referred to as "throttling") as necessary.

The OmniLynx™ Program reserves the right to deny provision of services or to terminate existing account services if and as deemed necessary for the benefit of the program. In the event that an existing line of service is terminated at the option of OmniLynx™, the unamortized (prorated) portion of all prepaid balance(s) will be promptly refunded to the user(s).
However the customer service rep we spoke to on the phone said that thus far, none of their customers have been throttled and they don't anticipate any in the near term future.
So we strongly include the cavaet that as OmniLynx grows, it is quite possible that speed throttling could be implemented on all of their accounts, that OmniLynx cuts off non-Huntsville area folks or Verizon could yank this deal away. With this being posted on RV.net earlier today, and this article going live - we anticipate OmniLynx will be experiencing quite a growth spurt.
But for just $47.75/month and no upfront fees, equipment purchases or activation costs - it's probably a bet that is worth taking if you crave sweet unlimited data, even if it only lasts for short while!
They also just started a referral program, where is you refer 7-accounts you get a free month of service. We have placed our order for an account so that we can keep track of this ourselves. We're Customer # 1837 if you'd be so kind as to refer us - free months will help us keep our operating costs down so that we can continue reporting on this news story over time. Thanks!
To order, just go to OmniLynx's website, read around to get comfortable with what they offer then use the 'Order Now' button in the upper right hand corner to start your online order. They use PayPal for checkout and setting up monthly payments - if that's a problem for you, you can check out without logging into PayPal and directly using your credit card.
Since this plan smells very similar to the Millenicom deal, we highly encourage you to read our past The Millenicom Verizon Hotspot Plan Survival Guide to make sure you understand what to expect with this type of account.
Just like Millenicom, Verizon could yank this program at any time. Especially if it grows too quickly.
Mobile Internet Aficionado Members:
 Login to see the special video overview of this option that we recorded just for you, as well as any special alerts you should be aware of. We cover the details of the plan, the MiFi device included, further history of Millenicom and how it applies here, our concerns, and advice on what to do with your existing plans if you decide to sign up.
Logged in members will see the video embedded below.
This site is funded primarily by our members... want to support the content we create and get the perks of membership, like access to further in-depth information, alerts, video events and our Q&A forums? Click for Information on joining the MIA.
September 10 Update:
Our OmniLynx Unlimited Verizon Plan with Novatel 6620 MiFi/Jetpack just arrived! Unboxed, shows unlimited data and speed tests are ROCKING! (Comparable to our direct Verizon plan on a 6620).
We ordered on Thursday, September 3 (Customer #1837) and it arrived a week later (holiday weekend in the mix). We have reports of them arriving as early as this past Tuesday from others.
Setup was super easy. Just unboxed it, removed the front cling-on label, pulled the battery protector tab out - turned on the device. It had instructions to go to the WiFi Name & Password menu to get that information. Keyed that into the device I wanted to connect, and online.
We have had some reports of the devices being set to 'Global' network and needing to be switched to 'LTE/UMTS/GSM' to work. So if yours doesn't work out of the box, try that setting switch.
The only thing of note is that we ordered on 9/3/2015 and it arrived on 9/10/2015. The on screen billing cycle date says the period ends on 9/25/2015. We assume this is because HSVWiFi pre-activates the devices in batches well in advance of shipping. HSVWiFi has confirmed to customers that the billing date will however be based on the date of order. Customers who did not sign up for auto-pay, will get a reminder e-mail a couple day before their due date.
So far.. impressed. Now, to see how long this sweet deal for unlimited Verizon data for $47.75/month, no contract and no device purchase lasts.