(8/8/17 UPDATE): Metro PCS is once again offering slick pricing promos on their plans. Most notably for mobile internet seekers, lines can be added to their $60 unlimited plan (the 8GB of mobile hotspot data one!) for $25 each additional line. That means you can get 2 lines of unlimited on device data, with 8GB of mobile hotspot data on each (16GB total) for $85. Each additional line (add up to 4 lines) is $25, which ultimately means you could have 40GB of hotspot ready data for $160.
Also of interest is a $25/ additional line promo on the 6GB/$40 plan. All data on capped data plans through Metro PCS is mobile hotspot viable, meaning you could get 12GB for $65, 18GB for $90, 24GB for $115, or 32GB for $140.
Just remember when shopping that on the $50 plan hotspot is not allowed (and video streaming is throttled to 480p.) The $60 plan allows 8 GB of hotspot use (and users can disable Data Maximizer to get unthrottled video streaming.) So, if you're looking for off device data, spend the extra $10.
Taxes and fees are included in the price of Metro PCS plans.

---
(7/12/17 UPDATE): Metro PCS has given their plans the big 'shake' again. The $50 plan now includes unlimited data, which is not permitted to be used via mobile hotspot. They have added a $60 unlimited plan, which includes 8GB of mobile hotspot worthy data. In addition, they have added a 6GB plan for $40, with all 6GB eligible for mobile hotspot.
---
(Original News Story - January 2017): For a limited time, Metro PCS customers who sign up for the $50 plan will get 8GB of 4G LTE data a month - up from a usual 5GB. Taxes and regulatory fees are included.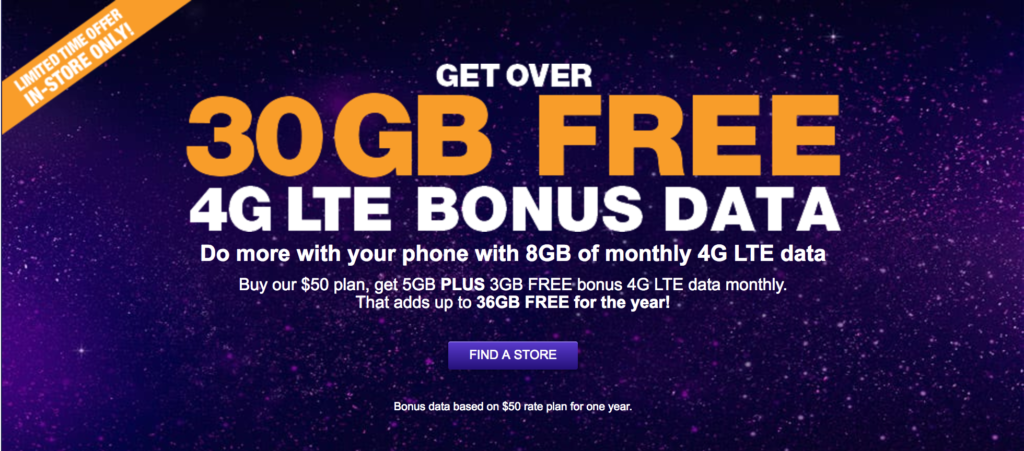 Metro PCS, T-Mobile's flagship pre-paid brand, is already one of the most competitively priced pre-paid offerings in the market. They are advertising this limited time offer as being "over 30GB of bonus data a year" - it's actually 36GB.
On all Metro PCS plans, including the $50 plan, hotspotting is permitted - and advertised at 4G LTE speeds.

Customers can also add lines (up to 5) to this $50 plan at a cost of $30 per line per month; each additional line will also be provisioned 8GB per month.
Data usage past an initial 8GB LTE will be slowed to 'network average rates' (typically 2G speeds - fast enough to check email) until the next monthly billing cycle. As is typical for Metro PCS plans, no roll-over data is offered with this plan.
Bonus data will be grandfathered on the plan even after the first year, so long as payments are made on time.
Metro PCS pre-paid plans do not include the 'binge on' type unlimited video streaming most are used to seeing with T-Mobile's post paid plans. However, Metro PCS plans do include 'data maximizer' to reduce data usage while streaming video and music on partnered networks. In addition, no international data coverage is included in these plans, although calling services can be added for a fee.
In addition to the data promotion detailed above, Metro PCS is offering free phones to both new and existing costumers.
These above promotions are valid in-store only. Metro PCS ran a similar promotion back in October, 2016.
As with all T-Mobile based plans, MetroPCS' smartphone plans prioritize on device data over tethered / mobile hotspot data when on congested towers. Customers can expect to see slower speeds (reported up to half the speed) while using mobile hotspot on smartphones & tablets compared to the speeds they get directly on the device.
As T-Mobile's pre-paid subsidiary, Metro PCS utilizes T-Mobile's coverage map. While T-Mobile appears to be rapidly expanding their coverage maps, currently, their most solid coverage is in urban areas of the USA. While our hopes remain high that coverage expansions will shake up the status quo, at the present time, they are still a distant 3rd carrier in terms of coverage.
While the chance of sudden plan changes occurring when dealing directly with a major network provider subsidiary is reduced, the risk still lurks. The 'no contract' clause works both ways. Caution is always advised if utilizing prepaid offerings as a singular source of connectivity.
Related Info:
The Four Major US Carriers- Which is Best for RVers?
MVNOs, Resellers & Prepaid Cellular Data Options – What You Need To Know
Cellular Carrier Data Pricing and Plan Guide (member only)