Maximum Signal announced today (5/18/2015) that it has at last won its lengthy fight with the FCC to bring the Max-Amp 5-band cellular booster to market - with an official "Grant Of Equipment Authorization" being issued today
We've had the Max-Amp on our radar for a very long time - it has been "a few weeks away from production" for nearly a year, and had even passed FCC inspection in September before ending up roadblocked again.
But this is now the first time that MaximumSignal reports that it has all the final paperwork in hand so that they can legally begin production and taking pre-orders.
If the Max-Amp lives up to what has been promised - this may become the new benchmark cellular booster for the RV market. We can't wait to test it out.
Maximum Perseverance: The Max-Amp Fight
Gord from Maximum Signal has been sharing his frustrations on the Maximum Signal Facebook Page since he first began the process of getting the booster certified, way back in March 2013. You can't help but admire his perseverance, and feel his utter frustration:
December 8th, 2014: "They gave us our license in September. Everything was a go. Then they have to give you what is called a grant to start building. They still have not given us our grant yet. We went to an arbitraitor and won. We still can't build. I have dished out another $300,000 in legal fees since September dealing with this. It seems it is not how good your product is. You have to bribe the right people! ... They have retested us so many times now I have lost count and we pass with flying colors every time. Yet our competitors can't even pas and they got a temporary permit as they convince the FCC it is a public safety issue so something has to be available. So we asked for a temporary permit and were denied! When there is good news it will be posted"
After a round of FCC meetings in Washington in February, things looked good. Until:
April 13th, 2015: "They have now made us go to UL testing. No other amplifier has ever had to do that. Their excuse is well they are changing the rules. Senator Hatch at it again"
And finally...
May 7th, 2015: "Been being screwed by them for over 2 years now. Only has cost us $850,000 just in lawyers fighting them. Problem is one particular corrupt Senator from Utah who is bought and paid for by Wilson. They figured they would just bankrupt us by delaying us over an over again! Wrong. We are now going to kick everyone's ass!"
You can't help but cheer.
Max-Amp Pricing & Details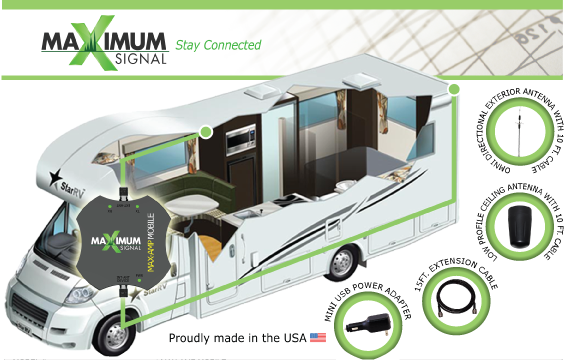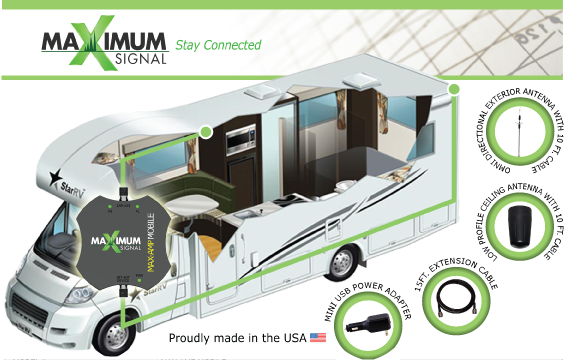 The Maximum Signal website will be updated this week with the final details and specifications, but we've been told that the Max-Amp as approved will come in two versions, with two different antenna kits:
Car Kit - $579.95 - "Would be fine for small RV"
RV Kit - $649.95 - "Will cover 53 foot RV"
Gord describes the Max Amp as follows:
"Both these amps will cover 8 devices at once with every device getting full power even on different carriers. Antenna separation is minimal compared to all other brands on the market. These amplifiers have sensitivity down to -127dB. It will take that signal and makes it usable. Most cell phones do not even sense a signal after -113dB. This product is going to blow peoples minds. The engineers that tested at the FCC were floored!"
The car kit includes 13" mag mount antenna for the roof, and flat panel interior antenna. The RV kit includes a trucker-style antenna and an omni-directional low profile interior antenna, as well as a 15' extension cable to increase placement options.
Gord explained that the difference between the models is more than just the bundled antennas:
"RV model amp will have more coverage to it as the FCC ended up making us produce 2 models. These are the best antennas available as that was part of the fight as they wanted us to use crappier antennas. The Max-Amp will also sense non-Maximum Signal antennas and will not work and shut down. Part of our deal with FCC."
I have never heard of a cellular booster refusing to work with third party antennas, but when I asked the follow up questions Gord told me that this was indeed the case - and that the "FCC will be asking for this from everyone in the future".
This means that Maximum Signal's initial plan to sell a second antenna kit to allow an RV booster to be moved from an RV to a car will not work - the RV booster will shut down if it detects the car kit antennas. Other external antennas like the BoatAnt also will presumably be detected and will not work.
I am very curious to test and see how this antenna rejection feature actually ends up working in practice.
Initial Production Limited: Pre-Orders Begin on Wednesday
With FCC clearance, Maximum Signal can finally begin production - and they have announced that they will begin taking pre-orders beginning on Wednesday (5/20/2015) with delivery to the public targeted for four to six weeks from now.
Starting Pre sales On Wednesday. You get a $50 discount for pre ordering. Your credit card will not get billed till product is shipped to you and pre orders will be the first to go out even before orders to our retail outlets. Pre-order phone number is 413-maximum (413-629-4686).
We will be getting one of the very first Max-Amps produced to review, and we are eager to put it through a long term evaluation to see if it lives up to the big claims.
Will the Max-Amp be better than the competition? Enough so to justify the higher cost versus the weBoost Drive 4G-M ($379.99) or the (delayed until June?) weBoost Drive 4G-X ($479.99) or the brand new Top Signal Cobra ($389.95).
Our members here will be the first to find out.
But if you want to take a chance, support the underdog, and get a Max-Amp from the first batch before anyone else - you may not want to wait to get your order in. Gord explained on Facebook:
"First production run will not be very big. Have to build up some funds after 25 months with no income first production run will be limited. This fight cost a lot of money $850 thousand on lawyers alone. I would have rather spent that on parts. I have to sell them to build more. Me and my partner are out over 4 Million dollars right now. If you want to send a million you have laying around, I could build more to start."
Maximum Signal definitely earns points for tenacity.
Now lets hope that the Max-Amp is just as tenacious at locking onto remote signals!