UPDATE as of 2/26/2020:
Black Wireless's Multi-Month plans are currently no longer available on their site - they are "temporarily sold out."
And Mango Mobile's Multi-Month plans have completely disappeared from their site. The largest data bucket available on any plan now is only 2GB.
We will monitor these companies to see if there are any changes going forward.
UPDATE as of 4/6/2020:
We have received many reports of customers on Black Wireless T-Mobile based plans having them canceled effective April 10th. Apparently Black Wireless will no longer be able to offer plan on T-Mobile, and we have confirmed with their support staff that they only currently offer plans on AT&T that are more expensive and provide less data.
Mango Mobile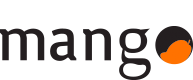 and Black Wireless, two MVNO's owned by Red Pocket Mobile, announced new T-Mobile-based multi-month smartphone plans with a promotional price of $25/month that includes 50GB of on-device data and 20GB of mobile hotspot data, for a total of 70GB per month.

Mango Mobile was originally launched in 2016, and Black Wireless was originally launched in 2011. The only plan currently offered by Mango Mobile is this Multi-Month plan. Black Wireless does offer some additional monthly and pay-as-you-go plans based on the AT&T network.
Video Version
Subscribe to our YouTube Channel
Plan Details
70GB of high-speed data for $25/month is a pretty good deal, but it's important to note the limitations on how the 70GB can be used - you get 50GB to use on your device, and a separate bucket of 20GB to use as a mobile hotspot.

For on-device data, once you hit 50GB, your speeds will be reduced to 128kps. The 20GB of hotspot data, however, is a hard cap - once you use the 20GB, you have no more hotspot data.
There is no option to add additional data to these plans.
These plans are multi-month only - you must prepay for service in increments of either 3-months, 6-months, 9-months, or 12-months. There is no additional discount for purchasing additional months - the rate is $25/month no matter which term you select.
*Update: as of 2/19/20, both companies are offering an additional discount on their 6-month plan, bringing the monthly cost to $16.67/month ($100 total).
Mango Mobile and Black Wireless's websites both state that the normal rate for these plans is $40/month and that the $25/month rate is for a limited time only.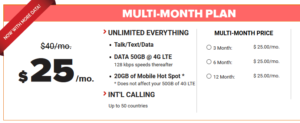 Responding to our inquiries, they stated that they do not know how long this promotion will last and when asked if they would continue to offer these plans at the $40/rate after the promotion ends, their answer was "it depends."
This promotion is "only available for new activations and/or first-time port ins."
Both plans are always subject to Network Management, meaning that data use is at a lower priority on congested towers compared to other users.
With both companies, the plans also include unlimited talk and text, and international calling to ten numbers a month to ~50 countries.
Summary
These plans offer a pretty good deal - $25/month for 70GB of T-Mobile-based data could make a good backup smartphone option for some nomads.
But the data caps, always-on network management, and the requirement to prepay for service make this a niche option at best for those looking for a mobile home-internet replacement.
For comparison, Verizon subsidiary Visible offers an unlimited data smartphone plan including unlimited mobile hotspot data (capped at 5Mbps), for as low as $25/month.
For other T-Mobile-based options, see our Gear Center.
It's also worth noting that the T-Mobile/Sprint merger was recently approved (on February 11, 2020) so it remains to be seen how that will affect the long-term availability of these plans for new service going forward.