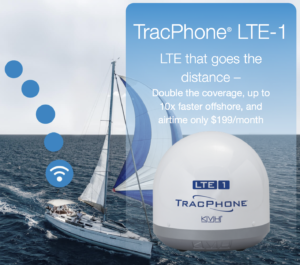 KVH Industries is best known for providing TracVision satellite TV receiver domes for the RV and marine market, as well as for its popular TracPhone global satellite voice and data service that is often found providing connectivity on mega-yachts (with the budgets to match).
But now KVH is introducing its first cellular-powered system, for cruisers with more modest budgets who are not planning to venture far enough off shore to require satellite.
KVH describes the new TracPhone LTE-1 this way:
KVH Industries is introducing the TracPhone LTE-1 marine communications system designed to provide Internet access in U.S. waters more than 20 miles offshore, with data download speeds up to 100 Mbps. The system, which utilizes LTE Advanced (LTE-A) cellular network technology, is compact and affordable enough for a vast array of small and mid-size recreational boats—including sailboats, center consoles, fishing boats, and more—that until now have had few options besides the boater's own cellphone for accessing the Internet while on the water. With the TracPhone LTE-1, boaters can access the Internet at twice the range and up to 10 times the data speed of typical cellphone performance offshore, with connectivity for multiple onboard devices.
One unique feature of the LTE-1 is that it actually auto-switches between "two of the leading LTE carriers" to ensure better coverage as you cruise.
But with its expensive data plan and other limitations, is the TracPhone LTE-1 something to get excited about?
TracPhone LTE-1 Hardware Details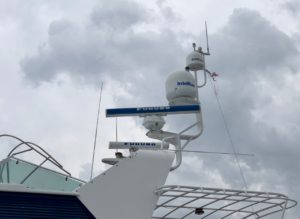 The TracPhone LTE-1 is a marine-rated 13" diameter plastic dome resembling KVH's other satellite products, and it would look right at home on a radar arch next to a KVH satellite TV receiver.
Inside the dome there is a cellular integrated router with an LTE-A compatible cell modem, paired with a MIMO cellular antenna.
NOTE: KVH was unwilling to share the deeper technical specifications, but we've dug up some unofficial details that we'll share for logged in members below.
The unit is powered over a POE (power over ethernet) connection routed into the boat, and to connect your devices it can create a 2.4GHz local Wi-Fi network.
You can also plug the POE power supply into an indoor networking switch or router if you want to have a wired or 5GHz indoor Wi-Fi network as well - but an indoor network is NOT required and the TracPhone LTE-1 should provide adequate Wi-Fi coverage throughout most modestly sized boats.
The KVH LTE-1 lists for $1,699 - and should be available immediately via KVH dealers.
TracPhone LTE-1 Data Plan & Coverage Details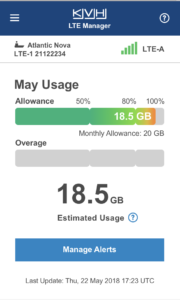 KVH has partnered with "two of the leading LTE carriers" to provide domestic cellular coverage for the TracPhone LTE-1, and the device is configured to switch seamlessly and automatically between these two options.
But for some reason KVH is unwilling to reveal who these partners are, telling us:
"We are not disclosing the names of the carriers."
This is frustrating - because (for example) a combination of Sprint and T-Mobile would be a LOT less appealing than a combination of AT&T and Verizon.
But for now - KVH seems intent on keeping their actual coverage map a mystery.
KVH's data plan is simple, though expensive. You get 20GB of data a month for $199, with overages charged $9.99/GB. There is no contract, so seasonal mariners can start and stop service as needed. KVH charges a $9.99/mo fee for temporarily suspending your service, which avoids need to pay an activation fee to start up again.
KVH CEO Martin Kits van Heyningen says that he expects "the TracPhone LTE-1 will be a game changer for boaters who want to stay connected with HD streaming, video chatting, and more" - but without an unlimited plan option HD video streaming is likely to be a pricy undertaking.
Initially KVH is only providing coverage in US waters (including Alaska and Hawaii), but they tell us that they hope to partner with other carriers to provide Caribbean coverage in 3-6 months. Pricing details will not be revealed until then.
Importantly - the TracPhone LTE-1 is locked and customers will not be allowed to change SIM cards and will ONLY be able to use this KVH data plan. KVH tells us that this may change down the road as they expand to coverage beyond the US.
But for now - both occasional light users and heavy streaming users will find the $199/mo plan to be frustrating.
TracPhone LTE-1 Alternatives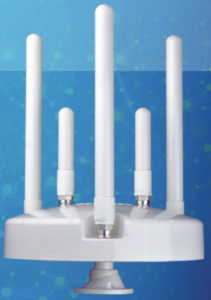 TracPhone has an excellent reputation for providing marine rated gear, but there are alternatives to consider as well for offshore cellular internet access.
Most similar to the TracPhone LTE-1 is the Winegard ConnecT. The marine version of the ConnecT 1.0 (our review of the RV version) is $479, substantially cheaper than the TracPhone LTE-1.
Winegard's data plan is provided by (just) AT&T, and comes with a more flexible range of sizes - ranging from 1GB for $20/mo to 20GB for $150/mo, and these plans include Canadian coverage. Or you can get 10GB for just $65/mo without support in Canada.
If you want to bring your own data plan, the Wirie Pro is worth a look.
Or rather than mounting all the cellular electronics outdoors, any indoor cellular integrated router paired with an outdoor antenna is worth consideration too.
But there is definitely something nice about have a package deal with hardware, cellular service, and support all provided by one company. If this style of integration appeals to you, it is great to see KVH entering this market.
Bonus Member Only Content Available!
We go extra for our premium members - who make this resource center possible (did you notice the lack of 3rd Party advertising?). We have included some additional information in this news article just for our members - analysis, guidance and/or insider tips.
If you're not yet a member, please consider joining us. Extra content like this is one of the many perks we offer - in-depth content, guidance, discounts, alerts, classroom and more.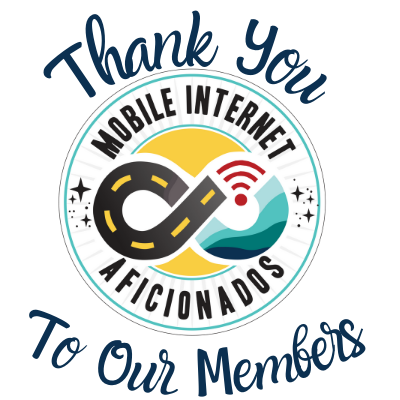 If you are already a member, please log in above to see the special content we have prepared for you.