Understanding Cellular Data Plans
Selecting cellular data plans can be an overwhelming adventure. There are just so many options out there and cellular companies frequently change their offerings.
Plans come with a lot of fine print, and in particular, the carriers don't necessarily design and market their plans to those seeking a home internet replacement.
This guide is written to help you understand the different types of plans available and navigating shopping the myriad of options out there - so that you can make the right choices for your needs.

For more on selecting the right data plan for you, these further resources are designed to supplement this guide: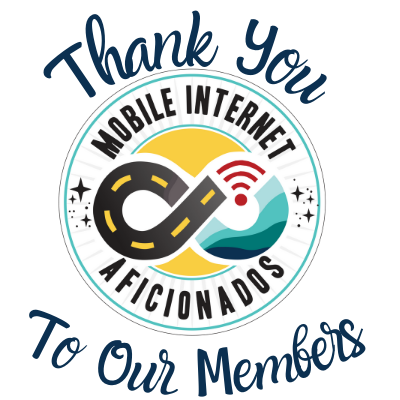 If you're a member, please log in above to access the exclusive portions of our content.
We are honored to be able to present a bunch of our content for free.
Our resource center is brought to you by funding from our premium members. We don't accept 3rd Party Advertising, we're not sponsored and we don't sell stuff.
Our members have exclusive access to in-depth content, classrooms, discounts, alerts, insider info and interactive guidance.
If mobile internet is an important part of your lifestyle, you can help make this possible:
---
Obtaining Plans & Classifications
The first confusing point about cellular data plans is all of the available choices. However, it's important to remember there are currently only a few major nationwide carriers in the U.S.: Verizon, AT&T, T-Mobile, and Dish. Any plan you purchase in the US that claims nationwide access will be on one of these carriers.
There are also some regional carriers who only serve smaller geographic areas.
Each of the major carriers has both postpaid and prepaid direct plan offerings, their own prepaid brands, and official and unofficial resellers. They also tend to have consumer plans meant for individuals & families, and business plans meant for small to large businesses.
The carriers tend to give their own postpaid plans the premium access to their networks, with priority decreasing from there. This prioritization can impact things like the speeds you'll receive, roaming partnerships (thus coverage), features, and latency.
To put it simply, when all other factors are equal, carrier direct postpaid plans will have the best performance.
Carrier Direct Postpaid Plans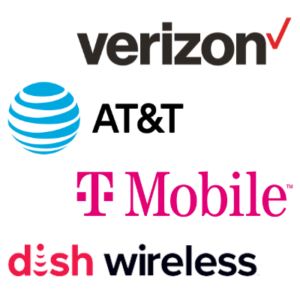 These are the plans you obtain either directly in the carrier's retail stores, through authorized resellers or via carrier's websites - and likely the first ones you'll encounter as you start shopping.
Postpaid means that you pay for your service at the end of your billing month, and the carriers give higher priority and better customer service to these plans.
Because you are paying for service after it's delivered, the carrier will want you to establish an account with them based on your credit record. If you can't pass their credit check, you may be required to put up a deposit.
The credit check requirement also means that if you don't have a U.S. billing address then you probably can't acquire these plans. So they are typically not an option for foreign visitors.
Postpaid plans are traditionally associated with contracts, although many options exist to avoid contracts if you're willing to purchase your cellular devices outright instead of subsidizing or financing them through the carrier.
In general, postpaid plans will have the latest and most popular features - like better customer support, mobile hotspot, higher definition video, and other perks. They're also most likely to include domestic and international roaming agreements and will have the fastest speeds on the network. Also important to note is that postpaid plans are usually grandfathered when they are retired.
Of course, these perks come with a price. Postpaid carrier direct plans also tend to be the most expensive plans.
Postpaid carrier direct plans are usually the first preference for those who depend on mobile internet - but they also usually come with lower data bandwith caps, particularly for hotspot and tethered data.
All of the major carriers also offer business plans that are postpaid. Technically these plans are only available to business customers, but how each company defines what a business is varies. If you have a business tax ID number, or actually own a business, be sure to research the available business plan options, as sometimes they may come with perks that consumer plans don't have.
Carrier Direct Prepaid

All of the major carriers also offer direct prepaid or pay-as-you-go plans that allow customers to pay for service only when they need it, rather than making long-term commitments. This makes setting up service easier, since you don't have to use a contract, go through a credit check, or provide too much personal information.
However, most carriers will add discounts if you set up an account with automatic monthly payments - making the plans less 'pay-as-you-go' and less anonymous.
These carrier direct prepaid plans are usually offered on the carrier's website, through corporate stores, or via authorized resellers.
The plans usually cost less than their postpaid equivalents, but lack some of the features, come with additional restrictions, and/or lower network priority. For example, they might be subject to de-prioritized service, more aggressive mobile hotspot caps & restrictions, lack of domestic roaming, less international support, lower resolution video streaming, and more.
Carrier Subsidiaries - Prepaid Brands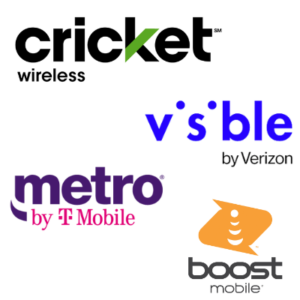 Each carrier has its own independent prepaid brands that they utilize to target niche markets.
For example, AT&T owns Cricket Wireless, Verizon owns Visible, T-Mobile owns Metro by T-Mobile, and Dish owns Boost Mobile.
The prepaid subsidiaries have their own websites and/or stores and operate independently from the carriers. For example, you can't go to an AT&T store to get a Cricket plan - you would need to go to a Cricket store.
The plans will often mimic the carrier-direct prepaid options or may offer slightly different benefits and restrictions. These plans will also tend to be more no-frills and are usually missing features available on postpaid plans. Prepaid plans are sometimes at a lower network priority but generally should perform similarly to equivalent postpaid plans.
MVNOs - Mobile Virtual Network Operators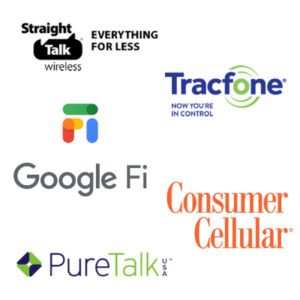 MVNOs buy service in bulk from the major carriers and resell it under their own brands. The plans tend to be more focused on smartphone plans, not data device plans.
They create their own unique plans not available directly from the carrier with their own pricing, limitations, and terms - and provide their own customer service. You do not end up as a direct customer of the carrier, like you would when going through an authorized retailer.
These "virtual" carriers usually directly negotiate and operate under authorized contracts with one or more major carriers to provide service.
The advantage of MVNO plans is there are a lot more options and you can often get better deals and higher usage caps than you can by buying directly from the carrier. The disadvantage is that MVNOs tend to be the same or lower priority than carrier prepaid services.
MVNOs are sometimes not allowed to advertise who is providing the underlying network as to not compete directly with the carrier's own brands. But if you explicitly ask or do some online digging, it isn't hard to figure out which data network is behind any given plan (resources: MVNO page on Wikipedia & BestMVNO).
When using an MVNO, the carrier name that will appear on your phone will be the name of the MVNO. So for example, if you buy a Verizon plan from Straight Talk, your screen will display "Straight Talk" as the carrier name.
Some examples of MVNOs include StraightTalk, Consumer Cellular, Google Fi, and Tracfone. None of these companies are owned by the carriers themselves. They are operated completely independently.
Proceed with caution when dealing with an MVNO. We do not recommend porting a familiar phone number, or phone number you personally identify with, into an MVNO. MVNOs are more of a risk to phone numbers you want to keep. Reddit and other similar forums, have stories of unexpected MVNO cancellations causing the loss of favorite phone numbers.
3rd Party Resellers
Third-party resellers are companies that have acquired lines of service from the major carriers and are reselling services. These plans tend to be focused on data device plans for hotspots and routers, and sometime even restricted to a particular device.
Unlike MVNOs, who are re-packaging bulk data into their own unique plans and presenting as being their own carrier - resellers tend to be reselling already defined plans by the carriers, but setting their own pricing. These plans could be at any level of priority on the carrier's network - from prepaid to business class service, and the plans resold may or may not be otherwise available directly from the carrier.
But like a MVNO, you are the reseller's customers - paying them directly and contacting them for customer service. You do not end up as a direct customer of the carrier, like you would when going through an authorized carrier retailer.
Some MVNOs use color codes to signal which network the plan is on - Red for Verizon, Blue for AT&T, and Pink for T-Mobile. Or they may explicitly say who the carrier is.
When using a reseller, your device will display the name of the actual carrier that you are on, not the reseller's name.
Resellers may have legit agreements with master agents to resell plans. Or they could be reselling lines specifically against a carrier's terms of service.
It can be hard to tell, and the reseller isn't likely to be upfront either way.
Some resellers have been around for a long time, but there are always new ones are popping up, and existing ones sometimes shut down without warning. Carriers are still in charge of the service behind the scenes, and can change things for whatever reason. We always recommend using caution with resellers, as you are two or three steps removed from the carrier themselves in the transaction.
Always proceed with caution when dealing with a reseller - anticipate your plan could go away with little to no notice. You could be left with gear that isn't viable for other use later. Your device the plan is used in could get blacklisted by the carrier. You could lose prepaid service. You could experience poor or variable customer service.
If you choose to utilize a reseller provided plan, always have a back-up option in mind for when - not if - your plan suddenly disappears.
---
Understanding Unlimited Data Plan Restrictions
Unlimited high-speed cellular data plans are in high demand for the mobile community, who would like to affordably use hundreds of GBs of data a month.
While all of the carriers proudly advertise unlimited data plans, they have redefined the term "unlimited" to try to find a balance between capacity and consumer desire.
These days 'unlimited' basically just means no automatic overage charges.
Unfortunately, that means "unlimited" plans come with limitations and gotchas.
The most typical restriction on unlimited plans is the practice of slowing down speeds delivered - either always, or after a specific point of usage. Sometimes, unlimited high-speed data is only provided for certain activities.
Understanding terms like throttling, network/congestion management policies, mobile hotspot restrictions, video resolution, and fair use policies is critical to understanding if a plan will work for you.
In early 2022, the FCC announced plans for a Consumer Broadband "Nutrition" Label that will provide a standardized template for tracking features and limits of data plans, and could potentially make comparison shopping plans much easier.

This program is still in the planning stages, but may be in place potentially in late 2022.
We have an entire guide that dives into this topic:
Getting Lots Of Cellular Data: Unlimited And High Cap Cellular Data Plans For Verizon, AT&T And T-Mobile
Or watch our video:
Member Exclusive Content In This Guide
Has this guide been helpful so far?
Well.. there's a lot more below available to our members. As well as dozens of other guides like this, videos, classrooms, forums, webinars and more. All specifically created for helping keep RVers, cruisers and nomads online.
Consider Becoming a Member
If mobile internet is an important part of your lifestyle, a membership can help keep you connected with these exclusive benefits:
in-depth exclusive content
interactive guidance
vendor discounts
alerts & insider tips
classroom
community
Free Content Like This Made Possible By Our Members!
We are community funded via our premium membership program - allowing us to focus on creating unbiased quality, in-depth, constantly updated content. We don't accept 3rd party advertising, we're not sponsored and we don't sell 'stuff'.
Already a member?
Log in to continue with this guide.
Check out the Topics Covered in the Member Section:
Data Plan Types
This section goes over unlimited, tiered, data-only, and connected car plans.
On-Device vs Hotspot Data
A discussion of the difference between using data on your device versus using it as hotspot data.
Network Management Deep Dive
A more detailed look at how network management works, how carriers prioritize data, and manage their networks.
5G Access
While all of the major carriers have 5G networks, 5G data is not always included on every plan.
Router Usage
Many users use a setup with a cellular router, but not all plans are compatible with router usage.
Video Streaming & Entertainment Packages
Video streaming is one of the most data-intensive things you can do over the internet. While most data plans include video streaming, many carriers implement restrictions.
Roaming Considerations
Roaming describes how your cellular carrier handles your connectivity when you are outside their coverage area.
Downsides of MVNO and Reseller Plans
While resellers and MVNO can net you better terms and pricing than direct with the carrier - they do come with some considerations.
Tips for Comparing Plans
When shopping for plans, there are multiple factors you should use to compare them - from coverage, costs and discounts.
Contracts Replaced with Equipment Payment Plans
Should you pursue a contract or avoid them?
Navigating Customer Service & Representatives
This section shares a lot of tips and tricks for reaching the right people to get the service you need.
Grandfathered & Retired Plans
What happens when a carrier discontinues a plan you love? Do you get to keep it forever?
Terms of Service Considerations
This section goes over some of the common terms of service that consumers either knowingly or ignorantly violate to use their data plan how they desire.
Assembling a GREAT Cellular Data Plan Arsenal
Assembling a great setup usually requires multiple plans, and occasionally switching things up. This section goes over how to best do this.
Shopping for Cellular Data Plans
Finding the right plans for your needs is no easy task - quite simply mobile travelers using cellular data as their primary way online is not how most carriers have designed their plans. Many of us want plans that provide copious amounts of data.
Here's our video going over ways to get LOTS of data for use in your travels:
But a data plan alone will not keep you online. You also need the right gear, signal enhancing strategy and planning your travels around the options you carry with you. Head on over to our collection of guides:
Conclusion: Know the Details Before Deciding
When purchasing a new data plan, make sure you understand the differences between the different types of options in order to get one best suited to your needs. Choosing a prepaid or data reseller can be cheaper, but can also come with restrictions, such as limits of data, throttling, and mobile hotspot restrictions. Also make sure you understand how each plan defines "unlimited", as those plans often come with limitations.
Explore the Resource Center
Join our 'Library Desk':
Internet for RVers & Cruisers Facebook Group
We cross post news articles and guides, and can help point you in the right direction to our content here on the resource center.
It is with gratitude to our premium members that we're able to offer our free content - and for that, they also have access our private Q&A areas for more in-depth guidance.
The MIA is our premium membership - designed for those who consider mobile internet an important part of their lifestyle.
In thanks for making content like this possible, we offer a bunch of additional perks. From interactive guidance, in-depth member exclusive content, discounts, alerts, classroom and more.
We totally understand that a membership isn't right for everyone.
However you can still support this content with our supporter level for just $25/year.
With our gratitude, you'll get access to all our free content without the 'nags'.

Stay In the Know
We're constantly tracking the industry and analyzing new developments for mobile travelers. If you'd like to receive updates, we offer several ways: