When the iPad Air 2 and iPad Mini 3 were released last October - Apple also debuted the magical multi-carrier "Apple SIM" card.
Rather than having to pick a cellular carrier at purchase time and then paying roaming fees to your home carrier when you travel, the Apple SIM lets you select your carrier and pick a plan whenever you like.
You can even change carriers and plans, all without needing to swap SIM cards.
The Apple SIM launched with support from T-Mobile and Sprint in the US, and half-hearted support from AT&T.
But the promised wide range of international partners never emerged - with only UK carrier EE supporting Apple SIM service on demand internationally.
Until now.
Today international roaming service GigSky and Apple announced that through GigSky, the Apple SIM now allows super simple pay-as-you-go iPad roaming in over 90 countries.
GigSky Prices & Countries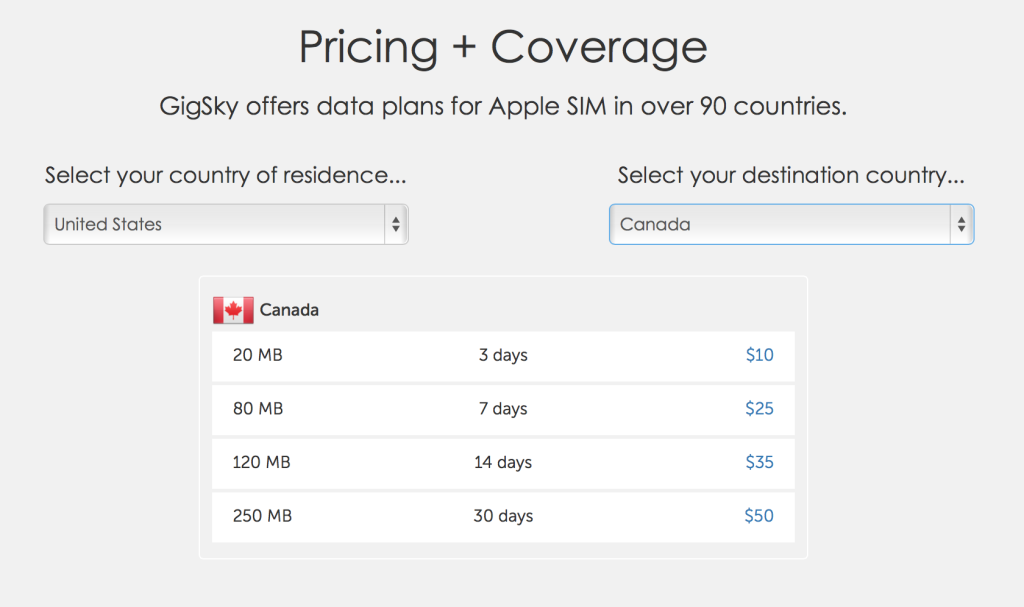 The GigSky coverage map is impressive, but the pricing is a bit confusing - and varies a LOT by country.
The data you purchase is per-country as well, so if you are planning a multi-country adventure you will need to buy service in every country you visit when you arrive.
Unused data expires after the purchased data passes time is up - with expiration times ranging from 3 to 30 days.
Looking over the data prices GigSky offers - the rates are anything but cheap.
In Canada - service works out to $200/GB, while in France it is $50/GB.
Disappointingly for RVers - Mexico does not seem to be supported yet.
You can look up rates and countries covered on the GigSky Apple SIM website.
If you have an Apple SIM in your cellular iPad, from today onward you will see the GigSky options when you go to pick a plan. If you do not have an Apple SIM, Apple stores in the USA, Australia, Canada, France, Germany, Italy, Netherlands, Spain, Sweden, Switzerland, Turkey, and the UK all should soon have them stocked for sale.
GigSky also offers a global roaming GigSky SIM that allows access to the same roaming prices for unlocked Android and iOS device owners too, without needing an Apple SIM.
While this requires ordering a SIM in advance and is thus a bit less convenient than using an Apple SIM that you might already have bundled with your iPad, it is still a handy option for travelers who plan ahead.
You can even buy a GigSky Global Data Mini/Micro SIM Card on Amazon for $9.99 that you can use in an unlocked mobile hotspot too.
GigSky: Convenient, But Not Always Smart
For international travelers needing just a bit of data on the road, if you have an Apple SIM in your iPad - with GigSky you can get online in a lot of places more easily than ever before. Or with a GigSky SIM - you can plan ahead and get the same flexibility.
But if you need more than just a small amount of data - you can almost always find better prices by getting a local plan tied to a new SIM card from a local carrier.
Or - if you only need slow speed data, T-Mobile's Simple Global feature allows for unlimited 2G speed data roaming in 120+ countries, and it costs just $20/mo for the cheapest iPad plan.
But to take advantage of a T-Mobile plan like this - you must have it activated BEFORE your trip.
GigSky on the other hand makes it extremely convenient to get a bit of data when and where you need it - without any extra fuss. And now with Apple SIM support, you do not even need to plan ahead.
And sometimes, simple convenience is more important than anything.