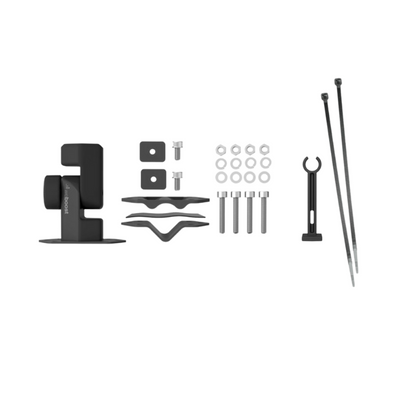 weBoost has an Overland Antenna Mount that you can buy separately and can be used with several exterior antennas - including the
Drive Reach OTR, RV
, and
Drive X RV
.
This weBoost Overland Mount can be attached using a T-slot, pole mount, or fixed in place.
The mounting kit includes a T-slot mounting hardware, an antenna stabilizer to secure the antenna when folded down, brackets, and a non-slip rubber pad for pole mounting to 1" to 1.25" rails and bars such as a vehicle ladder or roof/bed rack.
With the Overland Mount, you can collapse the antenna while not in use and extend the reach of the weBoost antenna if mounted in a tight space.
Specifications
Clamp Range: 1" - 1.25" diameter, 0" - 1.6" flat surfaces

Thread Pitch:

Ball/Socket Size:
Weight Capacity: 4 lbs (3 lbs heavy duty use)
Material: Marine-grade aluminum, high-strength composite
Weight:
Price: $119.99
News, Videos, & Status
We have not tested this device.
Related News Center Articles:
This Review Contains Additional Member Exclusive Content!
We are Honored to be Member Funded!
No ads, no sponsors, no selling (but may contain affiliate links)
Our members fund our in-depth independent reviews.
This entry may contain additional member exclusive content such as testing notes, field testing data, user interface tours, comparisons to alternatives, analysis, tips, videos and discounts.
Members also get interactive guidance, alerts, classroom and more. 
Purchasing Options
Purchasing Links & Disclaimer
We don't sell stuff, we are primarily member funded. Some links below may be affiliate links (see our disclaimer), which also helps fund MIRC.
The vendors displayed below provide larger discounts to our MIAs that we have negotiated instead of displaying affiliate links while they are logged in.
MIA Discounts - Learn & Save!
Our Mobile Internet Aficionados (MIA) get special discounts from the below vendors. Members please check for discount codes before ordering. With savings up to 11% off, you could save more than your membership cost!