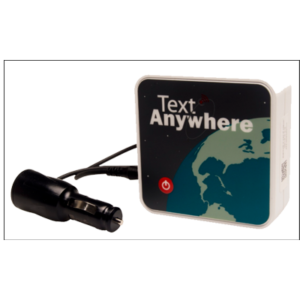 Sometimes, when you are out in the boonies far from other communication options, your communication needs are actually very simple.
You either want to let your loved ones know "I'm fine, and this is where to find me..." or you want to let everyone know "Send help – here is where I am!"
For these basic needs, a big expensive satellite system is overkill.
The Text Anywhere satellite communication device offers two-way satellite communication on the Iridium network. They offer one plan - $182 for 6 months of 50 messages per month or $365 for 12 months of 50 messages per month.
While the Text Anywhere device provides your approximate location, it is not for use for accurate location service. Positioning information can be accurate to about 1 mile at best and 100+ miles at worst.
Text Anywhere tests indicate that you can send 350 + messages with one charge. Factors such as battery age and poor sky sight can reduce the message count.
Specifications
Main Function: Basic Satellite Communicator
Satellite Network: Iridium
Battery: 350 messages sent/received per charge
Weight: ?
Dimensions: ?
Waterproof: No
GPS Location: Inaccurate
Price: $399
---
News, Videos, & Status
We do not intend to obtain a unit to test.
Related Articles
Related Guides
---
---
---
Purchasing Options