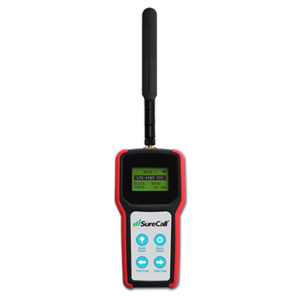 The SureCall RF 5-Band Signal Meter can be used to map the frequency environment, point directional antennas, and maximize signal booster coverage installation projects.
The signal meter measures wireless signal for Voice/3G/4G/LTE for all carriers in North America. It features a digital LCD readout for each band.
You can use the meter to receive and measure an outside RF wireless signal from the air, an installed outdoor antenna or you can direct connect the field antenna via a RF Connector.
Specifications
Dimensions:

6.3" x 3.3" x 1.3"
Standards Supported: LTE Verizon, LTE AT&T, AWS, Cellular, PCS
Frequencies: 728-746 / 746-757 / 869-894 / 1930-1990/ 2110-2155 MHz
Sensitivity: - 110dBm
Impedance: 50 ohm
Connecter: SMA Female
Active Working Life: 2.5 hours
Power:

AC Power Transformer: Input AC110V, 60Hz; Output: DC5V
DC Power: 4 AAA batteries

Retail Price:

$250-$349.99
Testing Status
We are currently testing a unit.
This Review Contains Additional Member Exclusive Content

We are honored to be able to present the above overview for free without 3rd party advertising or sponsorships. We are not paid by the manufacturer of this product to provide this listing or review, and nor are we selling this equipment or plan (purchasing links are provided below as a courtesy and some may be affiliates).
Our members have funded this resource center and any extensive hands on time
we have spent with the product to review it.
The in-depth portions of this review are made available to them which might contain: hands on testing notes, field testing data, user interface tour, product analysis, comparison to alternatives, setup tips, video tutorial, insider tips, vendor discounts and fellow member experiences.
If you're a member, please log in to continue with this review.
If you're not a member.. please consider joining us!
Purchasing Options
Rental Option