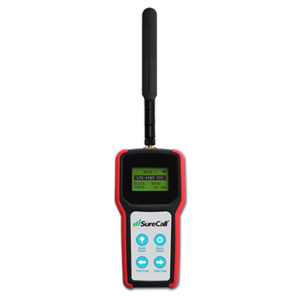 The SureCall RF 5-Band Signal Meter can be used to map the frequency environment, point directional antennas, and maximize signal booster coverage installation projects.
The signal meter measures wireless signal for Voice/3G/4G/LTE for all carriers in North America. It features a digital LCD readout for each band.
You can use the meter to receive and measure an outside RF wireless signal from the air, an installed outdoor antenna or you can direct connect the field antenna via a RF Connector.
Specifications
Dimensions:

6.3" x 3.3" x 1.3"
Standards Supported: LTE Verizon, LTE AT&T, AWS, Cellular, PCS
Frequencies: 728-746 / 746-757 / 869-894 / 1930-1990/ 2110-2155 MHz
Sensitivity: - 110dBm
Impedance: 50 ohm
Connecter: SMA Female
Active Working Life: 2.5 hours
Power:

AC Power Transformer: Input AC110V, 60Hz; Output: DC5V
DC Power: 4 AAA batteries

Retail Price:

$250-$349.99
Testing Status
We are currently testing a unit.
The Rest of this Review is:
Member Only Content
We are thrilled & honored to be primarily member & reader funded - allowing us to present unbiased content. The in-depth review section of this product listing is part of the premium membership benefits of joining. Members can also leave their own reviews on products.
If you're a member, please log in above to read the in-depth review for this product and/or leave your own review. If you've not joined yet, learn more about membership at:
Purchasing Options
Rental Option
SureCall RF 5-Band Signal Meter
Quick Take
The SureCall RF signal meter measures wireless signal for Voice/3G/4G/LTE for all major carriers in the US.
Comments Rating
( reviews)