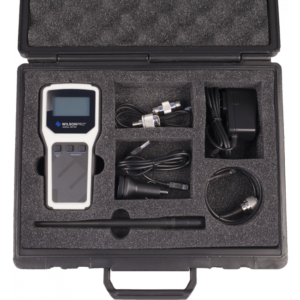 The WilsonPro RF Signal Meter is a quad-band signal meter that can be used to map the frequency environment, point directional antennas, and maximize signal booster coverage installation projects.
This meter
works
with
800
MHz
(Cellular),
1900
MHz (PCS), 2100 MHz (AWS) and 700 MHz LTE (bands 12 and 13) frequency bands. It
measures wireless signal for Voice/3G/4G/LTE for all carriers in the US.
You can use the meter to receive and measure an outside RF wireless signal from the air, an installed outdoor antenna or you can direct connect the field antenna via a RF Connector.
The LCD screen displays frequency of a detected signal, the range of pass bandwidth in megahertz (MHz) and the signal strength in decibels (dB). Button controls located just under the screen allow the user to move between frequency bands and channels.
Specifications
Dimensions:

1.25" x 3.25" x 7"
Frequencies: Band 12/13/17 – LTE (728-756 MHz) • Band 5 – CELL (869-894 MHz) • Band 25 – PCS (1930-1995 MHz) • Band 4 – AWS (2110-2155 MHz)728-746 / 746-757 / 869-894 / 1930-1990/ 2110-2155 MHz
Sensitivity: - 110dBm
Impedance: 50 ohm
Antennas:

(included) zero gain antenna
(optional add-on) wide-band panel antenna 700-2700MHz

Connecter: (optional add-on) SMA Male to N-Male
Active Working Life: 6 hours
Power: (both)

AC Power
DC Plug-In 5.5V/2A Power Supply & USB Cable

Retail Price:

$330-$529
Testing Status
We are not currently testing this product.
More Information Available to our Members

We are honored to be able to present the above overview for free without 3rd party advertising.
In thanks for funding this resource center our members have access to any further notes, analysis, insider info, member experiences and/or our full in-depth review of this product or offering.
If you're a member, please log in above to read the review.
Purchasing Options
3G Store (User Guide PDF can also be found here)
eBay