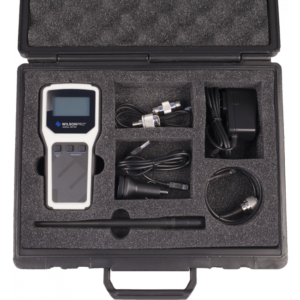 The WilsonPro RF Signal Meter is a muti-band signal meter that can be used to map the frequency environment, help point directional cellular antennas, and tweak signal boosters for maximum indoor coverage.
The signal meter measures wireless signals for Voice/3G/4G/LTE, and features a digital LCD readout for each band.
Specifications
Dimensions:

3.25" x 7" x 1.25"
Frequencies: Band 12/13/17 – LTE (728-756 MHz) • Band 5 – CELL (869-894 MHz) • Band 2/25 – PCS (1930-1995 MHz) • Band 4 – AWS (2110-2155 MHz)728-746 / 746-757 / 869-894 / 1930-1990/ 2110-2155 MHz
Sensitivity: - 110dBm
Impedance: 50 ohm
Antennas:
Connecter: SMA Female
Active Working Life: 6 hours
Power: (both)

AC Power
DC Plug-In 5.5V/2A Power Supply & USB Cable

Retail Price:

$399-$599 (depending on included parts/accessories)
News, Videos, & Status
Waveform sent us a sample meter in 2017, and we have had it in our toolbox ever since - gaining real-world experience with using a meter like this.
We have also tested and used the similar SureCall RF 5 Band Signal Meter.
This Review Contains Additional Member Exclusive Content!
We are Honored to be Member Funded!
No ads, no sponsors, no selling (but may contain affiliate links)
Our members fund our in-depth independent reviews.
This entry may contain additional member exclusive content such as testing notes, field testing data, user interface tours, comparisons to alternatives, analysis, tips, videos and discounts.
Members also get interactive guidance, alerts, classroom and more.
Purchasing Options
Rental Option:
Tips: