All current Verizon phone plans include access to the Personal Hotspot feature built into iOS and Android to create a local Wi-Fi hotspot to share your cellular connection.
But on older plans from before the days of shared data buckets, this feature cost extra to activate and add to your plan. In particular - the grandfathered Unlimited Data plans charged an extra $30/mo to activate personal hotspot and USB tethering support.
Any attempt to activate the built in connection sharing on a phone with these older plans without paying to activate this feature would just pop up an alert to contact Verizon to enable the feature.
Customers sophisticated enough to Jailbreak an iPhone or purchase a "rooted" Android device could re-enable the tethering capabilities built into their operating system with ease, but a much simpler option for Android customers has been the extremely popular application FoxFi, which is easily available directly from the Google Play store.
FoxFi provided its own interface for sharing a cellular data connection over a Wi-Fi hotspot, making it the easiest way for most people on these older plans to enable tethering while avoiding the fee.
FoxFi required jumping through some hoops, did not support all phones (see here for a list), and often broke when security patches or OS updates were released. But in general it worked well - and many people relied on it.
Until a few days ago, that is...
FoxFi Is Down - Who Is To Blame?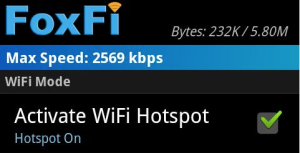 Beginning November 20th, Verizon customers using FoxFi found themselves unable to share their connection - and online forums began to fill with complaints and outrage.
Unlike past FoxFi outages - this did not seem to be triggered by a new OS update or security patch, and it was impacting way more than just a few phone models.
Had Verizon intentionally thrown up a block to FoxFi at the network level?
Blocking an app like this would potentially be in violation of the FCC-mandated rules for the cellular spectrum that Verizon controls, so if it is Verizon doing this - was it done by mistake?
Or...
The FoxFi developers have not updated their app in over a year, and perhaps the problem is with FoxFi itself?
Official details are still lacking. Verizon has had nothing to say on the issue other than that they are "investigating customer complaints", and the FoxFi developers have not updated their site or seemingly posted anywhere in a year.
Where we stand today is that there is no word on when (or even if) a fix to FoxFi is possible.
FoxFi Alternatives & Work-Arounds
For those who have been relying on FoxFi for connectivity, here are the ways to get back online:
Switch to a current Verizon plan. If you have an old grandfathered plan impacted by this change that is anything other than the old Unlimited Data plan, it may make sense to give up the old plan and switch to a new one that includes tethering support built in. But if you have a grandfathered unlimited plan - do NOT give it up!
Pay To Add Tethering. If you have an Unlimited Data plan, it may sting - but paying $30/mo to officially add connection sharing capability is still a relative bargain for heavy data users. You can enable this feature in your Verizon online account management page - and you can always turn it off down the road if FoxFi ever gets fixed.
Swap Your SIM Into a Tablet or Hotspot. Verizon only ever restricted the built in connection sharing feature on phones. You can take your SIM card from your phone and put it in an iPad and easily share the connection with the built in Personal Hotspot feature, or you can put it into a dedicated Mobile Hotspot and set up an always-on Wi-Fi hotspot for 10+ client devices. The downside of this route is that you will be unable to make voice calls and send txt messages while your SIM is out of your regular phone. Which means you may need to contemplate activating a second phone service, which could potentially cost more than the $30 tethering fee - and would require giving up your current phone number.
Related Guides:
Comparison: LTE Mobile Hotspots (MiFi/JetPacks) & USB Modems (member only)
MiFi/Jetpack, USB Modem or Smartphone Hotspotting?
Changing SIM Card Sizes: Cutting Down & Adapting Up
PdaNet+ USB Tethering. Many users are reporting that FoxFi is still functioning via USB tethering to Windows or Mac computers with the PdaNet+ drivers installed. This gets a single computer online - if you need to create a Wi-Fi hotspot to share the connection further you can actually let your computer create the Wi-Fi hotspot for other devices to connect to. This post on the XDA Forums explains the steps necessary to do so.
Beware FoxFi Alternatives. There are a lot of other tethering apps on the Google Play store, but most of them require a phone that has been "rooted" to work - which means that almost all Verizon phones are not supported. Reading the reviews, other advertised apps seem to just not work at all - or are reportedly full of suspicious spy software. In my hunting I could not find a single FoxFi alternative that is a worthwhile and safe alternative. If anyone does know of any - let us know and we will update this post.
We will update this post if any further information becomes available, or if other workarounds are discovered.
UPDATE: FoxFi is Back!
A few days after this post went live, a few users started to report that FoxFi had begun to work again for them - and eventually it seemed the problem was resolved for everyone.
The developer of FoxFi issued an official statement:
There has been a temporary glitch with Verizon service in the past few days that affected our software but we have resolved it. Please try to turn on FoxFi again and it will automatically start working. We sincerely apologize for the interrupt of your FoxFi usage.
There is no evidence that this outage was intentional or malicious on Verizon's part.
Hopefully there will be no further FoxFi outages in the future - but since FoxFi is not officially supported by Verizon, Android, or phone manufacturers it is important to keep alternatives in mind in case it ever does go out again.