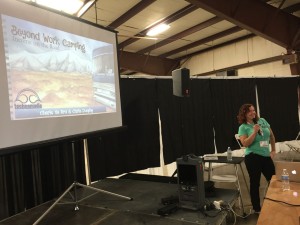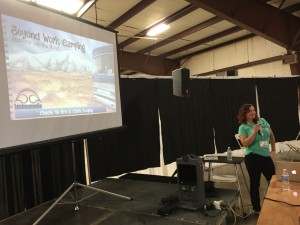 We just wrapped up an awesome and exhausting week attending and presenting at the Escapees Escapade rally in Tucson, AZ. Over 900 rigs were in attendance at the Pima County Fairgrounds, and the daily population was easily well over 2,000 people.
And all of them, it seemed, wanted to get online.
The fairgrounds was supposed to be providing free WiFi for attendees and vendors, but having never hosted an event so large it quickly became clear that the fairground facilities were not up to the task. More often down than up, the WiFi in the main hall had vendors pulling out their hair unable to complete even basic credit card transactions.
WiFiRanger was the official "WiFi Sponsor" of the event, but they had been told they were only allowed to pay the fairgrounds to enable the in-building WiFi, not deploy their own equipment like they have at past rallies. I feel sorry for the Rangers being stuck taking the blame for an awful situation they had no control over.
Being so close to Tucson, cellular however should not have been an issue. Even without WiFi, vendors and attendees should have still had at least some way online. But...
The metal walled and roofed fairground buildings were almost complete dead zones on the inside. And outside, with 2,000+ RVers hammering on their hotspots and smartphones - the AT&T and especially the Verizon towers were completely overloaded. Sprint and T-Mobile we heard were holding up OK, probably because so few RVers rely on these carriers. But the big two were struggling to even get text messages out during prime time.
Just like many large events often are, it was a connectivity nightmare.
Thinking Outside The Metal Box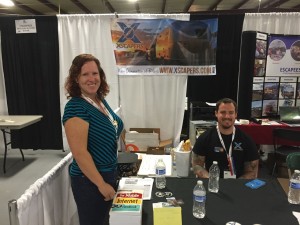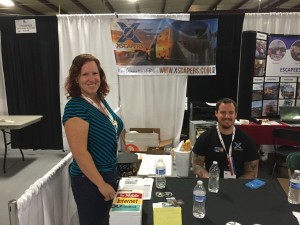 Our primary purpose at the Escapade was helping the Escapees launch a new club-within-a-club, Xscapers, focused on providing information and resources for a new generation of RVers who are working and/or raising families on the road.
We had been a part of envisioning this new group for the past year, and were spending as much time as we could manning the Xscapers booth sharing information.
Stuck inside a metal building for hours on end with no connectivity - these technomads were wilting.
But... We had just received the brand new Pepwave MAX BR1 industrial-grade LTE router to review. Would it be able to handle the challenging conditions inside the building and get a signal where regular smartphones and hotspots could not?
NOPE.
Using both AT&T and Verizon SIM cards, at our booth the MAX was just as helpless as our phones. The metal walls were making connectivity impossible.
But...
We noticed that there was a power outlet on the other side of the room near the hall's main entrance. And plenty of folding chairs.
Time to get creative...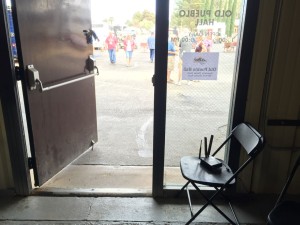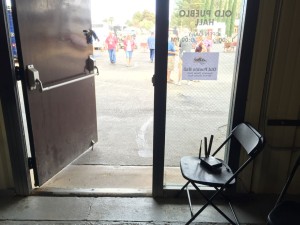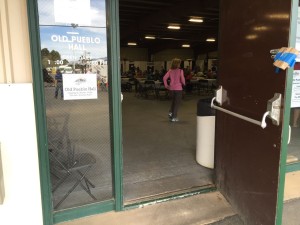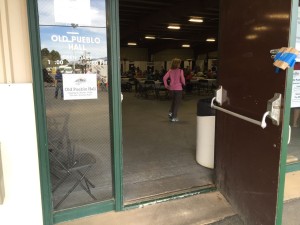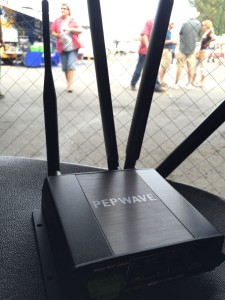 With the MAX plugged in and placed in the doorway, we were pleased to see that it could grab both an AT&T and a Verizon signal, and then broadcast a WiFi hotspot that could reach us way back in the booth.
We did some testing, and discovered that the Verizon network was completely unreliable in the doorway, despite the MAX BR1 showing a strong signal. The Verizon tower during prime time was just completely overloaded, and connections were dropping too regularly to use for more than a minute at a time.
AT&T on the other hand was slow but reliable - showing once again that nothing beats having access to multiple ways to get connected.
We were back online - yay!
Sharing The Connectivity Wealth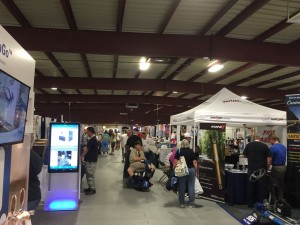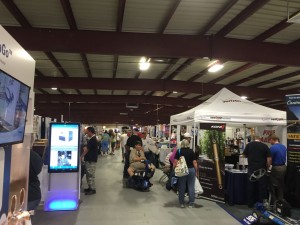 Once word spread that we had a way online inside the building, people who knew us kept asking us for the password to the network.
Most amusingly - at one point a rep from the Verizon booth came by begging for the password to get online so that he could finish provisioning a new user's account.
"You do realize that we are connected via AT&T since the Verizon tower is overloaded?"
*grin*
That night - I spent some time with the MAX BR1 documentation figuring out how I could set up a public shared network with usage quotas and a "captive portal" to let people know who was providing their connectivity.
It was complicated to get set up, but the next day we were able to offer all Escapade attendees who tried to connect free access limited to 50MB of usage each (so as not to blow through our AT&T data plan - sharing some of the 20GB of rollover data we had accumulated the prior month) - giving everyone just enough access to check on email and do a bit of basic web surfing.
After I made the hotspot open to the public, I was amazed to see dozens of people connecting at a time.
It was great to share, and to be able to help so many other people stay connected.
Pepwave MAX BR1 - First Impressions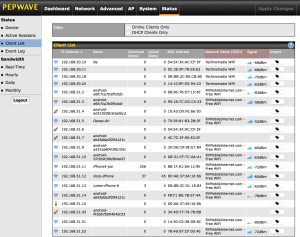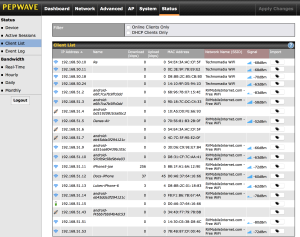 The MAX BR1 rose to a challenging situation admirably, and thus made a great first impression on us.
It did however lock up completely one afternoon, requiring a reboot to get back online. It also sometimes seemed to take an exceedingly long time to make an initial cellular connection, making switching back and forth between carriers to compare performance an exercise in patience.
And I discovered certain parts of the UI to be not at all touch friendly, configurable only via a laptop and not via an iPad.
But still - it was an impressive debut, and we are now starting to dive deep into exploring what the MAX BR1 is capable.
Site members - stay tuned for the full review soon.
More New Gear In The Review Pipeline
In addition to the Pepwave MAX BR1, we also left the Escapade with a new WiFiRanger Elite Pack courtesy of WiFiRanger, and we received a shipment from 3G Store featuring a MobileMark 4-Cable MiMo Cellular, GPS, and WiFi antenna that should pair nicely with the MAX BR1, as well as a Panorama Indoor/Outdoor Wideband cellular MiMo directional antenna that we are eager to test mast mounted.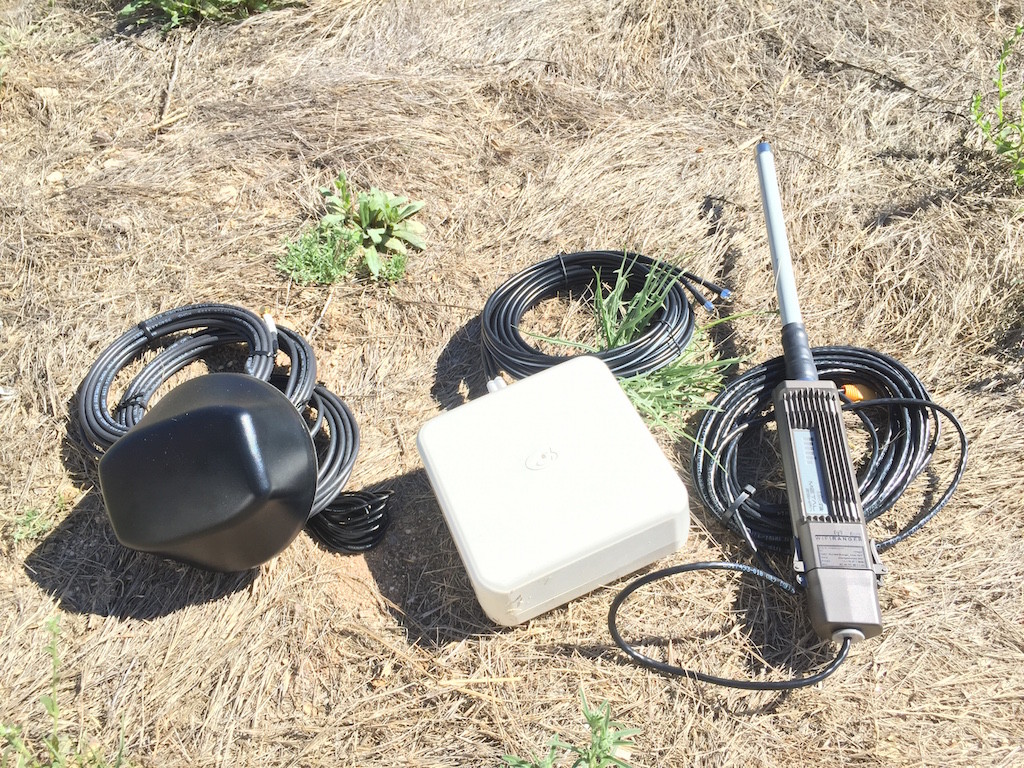 Missing was the expected MaxxFi Black Edition high-end WiFi / cellular router, which was apparently accidentally shipped to the wrong address. We have now been told to expect the MaxxFi to catch up with us at our next port of call in Austin in two weeks.
We've got a lot of exciting stuff in the testing queue now!
As always - in depth gear reviews will be published exclusively for members first, so if you are interested in keeping tabs on all the latest and greatest mobile internet gear, join in supporting this site today!