T-Mobile's #uncarrierX announcement on Tuesday was bursting at the seams with good news for customers - the highlights being doubled data plan sizes and especially the new "Binge On" feature that allows for video streaming from compatible services (including Netflix, HBO, and many others) without it counting against your monthly high-speed data caps.
But while T-Mobile was dazzling everyone with awesome new benefits, it snuck in a stealth price increase that may prove especially unpleasant for those looking for an unlimited data plan.
Amped Pricing of Phone & Internet Plans
T-Mobile excitedly announced that it was doubling the amount of data included in the new Simple Choice Amped plans, while keeping the price the same.
But... That's just the base price.
The tiers for increased allotments of high-speed data have all been doubled too, but the cost at each level has gone up. The increase is especially painful for those wanting an unlimited data plan.
Here are the new T-Mobile phone plans, and the price increases:
1GB for $50/mo is now 2GB for $50/mo
3GB for $60/mo is now 6GB for $65/mo
5GB for $70/mo is now 10GB for $80/mo
Unlimited (7GB tethering) for $80/mo is now Unlimited (14GB tethering) for $95/mo
You can save money by adding additional lines to your account, and as a limited time promotion T-Mobile is even making a "fourth line free" - which may be a money saving option for RVers who share a plan with an extended family back home.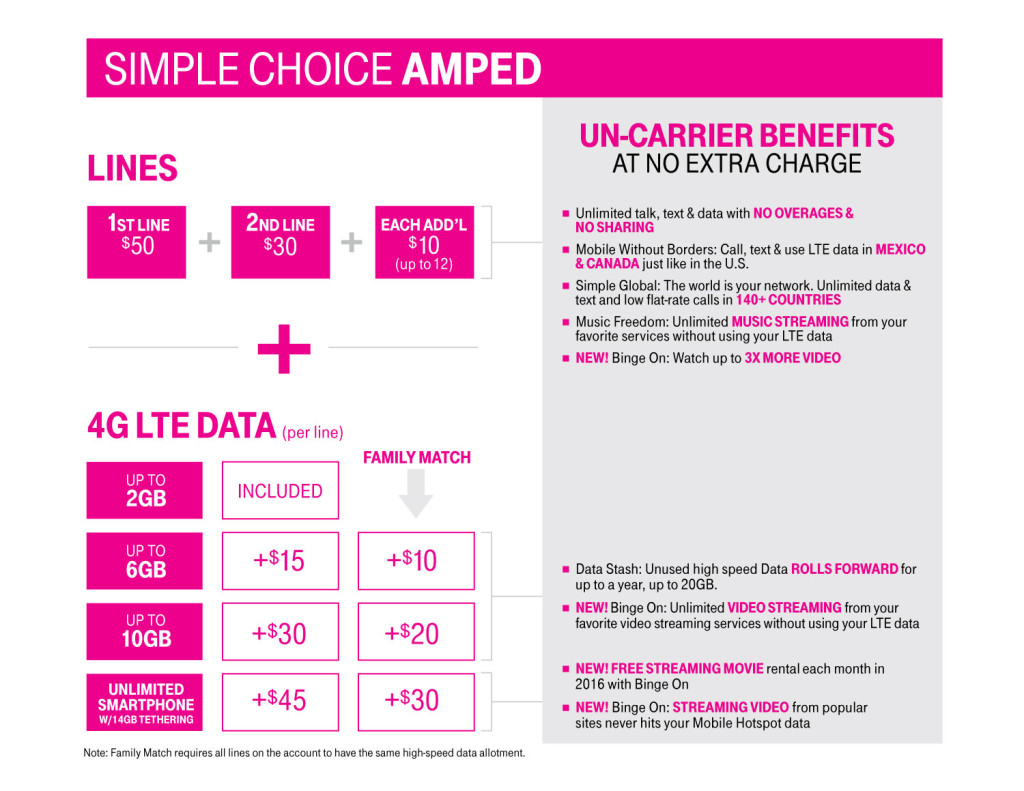 T-Mobile also snuck in a price increase for the Mobile Internet Tablet and Hotspot plans as well.
Here are the new "Amped" T-Mobile Mobile Internet plan tiers, and the price increases:
1GB for $20/mo is now 2GB for $20/mo
3GB for $30/mo is now 6GB for $35/mo
5GB for $40/mo is now 10GB for $50/mo
7GB for $50/mo is now 14GB for $65/mo
9GB for $60/mo is now 18GB for $80/mo
11GB for $70/mo is now 22GB for $95/mo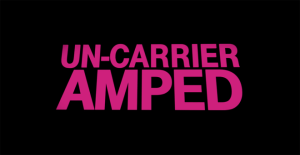 If you happen to have a voice line with T-Mobile, you get $10/mo off each Mobile Internet line as well, bringing the cost down a bit.
Overall T-Mobile's cost-per-gigabyte has gone down substantially, and this makes T-Mobile an even better deal overall.
But it is disappointing that T-Mobile tried to sneak the price changes through under the radar - so much so that most sites covering the #uncarrier event news completely missed the changes.
New Rollover "Data Stash" Limit: 20GB
Also hidden in the "Binge On" news fine print this week was a subtle change in T-Mobile's Data Stash rollover data program, which was announced last December.
Previously - T-Mobile allowed you to "stash" an unlimited amount of unused high-speed data, which would not expire for a year. This was a great feature for RVers and others frequently outside of T-Mobile coverage areas - allowing customers to save up a sizable bank of data for later use.
But now - with Binge On free streaming enabled, the Data Stash is being capped at 20GB.
T-Mobile clarified to us in an email today how it will work:
Existing customers who have stashed more than 20GB and migrate to the new rate plans get to keep their stash but once the stash balance is below 20GB, the customer can only stash and use up to 20GB. Customers will receive a text message notifying them of the change, and then they have 30 days to opt-out. Customers who opt out of the 20GB Data Stash will be able to get video optimization so their 4G LTE data will last up to three times longer, but they will not be able to stream from included services without using their high-speed data.
If you are more interested in having a big stash than binging on video, you can opt out of the change here.
There is some good news however - T-Mobile confirmed to us that the 10GB bonus starter stash is sticking around for new Simple Choice Amped plans. Everyone who signs up for a new T-Mobile line will continue to get 10GB of data added to their stash to get them started.
Get Grandfathered Now?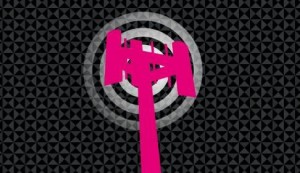 T-Mobile has said that all new "Simple Choice Amped" as well as existing "Simple Choice" plans will get the Binge On data compression benefits that can stretch data plans for streaming video by up to 3x (in fact - you need to explicitly opt out if you don't want it!), and all new and existing plans with at least 3GB of high-speed data allotted will get free unlimited streaming (from supported sites) that does not count against your monthly usage.
The new more expensive "Amped" plans become effective this Sunday (November 15th) - so just in case you want to grab one of the current plans to get grandfathered in, now is the time to jump.
If you want to double your data, you can opt in to the new "Amped" plans and prices at any time later, after all.
The two plans worth considering locking in now:
Mobile Internet 3GB - For $30/mo you can get a tablet / hotspot plan with 3GB of high-speed data (that you can share from a tablet by making a hotspot), a 10GB bonus Data Stash, "Binge On" unlimited video streaming, unlimited international roaming, and unlimited music streaming. If you ever need more data, for $5/mo more you can upgrade to the new Amped plan and get 6GB of high speed data to share. A tablet on T-Mobile is a very affordable mobile entertainment center!
Unlimited Phone (7GB Tethering) - The current unlimited phone plan at $80/mo is a great option to lock in now before the price increased to $95/mo on Sunday - though you will be stuck with 7GB of shareable data instead of 14GB offered by the new plan. If you want the option of streaming HD video without the Binge On compression to "DVD Quality" 480p, the T-Mobile Unlimited Plan is the way to go. Just turn off Binge On, use an HDMI out cable from your phone, and you can stream all the hi-res video your HDTV can handle. The only catch - T-Mobile throttles speeds of Unlimited Plan users after they have used 23GB/mo, but only on congested towers.
Overall - we are thrilled with the new plans and benefits T-Mobile is offering, and T-Mobile is now an even more compelling choice as a secondary carrier to have onboard for RVers.
Now... Will AT&T or Verizon dare to engage T-Mobile in a price war - doubling data or lowering prices as well?
We can only hope!
Further Reading: