When T-Mobile announced the awesome new "Binge On" unlimited free video streaming feature last month, a few unpleasant changes were hidden in the fine print.
One of the changes: T-Mobile's "Data Stash" rollover data feature was now being capped with a maximum stash size of 20GB.
Previously - T-Mobile allowed you to automatically "stash" an unlimited amount of unused high-speed data, which could be used later and which would not expire for a year.
This was a great feature for RVers and others frequently outside of T-Mobile coverage areas - allowing customers to save up a sizable bank of data for later use.
But now, with the introduction of Binge On free video streaming, the amount of data you can stash is being capped at 20GB.
For those of you who would rather stash than binge, fortunately you can opt out of the change to the data stash limit, but in return you will be opting out of free video streaming.
But if you want to do so, you need to opt out by December 15th!
T-Mobile explained to us in an email last month how it was supposed to work:
Existing customers who have stashed more than 20GB and migrate to the new rate plans get to keep their stash but once the stash balance is below 20GB, the customer can only stash and use up to 20GB. Customers will receive a text message notifying them of the change, and then they have 30 days to opt-out. Customers who opt out of the 20GB Data Stash will be able to get video optimization so their 4G LTE data will last up to three times longer, but they will not be able to stream from included services without using their high-speed data.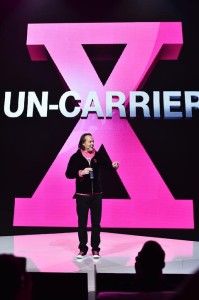 The December 15th deadline is fast approaching - and we have been hearing that a lot of T-Mobile customers have NOT gotten the text message with instructions.
But presumably - customers still need to take action if they want to keep their stash, notification or not.
Most people are probably better off with free unlimited video streaming (with certain major limitations), but for those who would rather stash than binge -- this is your final chance to opt out of the change.
If you are more interested in having a big stash than binging on video, you can opt out of the change here.
Or if you are on a phone plan - you can text "DATAROLL" to 6255 to accomplish the same thing.
Speaking of Stashed Data...
We have also heard from several readers who inadvertently burned through all of their data stash watching Binge On video on devices such as an Apple TV - before T-Mobile clarified that this was not supported.
Theoretically T-Mobile support is supposed to be able to restore this lost data, but we have been hearing many reports of people having trouble getting this handled. Some people have been knocked offline for weeks waiting for T-Mobile support to fix things.
People do seem to be having better luck contacting T-Mobile via FaceBook rather than via telephone or going in store for support - but getting lost Data Stash data back has proven to be a challenge regardless.
We've been assured that T-Mobile support staff should be able to "make things right" - so do keep trying if you are running into roadblocks getting a Stash restored.
Hopefully T-Mobile will work out the glitches surrounding Binge On soon.