Back in early November, Cricket finally officially added the 'hotspot' function to their unlimited data plans, a feature they offered on their higher tiered data plans for years.
To turn on this function, customers would need to add the $10 hotspot feature to their plan and receive 8GB of hotspot data.
However many Cricket customers got around this fee and 8GB cap by utilizing jailbreak apps or rooted phones, which was a violation of the terms of service.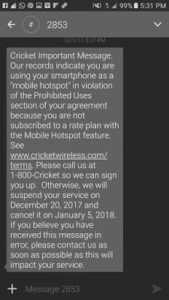 A recent Reddit post shows evidence that Cricket is beginning a crack down on those customers who choose to use Cricket service to hotspot data without paying the hotspot fee.
Customers who are currently going around Cricket's stated fee and policy are beginning to receive texts warning that their service would be suspended on December 20, 2017 and cancelled on Jan 5, 2018 if prohibited use continued.
Cricket has always blocked no extra cost hotspot use at the device level on iPhones and most Android devices.
Original Reddit thread can be found here: Reddit and here's another article tracking this developing story over at Prepaid Phone News.