Mobile router manufacturer Cradlepoint has an excellent reputation for building quality hardware.
But they've also built up a reputation for being unfriendly to everyday consumers - focusing their business on enterprise, business, and machine-to-machine installations.
And then last year Cradlepoint got even more unfriendly - announcing that they would no longer even supply basic firmware updates unless the customer was enrolled in Cradlepoint's Enterprise Cloud Manager ($32+/year) remote management service, or had purchased an annual CradleCare ($28+/year) support contract.
If you didn't pay the annual fee, even the most basic security patches and bug fixes were no longer available.
This was an exceedingly unpopular move, and Cradlepoint has now reversed course - this week letting their partners (as shared by 3GStore) know:
"Over the past few months, we've spent a great deal of time listening. ... We have also heard you loud and clear about your customers' concerns regarding firmware updates, and want to make sure you have everything you need to continue to win in the marketplace and keep your customers loyal and happy.

To that end, with the release of Firmware 5.4, Cradlepoint will no longer require customers to have Enterprise Cloud Manager or CradleCare Support to access firmware updates. Beginning on May 5, 2015, all of your customers will have access to firmware updates as part of their relationship with you, and your relationship with us."
This is a great step in the right direction. But is it enough to put Cradelpoint back on our radar?
Cradlepoint: Worth Consideration For RVers?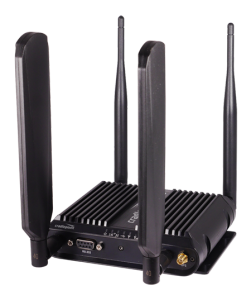 Cradlepoint's website used to feature products specifically targeting RVers and mobile professionals - but most of those options are long discontinued, and the Cradlepoint website no longer makes any mention of individual consumer deployments at all.
Cradlepoint's most RVer friendly mobile router option remaining is the MBR95 (list price - $149), but that has not received any firmware updates in over a year, and unless Cradlepoint has had a surprise change of heart - it should probably be considered an orphaned and end-of-life product.
The most basic still supported Cradlepoint router is the MBR1200B Small Business Router (list price - $249), and the even higher end ARC MBR1400 (list price - $379) has fans as well. For advanced users who need the capability - these are solid choices.
But for most average mobile users - these routers are overkill for RV deployment, and a WiFiRanger Go2 (list price - $239), Pepwave Surf SOHO (list price - $179), or even Pepwave Surf On-The-Go (list pice - $99) will be a better more RV-friendly options - depending on the features desired.
Where the Cradlepoint lineup gets more interesting are the even higher end offerings which integrate in commercial grade cellular modems directly into the router. For installations where cellular connectivity is critical - the Cradlepoint COR IBR600 (list price - $649), COR IBR1100 (list price - $899), and flagship AER 2100 (list price - $1099) can be interesting options.
We are currently checking out the MaxxFi Black Edition package - which is based around Cradlepoint COR IBR1100 combined with MaxxFi's RV-focused support and "concierge service".
Is the expense of a high-end offering like this worth it?
Look for our first impression of the hardware, and MaxxFi's offerings, to be posted in the next few days.