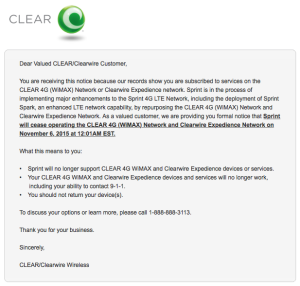 The writing has been on the wall for WiMAX for a long time.
We first warned about the end of days coming to Sprint's former flagship 4G network last July, and again in October.
But some customers of Sprint subsidiary Clear were still caught off guard yesterday to receive a formal legal notice email letting them know that their dearly loved unlimited data plans were going away - effective 12:01AM EST on November 6th, 2015.
I confirmed the details with Clear support - and there are no transition plans or special offers being made to encourage Clear customers to migrate to new Sprint LTE service:
"Our parent company, Sprint, is in the process of implementing major enhancements to the Sprint 4G LTE Network. As a part of the deployment process, Sprint is shutting down the towers that support the CLEAR WiMAX / Clearwire Expedience service so that the spectrum can be repurposed to support LTE technologies.

After the Clearwire/CLEAR network is shutdown, there will no longer be any services provided by Clearwire/CLEAR and the company will cease most operations.

I'm sorry but we will not be converting service(s) over to Sprint or devices to LTE. At this time, Sprint is not offering any special discounts."
Not Just Clear
Sprint by now has migrated most customers away from WiMAX, but a few MVNO's that relied on the Sprint WiMAX network remain. I see that the $50/mo unlimited H2O Bolt 4G plan is still seemingly being offered to new customers, and Karma customers are still waiting for the new LTE compatible version of the Karma hotspot to replace their old Karma devices.
There's not much time remaining before WiMAX devices become completely orphaned and obsolete - so if you have one, enjoy it while it lasts, and make your transition plans.