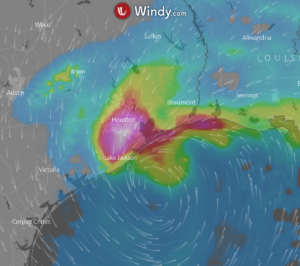 It is heartbreaking to see the disaster unfolding across the Texas Gulf Coast as Harvey slowly rolls through, dumping absolutely unimaginable amounts of rain.
In this sort of disaster - wired infrastructure is easily damaged, and people forced to evacuate are left with only mobile technology to rely on.
Fortunately - all the major cellular carriers are stepping in to provide service without fears of overage charges.
Here is the latest on hurricane relief from the big four, plus Wi-Fi hotspot provider Comcast:
Verizon
Verzon's "We Got Your Back" page states:
"Sometimes life throws the unexpected at you, and it could mean using extra data that you weren't planning on needing. Verizon is offering data relief between 8/26 – 9/8 to qualified Texas counties, so you can stay connected when it matters most. During this time you may still receive data overage charges, but don't worry we've got them covered on your next bill cycle. Just ignore any overage alerts you may receive during this time."
AT&T
AT&T issued this statement:
"Beginning Aug. 26, 2017, and running through at least Sept. 1, 2017, we will issue credits to AT&T wireless customers in impacted areas for additional data, voice and text charges, and AT&T PREPAID for additional voice and text charges."
Update: AT&T has issued notifications to impacted customers that their Hurricane Harvey policy is extend through September 15.
T-Mobile
T-Mobile issued an update, saying:
"To help our customers connect with loved ones in the path of Hurricane Harvey, T-Mobile (NASDAQ: TMUS) is making it free for customers, including prepaid customers, to call or text from impacted areas of Texas and Louisiana. To further assist Texas and Louisiana customers affected by Hurricane Harvey, T-Mobile is offering unlimited data to those who are not already on an unlimited data plan (T-Mobile ONE customers always have unlimited data). Metro PCS and T-Mobile customers not on T-Mobile ONE can enjoy unlimited data from Aug. 28-Sept. 1 to get updates on storm activity and stay in touch with family/friends on social media."
Sprint
Sprint's hurricane response page states:
"Effective today through September 1, 2017, Sprint will waive casual call and text fees for Sprint, Boost and Virgin Mobile customers in the impacted areas of Texas and Louisiana. Fees will be waived during the time specified. Customers on Unlimited plans will continued to enjoy their unlimited data, call and text benefits. Customers are encouraged to use text messaging when possible due to high call volumes and possible network congestion in the local area."
Comcast
Comcast is unlocking 53,000 Xfinity Wi-Fi hotspots in impacted areas to provide free service through at least Wednesday, regardless of whether or not you are a Comcast subscriber.
You can find Xfinity Wi-Fi hotspot locations on Comcast's website. Each non-customer session will be limited to two hours, but you can keep reconnecting as needed.
---
For our Video Coverage of this story:
Subscribe to our YouTube Channel
---
Note For Nomads: Check For Eligibility!
One unfortunate detail nomads should be aware of - the bill credits and free service being issued by the carriers seem to be tied to your billing address being in an impacted area.
For nomads who rely on a mail forwarding service, this may not be the case.
Be sure to check each carriers hurricane response pages linked above to be confirm the areas of eligibility.
Send In the Cows & Colts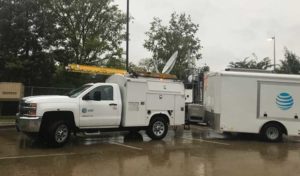 All the major carriers have emergency response equipment to help provide cellular service in areas where the core infrastructure has collapsed, or where excess capacity is needed.
These are known as COWs ('cell on wheels') and COLTs ('cell on light truck') - and when a cell tower goes down, network engineers can quickly set up a new mobile cellular site as needed this way.
So far reports are that cellular infrastructure in Texas is holding up extremely well to the disaster, but now is not the time to abuse it.
In other words - don't take advantage of free cellular service by hosting a hurricane party and binge watching non-stop weather channel updates in HD.
Avoid adding to the congestion - keep your friends and family updated, track the weather (in SD), and if the network shows signs of congestion log off and save capacity for people who's lives may literally be on the line.
Our thoughts and prayers (and donations) are with Texas.
Stay safe, ya'll!