There's many RV Park Review sites out there these days competing for our attention when planning future stops - RV Park Reviews, RV Parking, RV Parky and Freecampsites.net.
But a new one has just launched with a twist that RVers who value keeping online might appreciate.

After two years in development and over 900 beta testers (us included) plugging in reviews and photos - yesterday Campendium officially opened their doors to the public. Campendium has been created by fellow full time RVers who understand the lifestyle.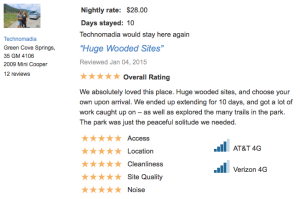 In additional to all of the standard criteria - ratings for location, site quality and a written review, reviewers can leave the signal strength they received on their devices for Verizon, AT&T and Sprint.
The current interface for leaving this feedback is a bit cumbersome - requiring pull downs for signal strength for 4G, 3G or Extended coverage. And there's the obvious absence of T-Mobile from the listings, a carrier that is growing in RVer preference.
But it's excellent to see a RV Park review site including a specific place for this information to be left. Oftentimes, campground seekers have to read through written reviews to determine if previous visitors were able to catch a signal or not.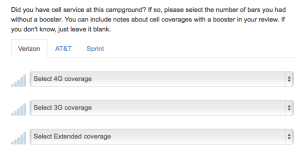 We hope this is an area of the site that sees improvement - as more and more RVers are hitting the road expecting to keep online, it's pertinent information in selecting a place to park for a bit.
And while we're at it, it would be most excellent to be able to review the WiFi at an RV Park as well.
Congrats to the team at Campendium on your launch, and thank you for looking out for internet hungry RVers!