(1/25/17) - Limited Time Promotion Alert: An MIA member alerted us to a current Bolt promotion offering 20GB of 4G LTE data for $50. Not only is this 10GB more data than Bolt typically offers on their $50 plan, but all of the data is advertised to be at LTE speeds. And, this promo beats out their $90 plan not only in price, but in speed across all GBs as well. Once this promo ends, the $50 plan will return to 5GB LTE + 5GB 128kbps (aka, no 'grandfathering'); a customer service representative reported no known date of when the promo will end as of this writing.
---
(October 6th, 2016) H20 Wireless, an AT&T reseller, has been in the market for several years, but is now becoming competitive in its prepaid offerings. Of particular interest to U.S. based mobile internet seekers is H20's dedicated mobile internet offerings, branded H20 Bolt.
H20 Bolt offers data only plan options with advertised full 4G LTE speeds topping out at 15 Mbps.
H2O Bolt's mobile broadband plans are available in four allocations. Their currently advertised deal (good until 12/31/16) provides 'double the data', although you will quickly see that the promotional portion of this data is capped at a creepingly slow speed of 128kbps- just enough to check your email.
If you're after well priced, short term data, you can pay $25 for 2GB(4GB) of data that lasts for only 10 days. There are also three 30-day options: 5GB(10GB) for $50, 7GB(14GB) for $70 and 10GB(20GB) for $90. A 10% discount is offered for signing up for auto payment, and additional data refills can be purchased as needed.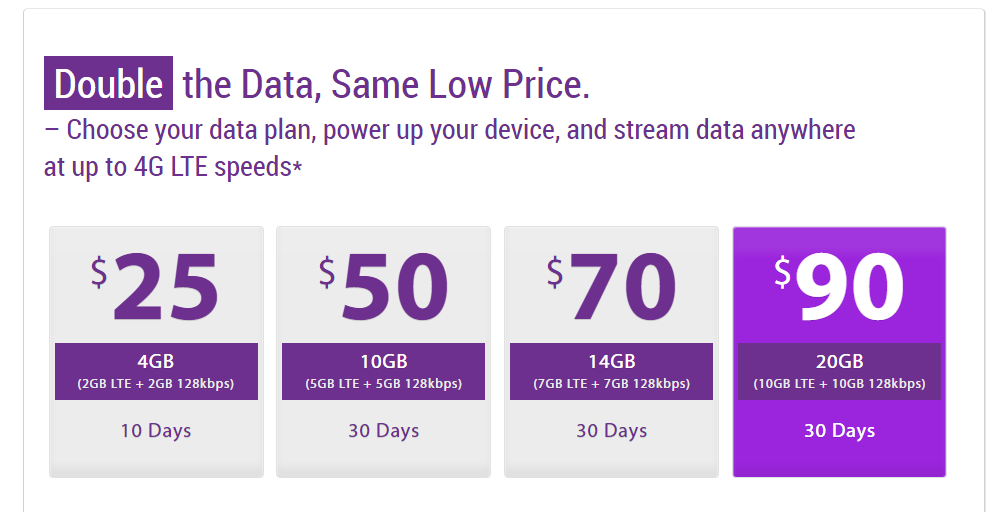 In order to utilize a H20 Bolt data plan you will need to either purchase their hotspot, the Bolt unite ($59.99), or purchase a Bolt sim card ($9.99) for placement into a compatible hotspot device. 'Compatible devices' include tablets, iPads, hotspots, and smartphones usable on the AT&T network. Note that if a Bolt sim card is inserted into a smartphone, it will not provide voice or text services.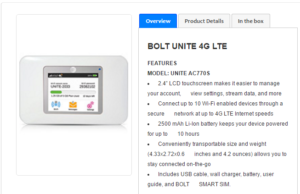 As a prepaid service, H2O Bolt does not charge any additional fees to its customers. There is no activation fee and no termination fee. Since its plans are capped, once you hit your data allocation there are no overage fees.
Reportedly, however, their customer service is an area of needed improvement; several forums suggest that you utilize their Facebook or Twitter accounts for troubleshooting contact, although they do have a dedicated hotline.
In comparison, AT&T's own GoPhone brand offers similarly priced, highspeed LTE data prepaid plans at $25 for 2GB, $50 for 5GB, and $75 for 8GB, with data expiring after 30 days. Note, that these plans don't include the 'double' (but slow- 128kbps) data currently offered by H20 Bolt.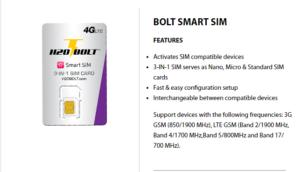 In addition, H20 Wireless offers several phone based plans without the option of tethering or mobile hotspot use. We don't consider them to be of much interest to RVers seeking mobile internet solutions at this time.
If you're searching for reasonably priced prepaid AT&T mobile data, H20 Wireless' Bolt brand may be worth looking into.
As with any MVNO or reseller, caution is advised as the offerings put forth by these companies are on a 'no contract' basis - which work both ways.
Related Info:
The Four Major US Carriers- Which is Best for RVers?
MVNOs, Resellers & Prepaid Cellular Data Options – What You Need To Know
Cellular Carrier Data Pricing and Plan Guide (member only)