In addition to launching new iPhone and iPad models, Apple today released the biggest iOS update since the major iOS 9 update in September. The headline features in iOS 9.3 are moderately interesting (as a night-owl, I am eager to try Night Shift), and the massive amount of bug fixes and refinements are very welcome.
But lurking deep inside the release notes are two updates of particular interest to mobile internet fans.
Wi-Fi Assist Gains Usage Tracking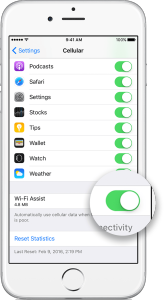 One of the more controversial features introduced in iOS 9 was "Wi-Fi Assist" - a new feature enabled by default that causes your device to:
"Automatically use cellular data when Wi-Fi connectivity is poor."
In theory this avoids the common frustration in weak Wi-Fi areas of having a slow or stalled online experience, since cellular is often a much faster and more reliable way online than Wi-Fi.
But cellular is rarely a free (and unlimited) way online - and a lot of users blamed Wi-Fi Assist for burning through monthly cellular data plans when they thought that they were actually safely on Wi-Fi.
Apple claimed that for most users Wi-Fi Assist would only use "a small percentage" more cellular data than otherwise, but it was impossible for users to know just how much data was getting burned up - leading many people to leave the feature turned off to stay safe.
iOS 9.3 addresses these concerns by tracking how much cellular data has been used for Wi-Fi Assist in the cellular settings menu, making this feature at last safe to use for those concerned about overages.
Just remember to check the usage every so often!
Apple has also update the Wi-Fi Assist support page to better detail how the feature works, explaining:
Wi-Fi Assist will not automatically switch to cellular if you're data roaming.
Wi-Fi Assist only works when you have apps running in the foreground and doesn't activate with background downloading of content.
Wi-Fi Assist doesn't activate with some third-party apps that stream audio or video, or download attachments, like an email app, as they might use large amounts of data.
With these reassurances in place - Wi-Fi Assist at last seems like a feature worth using.
Verizon Gets Wi-Fi Calling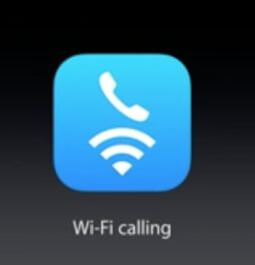 Sometimes Wi-Fi service is great, and it is cellular that is lacking.
In these situations - Wi-Fi Calling makes sure that you are still reachable by phone by seamlessly routing voice calls and text messages over any available Wi-Fi network, instead of over a weak cellular connection.
T-Mobile was the leader in rolling out Wi-Fi Calling support in 2014, and AT&T and Sprint have followed in embracing it.
But Verizon has been a laggard, only enabling Wi-Fi Calling in December of last year, and only on two phone models.
But iOS 9.3 takes Wi-Fi Calling mainstream on Verizon, enabling it for all iPhone 6 or newer iPhones.
Wi-Fi Calling is NOT enabled automatically. To turn on this extremely handy feature after installing iOS 9.3:
Tap Settings.
Tap Phone.
Tap Wi-Fi Calling.
Tap "Turn On Wi-Fi Calling On This iPhone".
Follow the on-screen instructions to enter a U.S. address for use in the event of an emergency call (911).
Going forward - Wi-Fi Calling will likely be supported by most new Android phone models released on Verizon as well, but be sure to check compatibility if this feature is important to you.
To learn more about Wi-Fi Calling on Verizon, you can check Verizon's FAQ.
Getting iOS 9.3: Beware The Big Download
iOS 9.3 is an unusually large update for a 9.x release - and the update from iOS 9.2 to 9.3 on an iPhone 6S burned 310MB in our testing. For a multi-device household, the amount of data consumed in updates can add up fast!
iOS devices will not update over a direct cellular data connection, but if you are connected to a cellular-powered Wi-Fi hotspot, updating your operating system can take a big bite out of your monthly data plan.
And you might end up downloading the update even if you do not manually ask for it!
Apple iOS devices automatically download OS updates under the following circumstances:
Is the device plugged in and charging?
Does it have enough memory free?
Is it on Wi-Fi and can it reach the internet?
If these conditions are met, the download will eventually happen automatically - but the actual OS update will not happen until you agree to the prompt requesting permission to install it.
Apple still provides no way to opt out of this auto-download behavior - so if you want to avoid a huge download, keep your iOS devices off of Wi-Fi until you have a chance to spend some time on a free and unlimited connection handling the update on your schedule.
Maybe someday Apple will learn that not all Wi-Fi connections are unlimited. We can only hope...