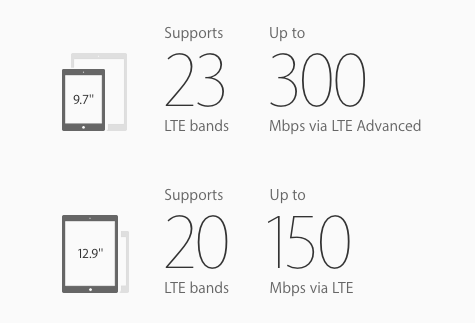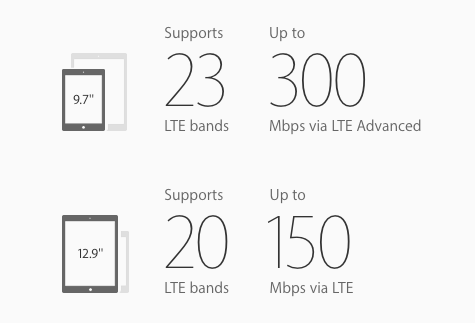 Apple today announced a new smaller 9.7" iPad Pro - and it is a lot more than just a shrunken down version of the 12.9" mega-tablet introduced late last year.
For connectivity fans, the cellular radio is a big step up - making this the most connected tablet yet.
Future Proofing With LTE Advanced
The new 9.7" iPad Pro joins the iPhone 6S and a handful of recent Android flagship phones in supporting LTE Advanced, the next evolution of LTE technology.
The key feature of LTE Advanced is "Carrier Aggregation" - which lets a cellular device connect to two different LTE data streams simultaneously, potentially doubling performance.
All the major carriers have begun rolling out LTE Advanced in some core areas, but so far LTE-A is rarely seen since it requires substantial upgrades to the entire network infrastructure.
But having access to LTE Advanced opens the door to some great future performance as the networks start to catch up to what the latest hardware is capable of.
LTE Band 12: A Must For T-Mobile Customers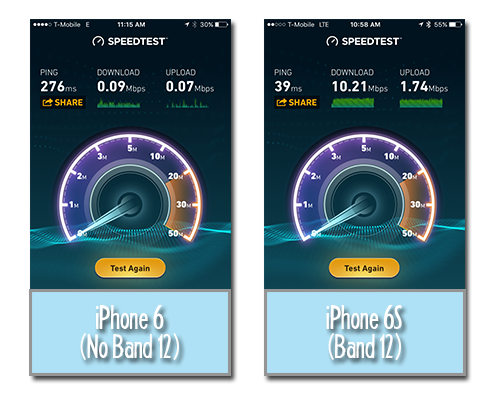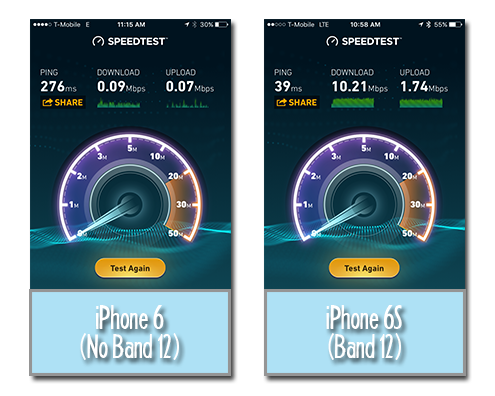 For T-Mobile customers, even more exciting than LTE Advanced is the addition of LTE Band 12.
This is the LTE band which T-Mobile refers to as "Extended Range LTE" - and thanks in large part to expanding onto LTE Band 12, T-Mobile was able to more than double its geographic coverage area last year, with a lot more expansion in the pipeline.
But if you do not have an LTE Band 12 compatible device - you will be missing out.
The new 9.7" iPad Pro is the first iPad with LTE Band 12 support, so if you are looking for a tablet to power your Binging - this is worth an upgrade for this reason alone.
The sweet screen and quad-stereo speakers are just the icing on the cake.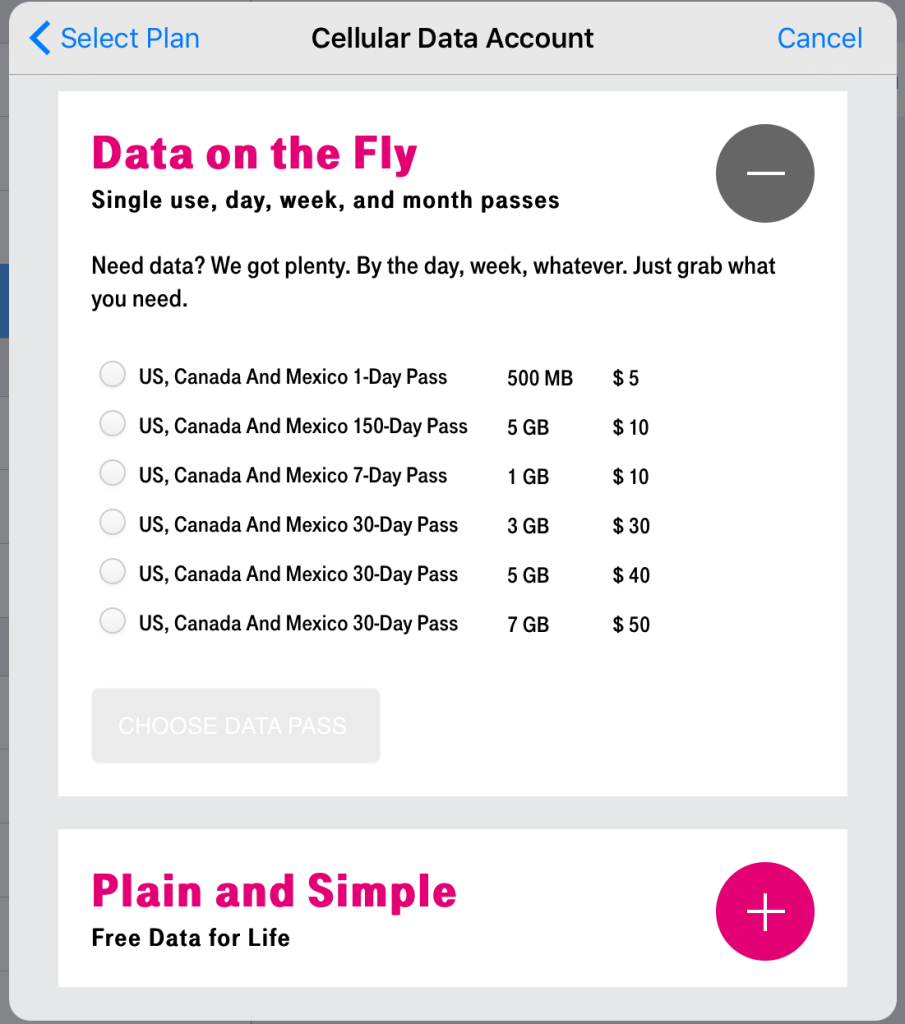 T-Mobile Promo Notice: Some people who have purchased the new iPad have noticed that T-Mobile has a great promotional offering when you go to sign up via the included Apple SIM - allowing you to purchase a prepaid data pass with 5GB of high-speed data that does not expire for 5 months, all for just $10. The data can be used anywhere in Canada, Mexico, and the USA - and DOES include tethering.
This is a one-time offer, and can only be used once per iPad.
But the offer isn't actually new, and has been around for well over a year to any Apple iPad owners with an Apple SIM, including iPad Air 2, Mini 3, Mini 4, and both iPad Pro models.
For anyone with a compatible iPad, this is a great way to get some T-Mobile data cheap, and to try out the network. T-Mobile also makes it easy to sign up for "Free Data for Life" with an Apple SIM, which gives you 200MB/mo for as long as you own your device - with no catch and no bill.
But - keep in mind, these plans do NOT include Binge On video streaming.
All T-Mobile plans get Binge On data compression turned on by default (which they claim gives you an average of 3x more streaming time), but only Simple Choice plans with more than 3GB of included data per month include unlimited streaming from compatible services that does not count against your monthly usage limit.
The 200MB/mo "Free For Life" and the 5GB/5mo plans both do not meet this criteria, and I was able to confirm with T-Mobile that these plans do not get the joys of super-cheap binge-watching.
The cheapest T-Mobile plan that includes unlimited streaming Binge On is the 6GB/mo monthly recurring Simple Choice Mobile Internet plan for $35/mo.
AT&T LTE Band 30: Still Rarely Seen
The new 9.7" iPad Pro is also the first iPad to include support for AT&T's LTE Band 30, a new chunk of high-frequency spectrum AT&T announced plans to begin expanding on to last summer.
Band 30 has only rarely been spotted in the wild - but if you want to ensure maximal future AT&T compatibility, it is worth seeking out hardware that will be compatible.
iPad: Unlocked & Ready To Party?


All cellular iPad's are sold unlocked - and there is just one model of the 9.7" iPad Pro that is compatible with carriers all around the world.
This makes it easy to swap SIM cards to change which carrier you are connected to, and it is great for travelers.
The 9.7" iPad Pro also includes an "Embedded Apple SIM" that seems to be a second SIM card that is permanently installed, letting you activate service as needed on demand in over 90 countries - with AT&T, T-Mobile, and Sprint supported in the USA.
That the SIM card is permanently embedded makes the Apple SIM concept introduced in 2014 even more useful than it had been in the past. Only Verizon seems to be refusing to participate - but you can always add a regular Verizon SIM card at any time.
A Verizon SIM card from a grandfathered unlimited data plan in an iPad makes for an excellent streaming media center, and the Personal Hotspot feature will let you share the unlimited connection with all your other devices too.
Also New: The iPhone SE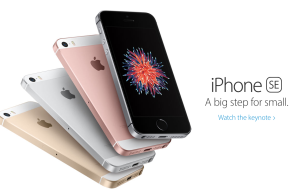 Also announced today was the the iPhone SE - a new iPhone model designed to pack most of the capabilities of the flagship iPhone 6S into the small-screened body of the iPhone 5.
Not everyone likes huge phones, after all.
But while the iPhone SE gets the same CPU and camera capabilities of its bigger brother, it is NOT on equal footing when it comes to cellular capability.
In particular - the SE lacks LTE Advanced support, and AT&T's LTE Band 30 is missing too.
But even more of an issue is that there are two models of the iPhone SE to choose from, depending on your carrier. Model A1662 will be offered on AT&T, Verizon, and T-Mobile - and it lacks a radio compatible with Sprint's fastest LTE network. (But T-Mobile's LTE Band 12 is supported!)
And Model A1723 will be sold on Sprint in the USA - adding in support for all Sprint's LTE bands, but dropping support for Verizon.
One thing we loved about the iPhone 6S was that it could be used on all the carriers - but with the iPhone SE you will be locked in if you choose to go the Sprint route.
Be careful shopping - and don't pick the Sprint model thinking you can change carriers later.