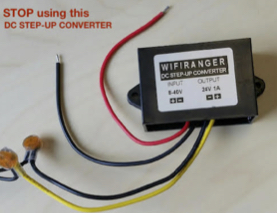 WiFiRanger this morning sent out an email alert to customers notifying them that certain power supplies included with WiFiRanger bundles in the past are at risk of failing - potentially damaging the attached routers in the process.
This Technical Service Bulletin (TSB) is regarding certain power supplies delivered as part of WiFiRanger pack systems sold between 09/01/2016 and 03/15/2018. The affected power supplies were black with a silver label stating "WIFIRANGER DC STEP-UP CONVERTER" with two mounting screw holes on each side. Please review your 12V DC power supply on your WiFiRanger Pack. If it is the one in the picture please stop using it immediately. We have found that in the rare situation that the below power supply fails, it may overheat causing permanent damage to your WiFiRanger products.
If you are using the AC "wall wart" power supply, there is no issue.
This only impacts DC power supplies, and only the 12V-to-24V step-up converter that was included in bundles that combined an indoor and a roof-mounted component.
WiFiRanger has set up a page with more information where you can check and see if your router is impacted here by entering its device ID number.
If you have an impacted device, WiFiRanger is making new power supplies available for free.
Since there is a risk of permanent device damage from overheating - if you do have a defective power supply, you should stop using it immediately until you have a replacement. You can temporarily switch to the AC power supply until then.