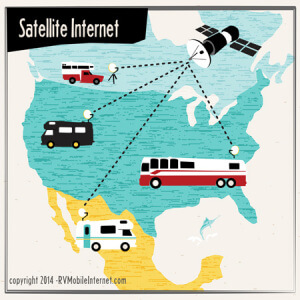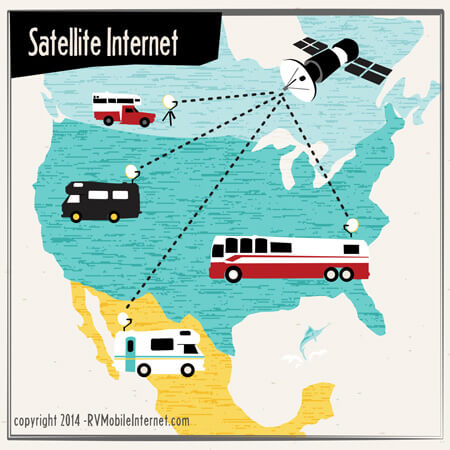 From 2001 till roughly around 2010, the ultimate connectivity for high-end RVs was provided by motorized auto-aiming roof-mounted MotoSat satellite internet systems.
Just park with a clear view of the southern sky, press a button, and you would be online a few minutes later - no matter where you were.
The initial system cost was expensive ($10,000+), but a properly configured MotoSat system was a wonderful thing to have around in world before widespread WiFi.
If you needed connectivity on the road, the primitive cellular networks of the day just couldn't keep up.
But then along came 3G.
Then 4G. Then LTE.
With ever increasing cellular coverage maps, and vastly increasing speeds.
As the cellular coverage maps expanded and satellite speeds stagnated and prices climbed, customers increasingly abandoned satellite installations for faster, cheaper, and more reliable cellular service.
Eventually MotoSat went out of business, and the mobile satellite internet hardware and service providers that remained turned their attention away from the consumer and RV markets entirely.
Only a few stragglers have remained supporting cobbled together mobile tripod installations on StarBand or prior generation HughesNet satellites, or used refurbished MotoSat systems (also HughesNet powered).
MotoSat Reborn - The RV DataSAT 840
Last week, commercial satellite gear provider Mobil Satellite Technologies announced the RV DataSAT 840 - a new consumer-focused satellite internet terminal, designed specifically for RV roof mounting!
With MotoSat long gone, this is billed as "the only automatic satellite Internet antenna designed especially for consumers".
The RV DataSAT 840 takes up a substantial chunk of roof real estate.
When stowed, it is 48" long, 40" wide, and 12" high - weighing in at 93lbs.
When deployed it stands 42" tall - potentially casting a serious shadow on any nearby solar panels. It can stand tall and proud in winds up to 50mph.
To complete the system, inside your rig you will need a DataSAT ACU-1 satellite controller to automatically aim the dish, and an iDirect X5 Satellite Router to act as a modem communicating with the target satellite 23,000 miles away.
You can then plug in your local WiFi router into the modem via ethernet to get all your nearby devices online.
A full RV DataSAT 840 setup (including the modem) costs $5,995 - and professional installation will cost at least $500 - $600 on top of that.
Not cheap, but if you've been dreaming about the glory days of RV satellite internet - at last there is a new option.
Dealers for the system include Oregon RV Satellite Service and Montana Satellite Supply.
NOTE: The RV DataSAT 840 is strictly for internet service, and it does not seem to be compatible with any satellite TV services. If you also want satellite TV, you'll still need a second (!!!) dish on your roof.
Insta-Sat On-Demand Satellite Service
With cellular coverage ever expanding - few customers were left wanting to pay fixed monthly fees for satellite internet service that they might only need a few weeks or months out of the year.
The most exciting new development to go along with the RV DataSAT 840 is the accompanying service plans - the Insta-Sat service that allows pay-as-you go data to be purchased without a contract, monthly fee, or long term commitment.
You don't even need to be online to activate Insta-Sat service - you can activate a new account anywhere over the satellite connection, with new service being provisioned within just 5 minutes.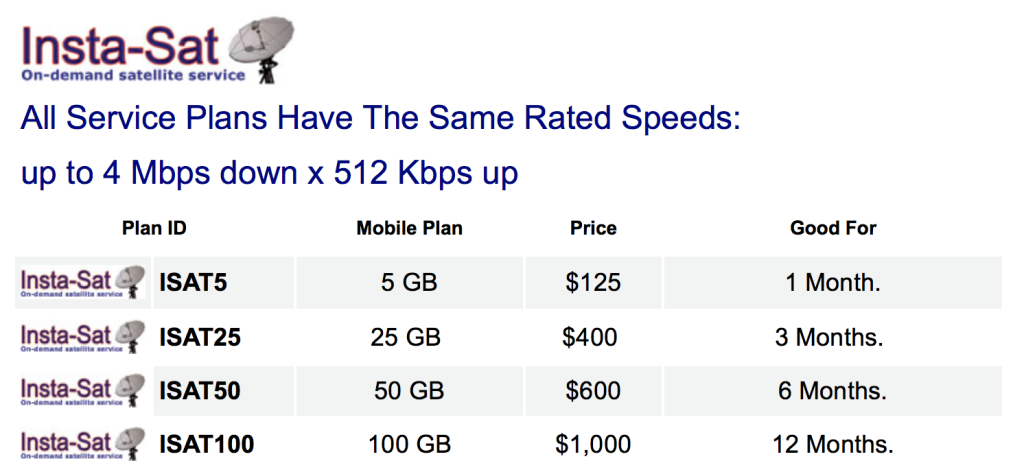 The speeds and data buckets aren't at all exciting by cellular standards, but as a fallback service when out of cellular range this is actually a pretty exciting offering.
As with all geostationary satellite offerings, you will have serious latency to deal with that will take some getting used to, and which will make Skype calls and typing into remote shells frustrating.
But 4Mbps download speeds are plenty fast for most online tasks, including some limited video streaming.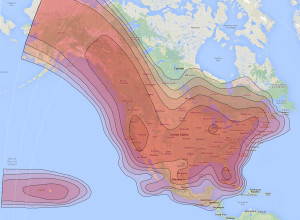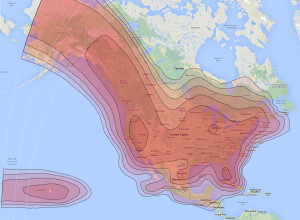 The data buckets aren't priced outrageously either - starting at $25/GB for 5GB in a month, and dropping to just $10/GB if you are committed enough to spend $1,000 in advance.
That works out to a reasonable $83/month, provisioning about 8.3GB a month - or use it as you need it over a course of year.
This is super flexible for those who absolutely need connectivity wherever they go.
For those who regularly use 50-100GB of data a month - Insta-Sat will never become a primary connection, but a new supplemental option is always welcome.
It is great to see some new developments in the RV satellite space, and we look forward to hearing hands-on reports from customers who choose to go this route.
If you think the RV DataSAT 840 and Insta-Sat service may be in your future, let us know.
UPDATE: Jim and Renee at LiveWorkDream have the very first RV DataSAT 840 activated - and they have shared their very positive first impressions here.