2014 was an exciting year to be a RVing nomad - with so much changing in the industry, and many changes resulting in better options for keeping connected while being mobile.
This is our end-year quick update on the state of the union, as it were, of the RV mobile internet industry - what major changes happened in 2014, and what we're looking forward to in the year ahead.
Don't miss any future breaking news that impacts your ability to keep connected while being mobile... sign up for:
Cellular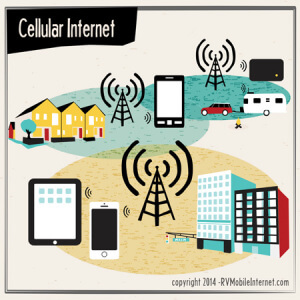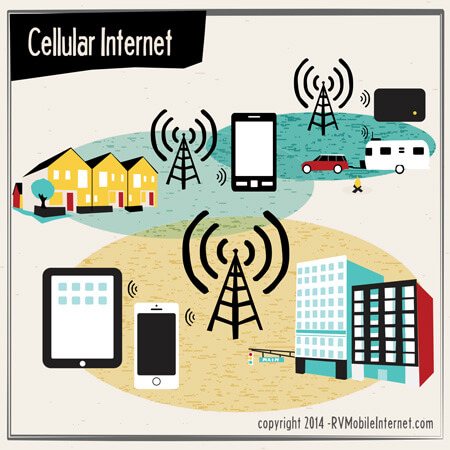 The biggest changes in mobile internet for RVers is in cellular - with the carriers fiercely competing to earn your business as we see the demise of contracts and T-Mobile & Sprint putting the heat on their larger competitors.
Making waves was the disappearance of old RVer favorite Millenicom from the scene, the October double-data deals, and the surprising (but short-lived) return of Verizon unlimited data plans.
The big-four carriers have all been hard at work evolving their networks and capabilities - many deploying enhanced LTE bands for increased capacity, and overall we are all getting more speed and more data for less cost than ever before.
For a full wrap-up of the 2014 state of each major carrier, check our 2014 Cellular Year in Review and 2015 Roadmap: Verizon, AT&T, T-Mobile, and Sprint article just posted to the Resource Center.
Also big news in cellular was the implementation of the FCCs new cellular booster regulations, which went into effect in May. This finally opened up the ability for manufacturers to have their boosting equipment for LTE bands certified and in production, and has led to requirements to register boosters with your carrier.
To date, only a handful of mobile compatible boosters have hit the market which comply with the new FCC rules - the most popular being the Wilson Sleek 4G and Wilson Mobile 4G (our head-to-head review). We had heard from Wilson that they would be coming out with a RV-specific antenna bundle by year end, but we have not seen it or heard anything further. SureCall also released two carrier specific TriFlex units that we tested.
A promising LTE booster contender designed just for RVers, MaximumSignal, is still struggling to get their final FCC approval - despite having met all of the requirements. And we have heard rumor of another booster option coming to market this coming spring. We should be getting units from both once they're approved and ready to test.
Meanwhile, there are very few choices for cellular antennas that give significant gain in the newer AWS bands being deployed by the major carriers. One such is the BoatAnt antenna, recently reviewed here by Jack Mayer.
In 2015 we expect to see continued expansions of LTE and enhanced LTE service from all of the carriers, continued competition on pricing, continued increases in data buckets available for more affordable prices, and hopefully more booster & antenna choices.
WiFi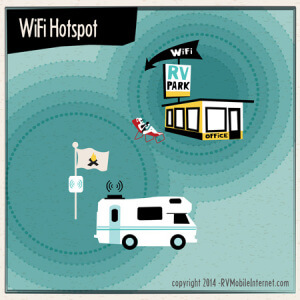 Coming early in the New Year we are hoping to at last see the release of the long-awaited WiFiRanger 7.0 firmware update, which should be free for all WiFiRanger customers. We have been part of the beta-test for a long while (since May!), and have been watching the initial 6.6.7 beta evolve into a massive update worthy of a major new version number.
Firmware 7.0 is packing a load of RVer-centric features that we are really excited about - such as improved security for while on campground WiFi, the ability to enable remote access to cameras and other devices in your rig, and of course - vast improvements to usage tracking and connection management. For our member-exclusive preview, click here.
While there is other WiFi extending equipment out there, none are as focused on RVers than WiFiRanger, and we haven't see nearly as much RV-focused firmware updates from any of their competitors in the last year.
However, do-it-yourself solutions remain a much cheaper alternative, and thus a popular options for those not afraid of assembling individual components to build a WiFi boosting system. After the first of the year, RV internet guru and RV Mobile Internet Resource Center contributor Jack Mayer will be releasing a mini-guidebook on Building Your Own WiFi Capture Device that will be available here. Jack is also working on a review of the RougeWave wifi booster, another popular commercial option. Stay tuned for announcements.
Of course, WiFi repeating gear is only good if you have access to reliable WiFi to repeat in the first place. Many RV Parks still lack worthwhile WiFi, but we hope to see a trend in parks realizing how WiFi is turning into a desired amenity for most RVers, and that the quality of service commonly offered begins to increase.
Satellite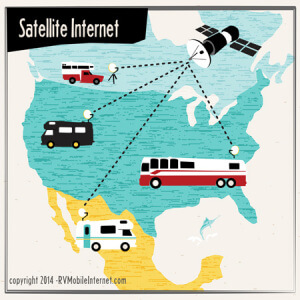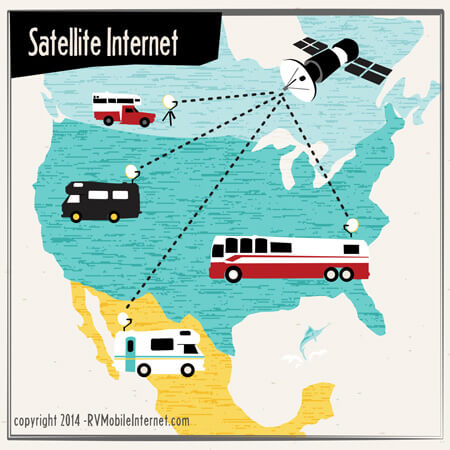 There has been more excitement in the world of consumer-friendly satellite internet in 2014 than there has been in years, with the roll-out of Exede's "virtually unlimited" high-speed service for just $70/month.
But... The spot-beam technology used by Exede service is NOT mobile RV friendly, and even if you could successfully relocate and re-aim an Exede dish - it will not work when outside of your "home" area, and only on-site Exede installers can re-authorize you.
It is technically possible for Exede (or another similar provider) to offer satellite broadband service that roams between spot beams, like they do for news trucks and corporate jets. But the potential RV market is so small, and auto-aiming 2-way satellite dishes are so expensive, that we don't expect any new RV-focused satellite developments in 2015.
We would love to be pleasantly surprised - and will of course have our ear to the ground sky.
There's been teases from Space-X this year about affordable high speed satellite service, but these solutions are still pie-in-the-sky and many many years away if they manifest.
In the meantime, the only RV option for satellite internet remains going to old-school non-spotbeam HughesNet or Starband solutions - which have their own hoops and downsides.
RV Mobile Internet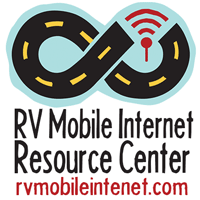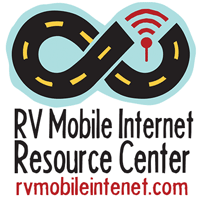 And of course – the biggest mobile internet news of the year for RVers has been the greatly expanded The Mobile Internet Handbook, the launch of RVMobileInternet.com, and the creation of the premium Mobile Internet Aficionados group. *grin*
We are completely thrilled at how well received this resource center has been... and it is our honor to be able to bring it to you! In 2015 we look forward to continuing to keep on top of the news, reviewing new products, sharing tips & tricks, and helping more and more RVers hit the road and keep connected.
Thank you all for joining us here, and may you all have a very happy New Year!
Additional Information:
Mobile Internet Options for RVers Overview