We've heard the past several days from a few readers who ordered the brand new weBoost Drive 4G-X cellular booster and who received some of the initial deliveries.
To their surprise, these readers discovered when they first plugged the 4G-X in the booster would get extremely hot, and the booster would also not seemingly function properly - often just flashing a red/green light that would indicate signal oscillation was occurring.
We have been able to confirm - this is NOT NORMAL.
It seems that several hundred of the initial Drive 4G-X boosters shipped with an incorrect power supply. Like the Drive 4G-M, the 4G-X is designed to run off of 6V power, and it requires a small transformer to lower the voltage to be powered from a 12V vehicle power jack.
But instead of the 6V transformer, many Drive 4G-X's shipped with a basic power supply that passed 12V power straight into the device, overheating it - and potentially damaging it.
3GStore created this graphic to help customers tell if they have been impacted: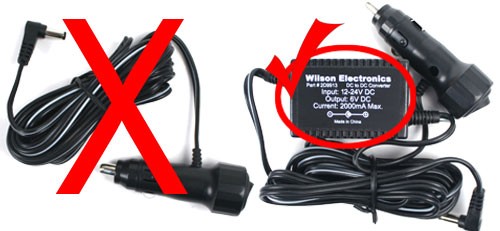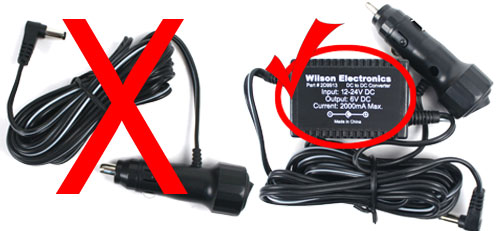 If you have a 4G-X with the incorrect power supply, DO NOT PLUG IT IN.
Contact weBoost support (or the store you purchased from) for a replacement power supply as soon as you can, and once you have the new power supply test the booster thoroughly to make sure that it was not damaged.
Electronics tend not to like being run at twice the intended voltage!
Drive 4G-X vs 4G-M?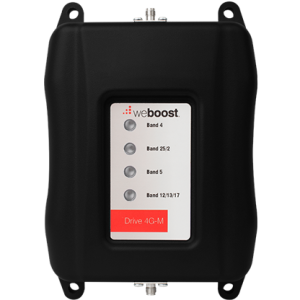 We still have a lot of readers asking us for our thoughts on the new weBoost Drive 4G-X versus the cheaper and well established Drive 4G-M, which was formerly known as the Wilson Mobile 4G.
On paper and in person, the two boosters look nearly identical - with the same basic 50dB signal gain. But there is a $100 price difference.
weBoost has issued a new statement clarifying the advantage of the 4G-X:
"The Drive 4G-X has more uplink power, or power sent back to the cellular tower, than the Drive 4G-M. There is about a 6 dBm difference in that power (roughly 23 dBm uplink on the 4G-M and 29 dBm on the 4G-X); this equates to a 600 mW difference in power being sent back to the cell tower. That's a lot of power!"
We are eager to test to see how well this power difference actually pays off in real world use. For those focused on data speeds, will the 4G-X deliver substantially better results than the 4G-M or the the new stationary-use-only RV 4G?
We expect to have a review unit waiting for us when we get back from our current trip to Alaska, and we are eager to begin long term testing so that we can share our results.