Unreal Mobile, a new Sprint-based MVNO, launched today with a line of inexpensive, low-data smartphone plans.
Unreal Mobile was created by, and is a subsidiary of, Freedom Pop. It appears the intended purpose of the new MVNO is to provide a higher level of service than that of bargain-basement MVNO Freedom Pop.
Unreal includes more options than is typically seen with an MVNO - including a VPN and rollover data.
Plans start at just $10/month for 1GB of high-speed data and go up to $40 for 10GB of high-speed data.
Unreal sells its own phones, but also supports BYOD with most Sprint-compatible phones.
Unreal only supports smartphones. There is no option for data-only devices like tablets or mobile hotspots.
But, personal mobile hotspot off the phone is officially supported on all Unreal plans.
Video version of this story:
---
Plan Features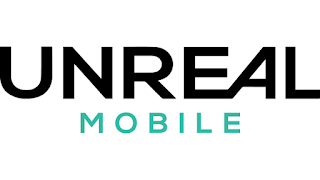 All Unreal Mobile plans come with the following features:
Unlimited Talk and Text: Unlike many bargain MVNOs, Unreal supports carrier-based voice & native MMS and SMS messaging, backed up by VOIP.
Data: Unlimited data at 2G speeds (~80kbps for this Sprint-based plan). High-speed data is available at the following levels:

$10/month - 1GB of 4G LTE data
$15/month - 2GB of 4G LTE data
$30/month - 5GB of 4G LTE data
$40/month - 10GB of 4G LTE data

Data Roll-Over: Up to 1GB of unused high-speed data will rollover to the next month, depending on your plan.
Mobile Hotspot: Included.
International Use: Not supported.
Add-ons: All plans include several bonus features:

Ad blocking on Android phones
Free VPN service (PC, MAC, and Android only)
A companion app that allows VOIP voice calls on other devices (like tablets)
---
Analysis
Unreal Mobile offers a lot of useful features for a very reasonable price.
It's also flexible, as the companion app allows you to change your service level at any time (the cost is prorated), which makes it a useful option as an inexpensive Sprint-based backup. Nomads could sit on the cheap $10/month plan and then upgrade to a higher data plan as needed.
Since service is on the Sprint network, the coverage for this plan is limited:
The "unlimited" 2g service is dirt slow but could be useful in a pinch.
The service is just out of Beta, so some details are not yet available, but overall this could be a good option for nomads looking for an inexpensive Sprint backup plan.
---
Related Info:
---